Holi Spring festivities at The Seaport, performances with Battery Park Dance, shows at Joe's Pub, St. Patrick's Day, and more.
CAROL LIPNIK: HEAVEN AT JOE'S PUB
March 2 Carol Lipnik — the spellbinding, darkly-humorous singer and songwriter, called an "ethereal vocal phenomenon" by The New York Times — returns to Joe's Pub to celebrate the release of her new single "Heaven" (Mermaid Alley Music, 2023), a cover of the Talking Heads' wry and mystical song. She will also perform songs from her acclaimed 2022 twin album releases Goddess Of Imperfection and Blue Forest, which feature originals, including collaborations with Obie Award-winning playwright/performance artist David Cale and Mexico City-based composer Tareke Ortiz.
Lipnik will be accompanied by music director Michael Visceglia on bass, Mark Bonder on piano and synths, and Matt Beck on guitar, lap steel, and ukulele, and special guests TBA. Get tickets here.
BATTERY DANCE NOW
March 8-11 Battery Dance presents Battery Dance NOW, featuring the work of three female choreographers, 7pm at New York Live Arts, 219 West 19th St., NYC. Tickets are $35 (standard), $20 (student/senior/veteran), and $75 (VIP opening night reception). For more information and to purchase tickets, visit tickets.batterydance.org.
In its New York Live Arts debut, Battery Dance has assembled Battery Dance NOW, a program of three contemporary dance works that explore time and transitions: Robin Cantrell's "The Liminal Year" captures the natural resistance to isolation and the need to fight against fear; Ana Maria Lucaciu's "It Goes By Quick" explores the urgency and frustration of seeing time slip away; Tsai Hsi Hung's "A Certain Mood" was inspired by the contrasting shift from dark to light in the work of abstract expressionist painter Hans Hofmann
As an added feature to the evening, Battery Dance presents the world premiere of "GREY," a music video featuring two Company artists, Jillian Linkowski and Razvan Stoian, who were commissioned by the band Eventually Epic to appear in this three-minute film.
In addition to four ticketed performances, Battery Dance will present a free matinee for New York City public school students. This performance is made possible with the support of the The Pierre and Tana Matisse Foundation.
VINCENT D'ONOFRIO & DANA LYN AT JOE'S PUB

March 12 Actor Vincent D'Onofrio and fiddler Dana Lyn perform together at Joe's Pub. To steal unapologetically from Steinbeck: Slim Bone Head Volt is a poem, a stink, a grating noise, a quality of light, a tone, a habit, a nostalgia, a dream. Slim Bone Head Volt is the gathered and scattered, tin and iron and rust and splintered wood, chipped pavement and weedy lots and junk heaps of an actor's brain and a musician's hands. Its inhabitant are, as the man once said, "whores, pimps, gamblers and sons of bitches," by which he meant Vincent D'Onofrio. Had the man looked through another peephole he might have said, "Saints and angels and martyrs and holymen," and he would have meant Dana Lyn. Click here to get tickets.
SAINT PATRICK'S DAY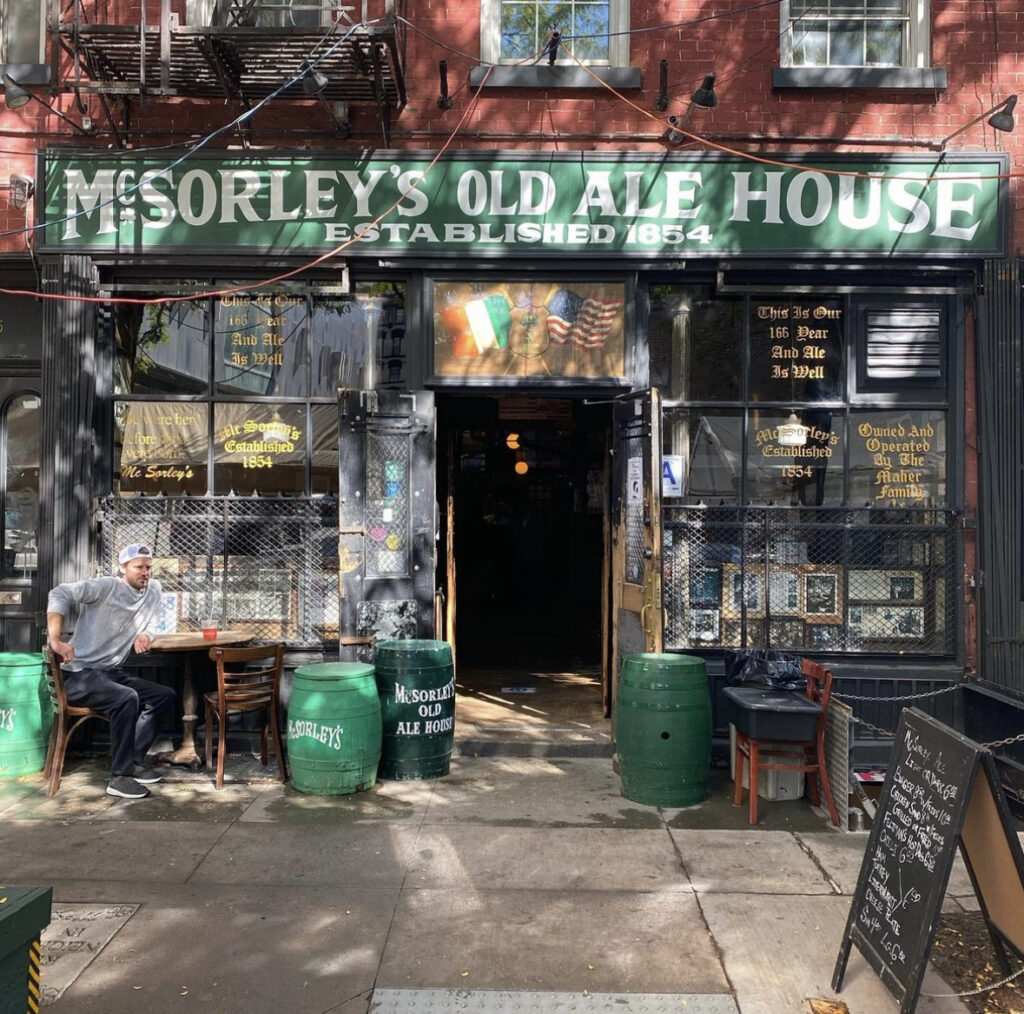 March 17 The oldest Saint' Patrick's Day Parade celebration in the world, dating to 1762, is ready to march down Fifth Avenue once more. The route begins at East 44th Street, marching up Fifth Avenue—past St. Patrick's Cathedral at 50th Street—all the way to East 79th Street. The procession begins at 11am. nycstpatricksdayparade.org Grab a pint and continue the festivities afterwards at McSorley's Old Ale House, in the East Village.
Holi SPRING Celebration at The Seaport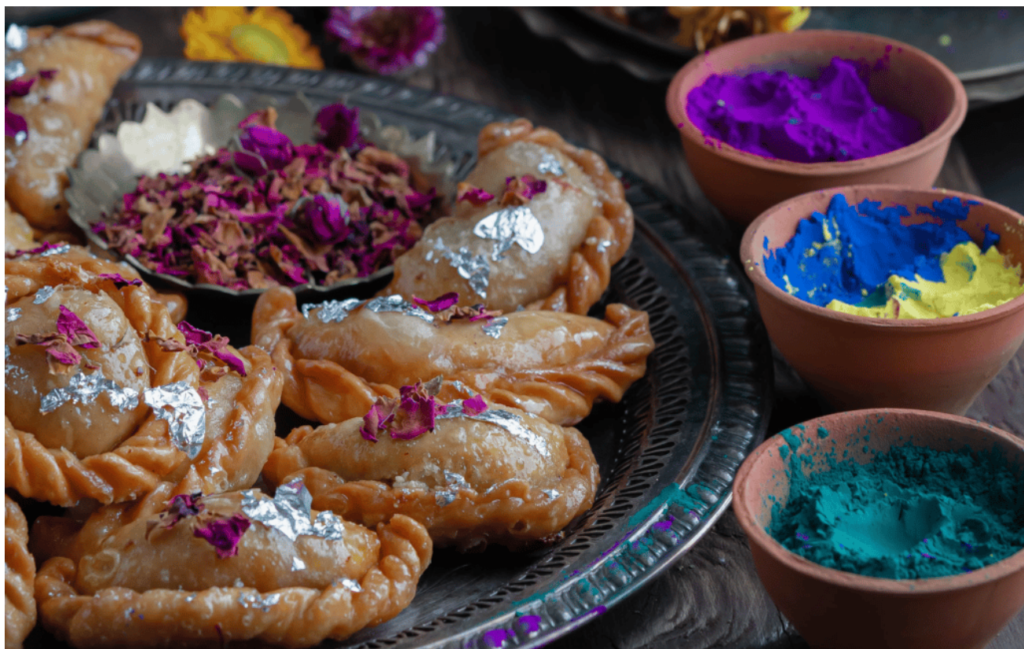 March 18 11am-5pm. FREE. Come enjoy a weekend of Holi festivities in the South Street Seaport! Originating on the Indian Subcontinent, this festival of colors is now celebrated around the world as a way to welcome Spring, embrace inclusivity, and get messy with color. There will be readings, a discussion on the Foods of Holi, a puppet show, dance lesson, and more. Registration for events required. The celebration is presented in partnership with The Culture Tree and The Howard Hughes Corporation.
PINK PIER AT WATERMARK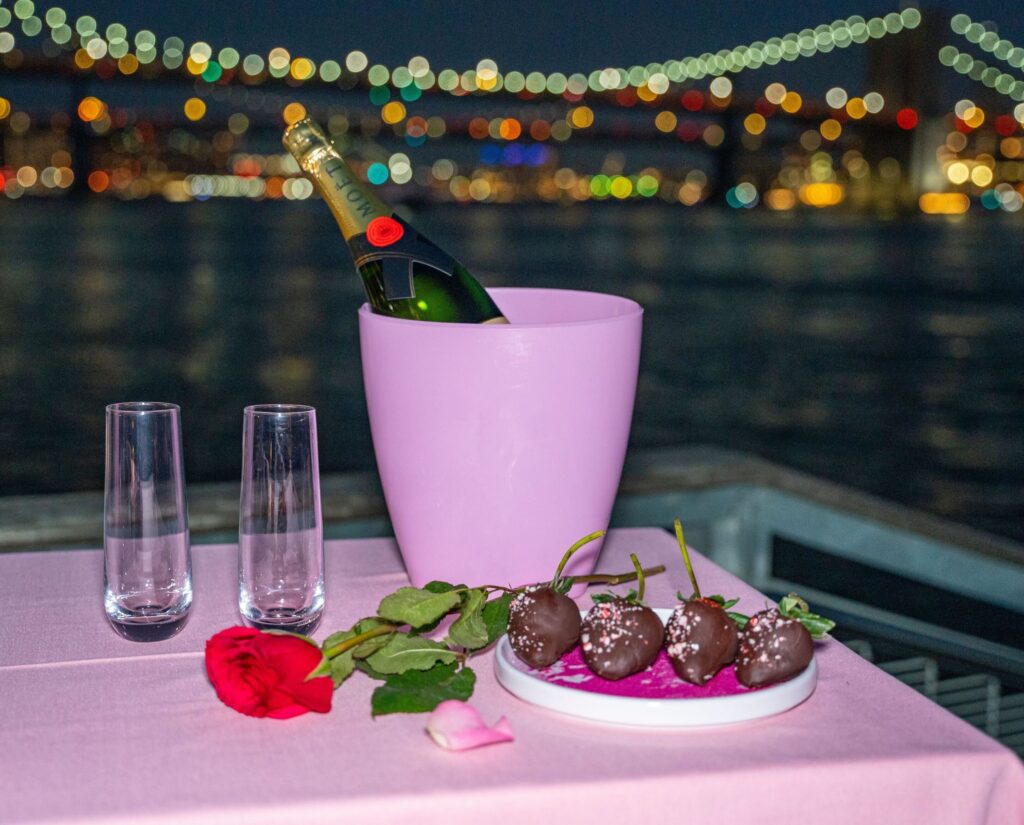 Now-March 31 Presented by Bucket Listers, the 10,000-square-foot Pink Pier outdoor bar, and restaurant on Pier 15 will celebrate love through March 31st. Guests can expect pink outdoor heated glasshouses, a floral hallway, multiple photo opportunities, and themed dinner + brunch food and beverage offerings such as heart-shaped macarons, chocolate fondue, cotton candy Prosecco, Cupid's Quiche, Forever French Toast, and more, providing the perfect dining experience for couples or groups. watermarkny.com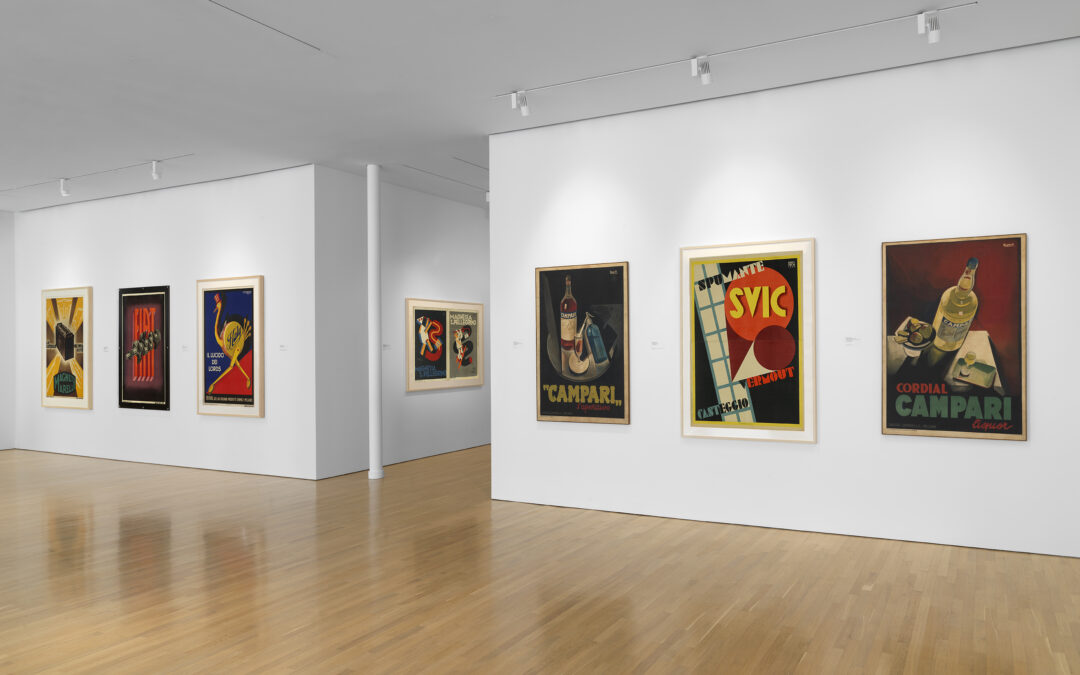 NEW! Now open at the Center for Italian Modern Art in SoHo is a new exhibition, From Depero to Rotella: Italian Commercial Posters Between Advertising and Art.
The show examines the merge between avant garde artwork and commercial posters in Italy, focusing on the interwar years and the early post-World War II era, during the country's economic boom. Click here to read more on this exhibit.
THIERRY MUGLER: COUTURISSIME AT BROOKLYN MUSEUM
Alan Strutt (British, born 1967). Yasmin Le Bon, Palladium, London, 1997. Evening Standard, October 1997. Haute couture Fall/Winter 1997–98 collection ("La Chimère"). © Alan Strutt
Now -May 7 Thierry Mugler: Couturissime, now open at Brooklyn Museum, is the first retrospective to explore the fascinating, edgy universe of French designer and creator of iconic perfumes Thierry Mugler. A fashion visionary, Mugler's bold silhouettes and unorthodox techniques and materials—including glass, Plexiglas, vinyl, latex, and chrome—made their mark on fashion history. The exhibition features more than 100 outfits ranging from haute couture pieces to stage costumes, alongside custom accessories, sketches, videos, images by leading fashion photographers, and spectacular installations that mirror Mugler's futuristic approach. For more information, visit brooklynmuseum.org.
STREET ART SUITE AT THE DOMINICK HOTEL WITH PAUL RICHARD
Now-March 31 In collaboration with renowned New York artist Paul Richard, The Dominick Hotel is home to a new art-forward experience. A custom-curated, gallery-style penthouse suite comes with a commissioned portrait by the artist and opportunities to collect original Paul Richard works. SoHo is known as a destination for art galleries, street fashion, character and edge in Manhattan. Today, The Dominick hotel on Spring Street officially launched, "The Street Art Suite," in collaboration with Paul Richard, one of the city's best-known artists. The Street Art Suite – a re-imagined Landmark Sunset Penthouse – pays homage to NYC's most celebrated art form and offers guests the opportunity to turn their own portrait into a lasting piece of sidewalk art. A minimum of 72 hours notice-reservation is required. To reserve The Street Art Suite and commissioned work, visit: thedominickhotel.com/paul-richard or email The Dominick reservations team at [email protected] or Instagram DM @thedominickhotel
Winter Village at Bryant Park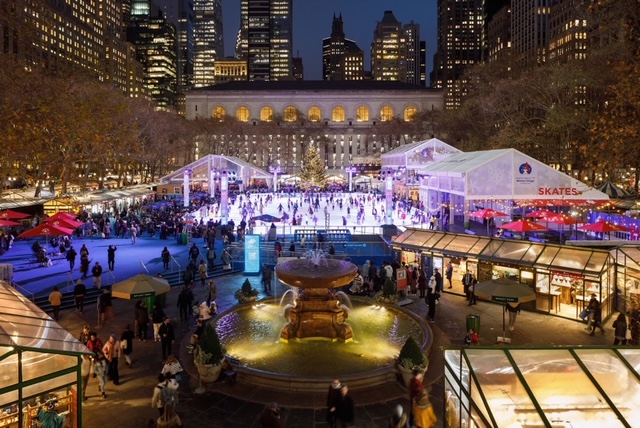 Ends March 5 Final days! New York City's celebrated Bank of America Winter Village at Bryant Park, featuring the city's only free admission ice skating rink, holiday market and delicious food offerings, returns. Highlights include the The Rink, 100+ shops by Urbanspace, a rinkside Lodge where skaters can grab a bite and a cocktail, and more.
THE TIN BUILDING
Now open seven days a week, the latest from restaurateur Jean-Georges Vongerichten, is Tin Building, a sprawling 53,000 square foot market down by The Seaport. It includes six full service restaurants, six fast casual outlets, four bars, along with a food market and curated gourmet grocery packed with specialty ingredients, meats, cheeses, and fresh produce. tinbuilding.com You can read more about Jean-Georges in DOWNTOWN's Winter 2023 issue, out now!
I'LL HAVE WHAT SHE'S HAVING: THE JEWISH DELI AT N-YHS
Carnegie Deli, NY, 2008. Photo by Ei Katsumata/Alamy Stock Photo
Now-April 2 The title taken from Nora Ephron's classic film When Harry Met Sally, the hit exhibit at The New-York Historical Society examines how Jewish immigrants imported and adapted traditions to create a uniquely American restaurant, and NYC staple, the Jewish delicatessen. Click here to read more about the exhibit I'll Have What She's Having: The Jewish Deli at N-YHS. nyhistory.org
EDWARD HOPPER AT THE WHITNEY
Ends March 5- Final days! Edward Hopper's New York will take a comprehensive look at Hopper's life and work through his city pictures, from his early impressions of New York in sketches, prints, and illustrations, to his late paintings, in which the city served as a backdrop for his evocative distillations of urban experience. whitney.org.
JACKIE ROBINSON MUSEUM
Ongoing. Nearly 75 years after Jackie Robinson made his debut with the Brooklyn Dodgers, the Jackie Robinson Foundation (JRF), founded by Robinson's wife Rachel, finally opens its doors, at 75 Varick Street. The nearly 20,000 square-foot space honors the life and legacy of a ballplayer who broke the color barrier in Major League Baseball, but also played an integral role in the Civil Rights movement. jackierobinson.org.
Halles des Lumieres: Gustav Klimt
Ongoing The Hall des Lumieres is the brainchild of Culturespaces, the creators of the original immersive digital art centers including Ateliers des Lumieres, with international event leaders IMG. The inaugural exhibition, Gustav Klimt: Gold In Motion, explores the revolutionary art of the Viennese painter, and has been created exclusively for Hall des Lumieres by an artistic team led by Gianfranco Iannuzzi. Hall des Lumieres will present new art experiences based on the work of world-renowned artists every 10 to 12 months Tickets on sale now. halldeslumieres.com
MUSEUM OF JEWISH HERITAGE: THE HOLOCAUST-WHAT HATE CAN DO
Ongoing at The Museum of Jewish Heritage, the new core, 12,000 square-foot exhibition features more than 700 original objects and survivor testimonies from the Museum's collection, in objects donated by survivors and their families. Many of the items are from Ukraine. mjhnyc.org.
Meret Oppenheim: MY EXHIBITION at MoMA
Now-March 4. Final days! Meret Oppenheim: My Exhibition at the Museum of Modern Art is the first major transatlantic exhibition—and the first in the United States in over 25 years—to survey this visionary Swiss artist's career. The exhibition, spanning five decades, considers the full scope of Oppenheim's lifelong innovation through over 180 works, including paintings, sculptures, objects, collages, and drawings. The exhibition will explore all of these facets of Oppenheim's career, from early paintings such as Quick, Quick, the Most Beautiful Vowel is Voiding, M.E. by M.O. (1934), to mid-career sculptures such as The Green Spectator (1959), to monumental late works like New Stars (1977–82). Her broad thematic interests ranged from the natural world and mythology to gender and selfhood. "Nobody will give you freedom," she stated in 1975, "You have to take it." moma.org.
Ongoing QC NY Spa at Governors Island. Now you can take advantage of a spa filled day on Governors Island any day of the year, enjoying the most incredible views of the Manhattan skyline. There are steam rooms, saunas, and architecturally stunning relaxation rooms. qcny.com