Now open at the Center for Italian Modern Art in SoHo is a new exhibition, From Depero to Rotella: Italian Commercial Posters Between Advertising and Art.
The show examines the merge between avant garde artwork and commercial posters in Italy, focusing on the interwar years and the early post-World War II era, during the country's economic boom.
The exhibition includes over 30 posters from major Italian institutions and corporate collections, as well as a few select private collections in the United States. Among the artists featured: Erberto Carboni, Fortunato Depero, Nikolai Diulgheroff, Lucio Fontana, Max Huber, Bruno Munari, Marcello Nizzoli, Bob Noorda, Giovanni Pintori, Xanti Schawinsky, Mario Sironi, and Albe Steiner. The works of these individuals illustrated the products of companies that made the history of the Italian economy, such as Barilla, Campari, Olivetti, Fiat, Pirelli. 
Through play on fonts, chiaroscuro lighting, and product placement, these posters convey more than just an endorsement for the product-they also demonstrate a dedication to preservation of Italian traditions, while embracing the future. The message can be appreciated by the masses, not just the elite.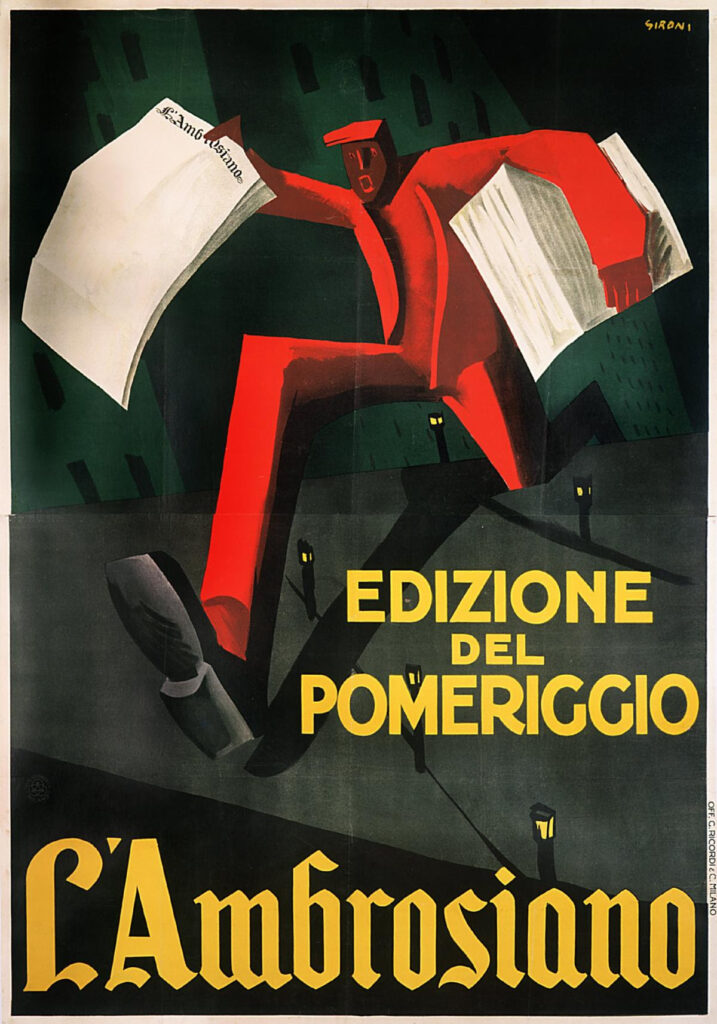 Mario Sironi, L'Ammbrosiano, Edizione del Pomeriggio, 1928.
Nicola Lucchi, curator of the exhibition, explains that "Italian posters acquired a visual and communicative force that elevated the medium to a form of artistic expression in its own right, pushing the boundaries of lithographic techniques, photomontage, and typography. The commercial posters' peculiar ambition to deliver alluring forms and contents to the masses, rather than to an elite circle, also make them an object of socioeconomic and philosophical interest". 
There will be various events held in conjunction with the exhibit. On Feb. 28, CIMA is hosting an in-person screening of Italian director Mario Camerini's 1939 film I Grandi Magazzini.
From Depero to Rotella: Italian Commercial Posters Between Advertising and Art. runs through June 10, 2023. For more information, visit italianmodernart.org.