Downtown New York City has just about everything. Without downtown Lower Manhattan New York City would not exist. This historical birthplace dates back to 1624, serving as the seat of government for New York. From some of the city's most spectacular skyscrapers to world-class hotels and award-winning chefs, fine dining, shopping, museums, and nightlife, downtown offers a 24/7 work-live community, with worldwide corporations to local entrepreneurs running their businesses, right here.
Downtown has it all.
Today, we shine a light on one of our long-time residents, friend, and local entrepreneur, Alex Reznik, and his most recent endeavor. 
DTM: What's the biggest misconception about a child diagnosed with special needs?
Alex: Many parents I've spoken with are not comfortable getting their child evaluated, even if they see signs. From my experience, the earlier a child is able to receive help from professionals, the faster the child will be a full-fledged individual and an equal member of society.
DTM: How long have you been working on the idea of creating Complete Playground?
Alex: When my son was diagnosed years ago, immediately I started down the long road of doing my research. Every 5th child in the US is neuro-diverse. I began the long process of looking for facilities with a sensory room, speech treatment services, a safe play area, and a gym that would be suited to his needs. My son Milan was non-verbal, he was placed in a special school but did not have much improvement or progress. Only when he was put in the inclusion class, did he start talking after a few months and we witnessed improvement with his social skills. This was what compelled me to create a space that provides these essential services, while also creating a fun and inclusive environment for all children to play together.
Where we live in downtown New York City, there wasn't anything that we felt would meet our needs. The ones we found did not offer playful surroundings. As important, there wasn't an option for his siblings to use the same facility. We found that most playgrounds are only open on the weekends and evenings. My entrepreneurial background kicked in, and I immediately started planning out a possible new facility, with space for non-profit activities (daily trips for schools, services for kids who need special attention (sensory room, sensory gym, speech services, etc.) All the money from daily fees like birthdays and other events, will go to cover our non-profit mission of inclusion. In addition, a sliding scale for families who need scholarships.
DTM: What are some of the challenges you're experiencing?
Alex: We are the first indoor playground in the city with the first non-profit Inclusion Center. It's very hard to be the first,
as you are seeking support, everyone loves the idea and unequivocally understands the need for this space but many are not ready to be involved, with the support we require.
DTM: Why did you consider Lower Manhattan as the best location in NYC for Complete Playground?
Alex: Lower Manhattan used to be mostly offices, the financial district but quickly changed dramatically after 9/11. Every year since, more and more families move to this remarkable area. Our beautiful community quickly morphed into a family-kid-friendly neighborhood. We are lucky to have many good schools, including the Battery Park area. More and more residential buildings are being built downtown. Just like after 9/11, we are seeing office buildings being converted to residential. What we don't have is enough services for children, especially children with special needs. We are only one stop from New Jersey and Brooklyn, and from my perspective, downtown real estate is still, the most affordable in Manhattan.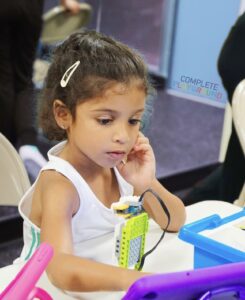 DTM: How can our downtown NYC, community and businesses help?
Alex: As a non-profit inclusion center, we rely on the support and involvement of the community to fully realize our mission. We are actively seeking volunteers, corporate sponsorships, donors, and assistance in spreading the word about our mission and services. We have many naming opportunities ranging from $250 to $250,000. We're also looking for donations of services and products from local businesses to include in our auctions, further supporting our mission and making a positive impact in our community. Your contribution whether it's your time, financial support, or in-kind donations, is greatly appreciated and integral to our success.
DTM: As a Father with a special needs child, can you share some misconceptions attached to children with special needs?
Alex: First of all, it's a lot more common than people think. And some parents feel embarrassed about asking for help, and parents are afraid for their child to play with other kids, due to possible bullying. Most Children on the spectrum experience challenges in communication skills, social interaction skills, and restrictive/repetitive behavior.
DTM: How will Complete Playground address each area of these challenges, and will Complete Playground accommodate children who need special attention?
Alex: We will offer classes for children and their parents to help with social skills. Professional help is part of our classes. Neuro-diverse kids.  We will have tremendous help because of the role models and class structure we have developed, (small groups especially trained teachers) we will be the first one in New York to have a sensory room. Most of the children feel overwhelmed and overstimulated after a certain time, the sensory room will help them to get back to balance.
DTM: Will Complete Playground have a dedicated staff to meet any special needs training and if so, what areas?
Alex: Yes, all of our staff will be trained on how to deal with children with special needs.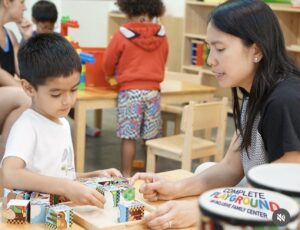 DTM: When date are you slated to open?
Alex: We are looking to finish most of the construction in December. On December 19th we're going to host an exclusive preview and fundraising event. We will open in stages, with the soft opening to be in January 2024. Every few months we will add additional spaces, fully completed by Spring 2024. Complete Playground is currently in its initial operational phase, and we're already offering a range of services at our Complete Body Fitness center a few blocks away, There is a high demand for our services especially, from parents seeking enriching after-school programs and engaging summer camps. We are excited about the positive impact these additions will have on our community and look forward to providing a holistic and inclusive space for all children.
DTM: Can you share a range of fees that will be associated with the usage of this facility, and will there be membership opportunities?
Alex: During the week we going to mostly host Schools for their daily trips and playtime. We will have open play
options during the week $30-$40 per two-hour play, and on the weekend $40-$50 dollars per two-hour play.
Before we open in December, we're going to offer membership options. Details can be found on the website www.completeplayground.org  We will also offer karate classes, which we already offer at our 10 Hanover Square location.
Complete Playground will offer hosted birthday parties in the new location from gymnastics, dance, arts and crafts, after-school programs, and summer camp, along with many more classes. So please keep an eye on our website for details.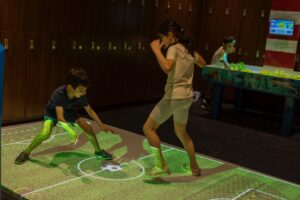 DTM: Will there be a place or special programs for adults with autism at your facility?
Alex: Our focus will be mostly on kids because our playground was designed for 1- 12-year-old children. However, we will look to have some activities for teenagers and adults in the future. We are planning activities for the parents while they're waiting (classes seminars, cafe & spa services). There is a lack of physical activities for children today. Around 20% of the children experience one hour of movement a day. Neuro-diverse kids are statistically around 20%, in reality probably a lot more. Because many parents do not like to admit and or have their children evaluated. I'd like to focus more on being a center for inclusion, a place for children to play together, where schools can have a meeting place for their day trips, and also for children to have a beautifully designed creative indoor play space. Neurotypical kids can get the benefit of being more tolerant and accepting, and neuro-diverse will benefit by having a role model and feeling accepted. We will be the first indoor playground in the city, for all kids will have space to play in the safe area especially when it's too cold, hot, or raining outside.
DTM: Alex I've known you for over 20 years, If I may, I'm so proud of you and your new venture, which is so sorely needed. You have always been involved in fitness, health, and well-being, a pillar in our community, and a wonderful businessman, husband, and father, for those who may not know of you or your other successful brand, can you share a little with our readers?
Alex: Grace, you and I go way back I believe I was your first personal trainer after your move to NY. It's good to talk to an old friend who knows this part of Manhattan. As for Complete Body, it has been a part of the community for over 20 years, promoting wellness and fitness and we are the only commercial gym chain with 4th locations that we also offer residential and corporate GYM management. The Complete Playground project is an extension of our commitment to wellness and inclusion, aligning with the changing needs of the neighborhood.
The DTM team wants to thank Alex and his family for this interview, and his commitment to children and their families, with specific functional development concerns. If you want to help this much-needed center become everything that it must be please donate. https://www.gofundme.com/f/complete-playground