Made by a woman-owned manufacturer in the USA, evolvetogether'™s clean collections focus on better personal care for a better world: cruelty-free products made with plant-and vitamin-powered ingredients, and gender neutral scents. With their Gone Today Collection, upon completion of use, the packaging is 100% dissolvable. (never microplastics!)
DOWNTOWN's CEO and Publisher Grace A. Capobianco recently spoke with evolvetogether'™s founder, Cynthia Sakai.
Being raised by a successful mother in the luxury product industry, such as Fendi, and your father an architect, both had a strong influence on you growing up. What would you recommend to those that may not have this influence in their life?
My parents definitely had an impact on me, but influence — whether it's family, education, your environment, travel, art, or even just unexpected conversations — comes in all shapes and sizes. Most of the successful people I've met have been able to really hone in on the external influences that help drive their own purpose and filter out the noise.
Becoming an entrepreneur at a young age is something we see more and more in today's environment. What's the number one rule you feel is essential for every business owner/entrepreneur?
Have purpose! As long as you stay true to your purpose, you'll be on a good path. Having that "why" makes the "how" a lot easier to decide along the way.
I truly love your products. I love the sustainability, your choice of scents, the packaging, everything about this brand is pleasing to me. Do you feel that more and more companies will follow suit, and really think about the environment, and fragrance choices when creating their brands?
Thank you so much! You know, we really just want to make products that we're proud to use — and we were really tired of having to choose between quality, design, and sustainability when it came to daily essentials. So, we just focused on the things we (and our customers) cared about most: quality and performance, beautiful and universal design, and making a positive impact on people and the planet. And it's working! Everyone from our customers to beauty editors are saying they've been waiting for personal care like ours.
But even though our philosophy is simple, the process is incredibly complicated: there's so much time and care that goes into developing products that meet our standards. It's not fast, cheap, or easy. So yes, I do think more brands will follow, but it'll be interesting to see how different brands bring their own standards to life.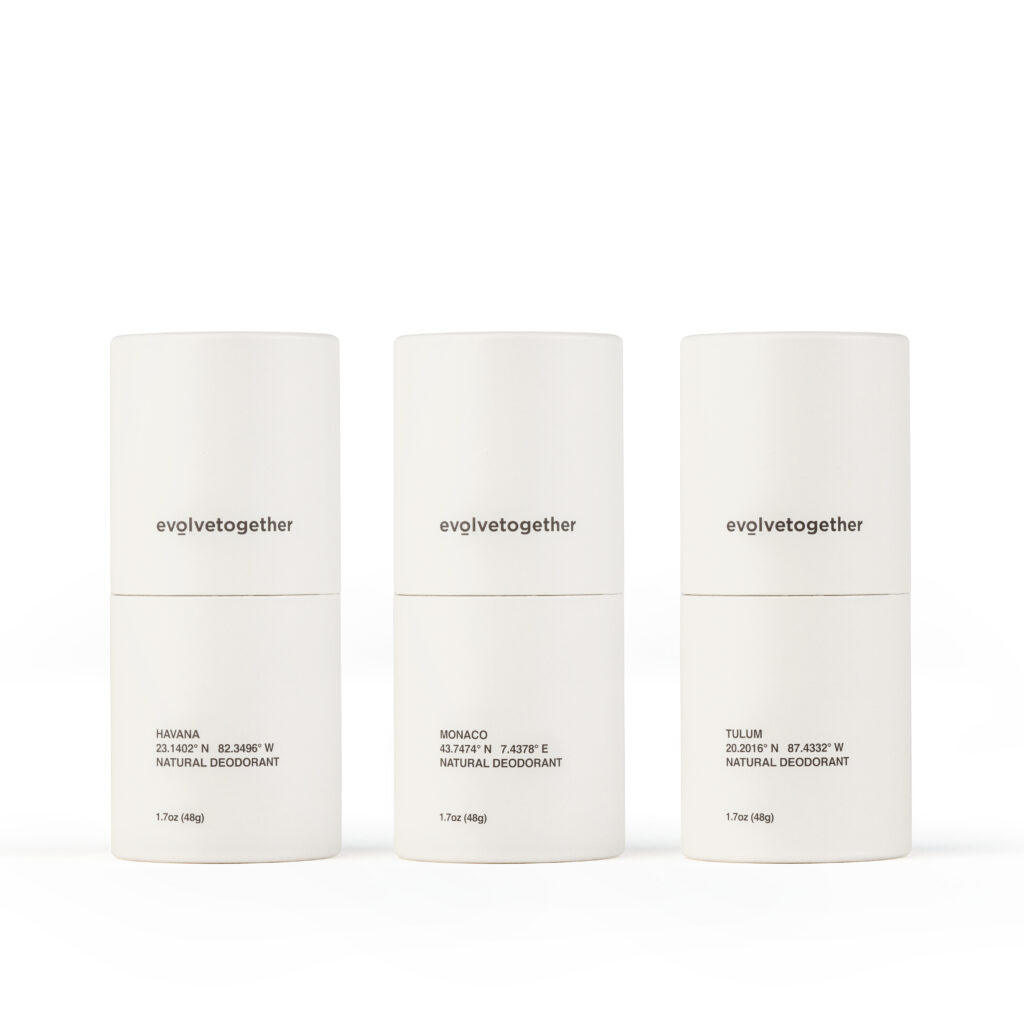 The beautiful scents, that you chose for the deodorants, did you know what you wanted in particular, and who did you work with?
I love fragrance so much. I actually work hand-in-hand with a scent evaluator to craft each of our custom scents. My goal is to make sophisticated scents for modern living — complex, gender neutral, and elevated but also functional, safe, and as non-irritating to noses and skin as possible. And for our natural deodorant, we use an active fragrance that actually works harder once your body temperature rises — giving you a subtle scent boost right when you need it most.
Our current natural deodorant scents include Monaco (modern rose), Havana (spicy wood), and Tulum (fresh earth). Each scent is inspired and named after a different global coordinate as a reminder that we're all connected no matter our race, gender, religion, or where we live.
You've done so much in such a short time of your life; what can we expect next?
My ultimate vision is to grow evolvetogether into a global 360 brand so we can reach a scale that makes even more impact — I want us to be your go-to brand for everyday items that are beautiful, high-performing, and good for people and the planet!
It's also our goal to make all of our products and their components either 100% dissolvable or 100% biodegradable and compostable. We're not there yet and we have a lot of research and development to do to get us close, but we'd love to figure that out as we continue to introduce new products in personal care, home, travel, and other categories.
What's your favorite aspect of being an entrepreneur?
The best part of entrepreneurship is seeing an idea come to life. That process can be stressful and chaotic, but I've learned to appreciate the entire journey as I've gotten older (and the pandemic's constant curveballs taught me a few lessons, too). Creating a successful product is the best feeling, but the process of getting there needs to be rewarding, too.
For more information and to shop, visit evolvetogether.com