Easter Egg Decorating and Dinner at Malibu Farm New York
Starting at 5pm, enjoy dinner and cocktails while decorating Easter eggs at Malibu Farm New York at The Seaport, using the traditional Ukrainian technique of beeswax and dye resist. Each student will create their own Pysanka (Ukrainian Easter Egg) and leave with directions for how to create this experience on their own! A portion of the proceeds will be donated to UNICEF USA in support of children and families in Ukraine https://www.globalgiving.org/projects/support-children-and-families-in-ukraine/ . Reservations ($98) can be made here.
Easter Egg Hunt and Crafts at The Seaport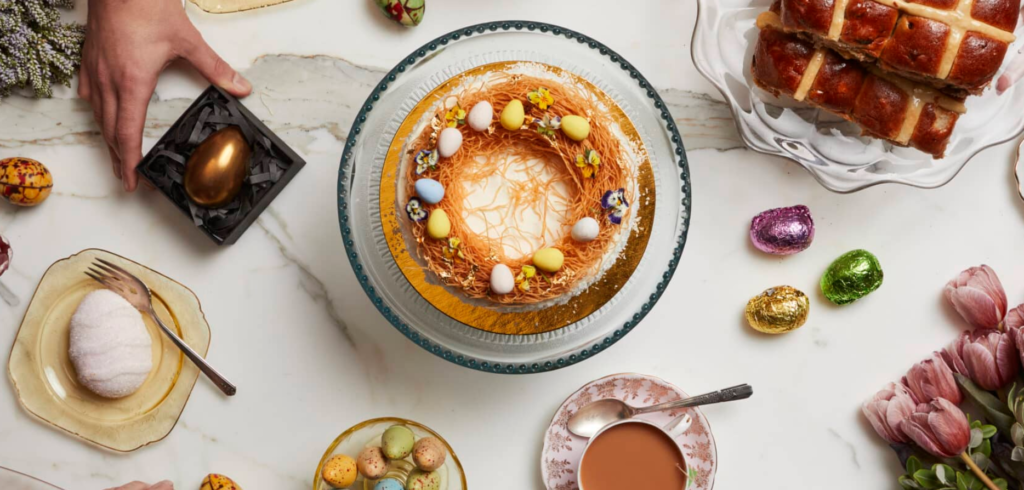 April 8 Bring the kids for a traditional egg hunt at The Seaport Square, 11am. Follow the hunt with more fun including Easter bunny selfies, thanks to the Seaport partners at Mommy Poppins and Brooklyn Bridge Parents. Kids are invited to join three art projects—making spring flowers, bunny hats and tie-dye paper eggs—and pull up a seat at a Lego Table. FREE. Registration required here.
Celebrate the Return of Red Umbrellas (and Spring) in the Meatpacking District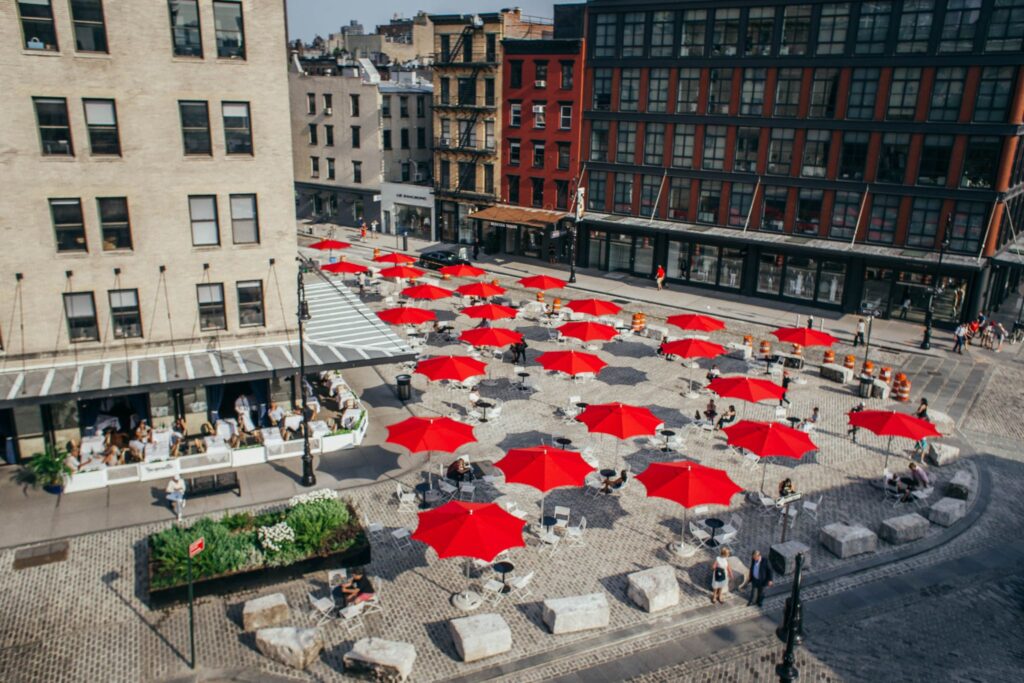 April 15 Spring has officially returned to The Meatpacking District, and so have The Red Umbrellas! The day's festivities will include:
Morning
9:30 – 11:30 am: Complimentary coffee from Terremoto and live music by Erica Mancini (@ericamariemancini) and Amos Rose (@amosrosemusic).
Afternoon
11:30 am – 4:30 pm: Complimentary custom portraits by artist, Laura Baran
12 – 2 pm: Live music from JammCard artists – a perfect excuse to grab takeout lunch from your favorite neighborhood restaurant to eat on the plaza while enjoying the music
1 pm: Complimentary chicken + waffles samples from STK and mini Raspberry Rose Cookies from Maman
3 pm: The Meatpacking District's 1st Annual Red Umbrella Runway Show. Decorate an umbrella at home inspired by the Meatpacking District and bring it with you to strut down the runway. The first 20 guests to walk the runway with their decorated umbrella will receive a custom Meatpacking umbrella.
Evening
5 pm: Martha Graham 2 School Performance.
Champagne and Cheese Pairing on Classic Harbor Line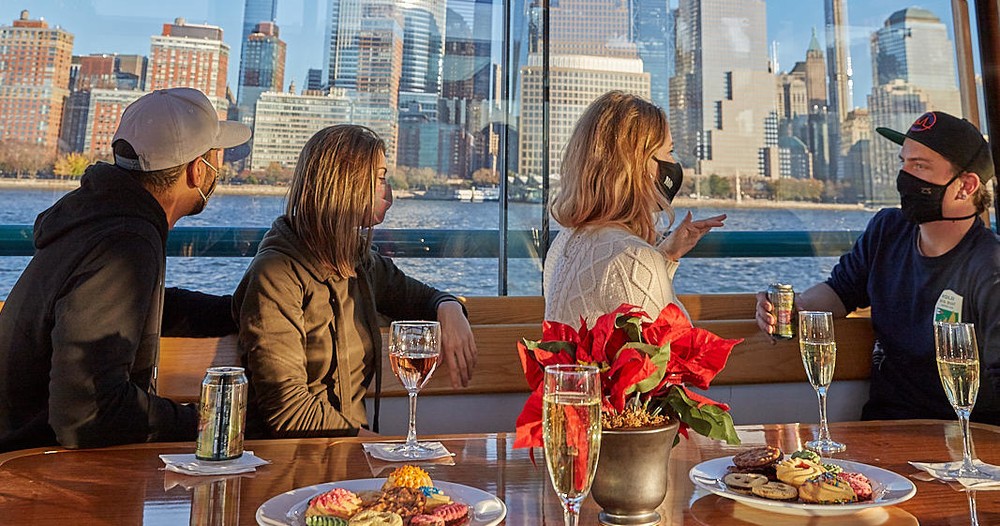 April 14, 21, 28 Hop aboard Classic Harbor Line's 1920's inspired yacht, for an 1.5 hour cruise, and enjoy an intimate, low capacity cruise, sipping champagne while taking in the amazing city sites. Enjoy a flight of three worldly sparkling wines, paired with a custom cheese plate, curated by our in-house wine expert & cheese master! Sail at 6:15pm. Many more types of cruises to explore here. sail-nyc.com
Dr. Kaboom & The Wheel of Science at Tribeca BMCC
April 16 So much science, so little time. . . Doktor Kaboom is having trouble picking his favorite science demonstrations, so he's bringing them all! Unfortunately, there are way too many to do them all in one show. The solution: The Wheel of Science! Doktor Kaboom has built a great big spinning wheel and labeled it with everything from optical illusions to chemical reactions to a homemade hovercraft, and more! At least a dozen fantastic demonstrations ready to go. So, step right up, and let's spin that wheel! Ages 8 + Get tickets here.
Spring Wine & Food Festa at Eataly DOWNTOWN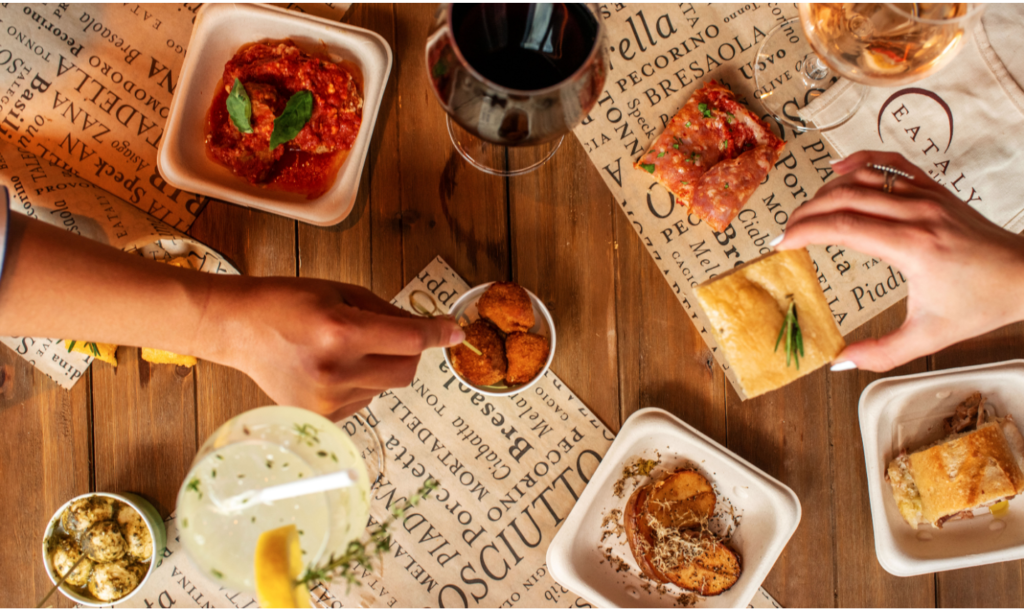 April 21 Join in for unlimited bites and sips at Eataly Downtown's Spring Wine & Food Festa: Street Food, from 6pm-8pm.
Some of the best Italian food is what you can get from the little man with the carrettino, or "little cart," off the side of the road in small towns and tiny villages across Italy. Think: mouthwatering fried fritters, mini sliders with Italian specialties, and unique variations on pizza. They're kicking off spring by honoring this delectable category of Italian cuisine with a Street Food Festa in Downtown's marketplace! Indulge like a true Italian as you explore a variety of typical street foods representative of different regions in Italy, and pair each bite with our favorite Italian wines and carefully-crafted cocktails. Reserve your spot here.
Earth Day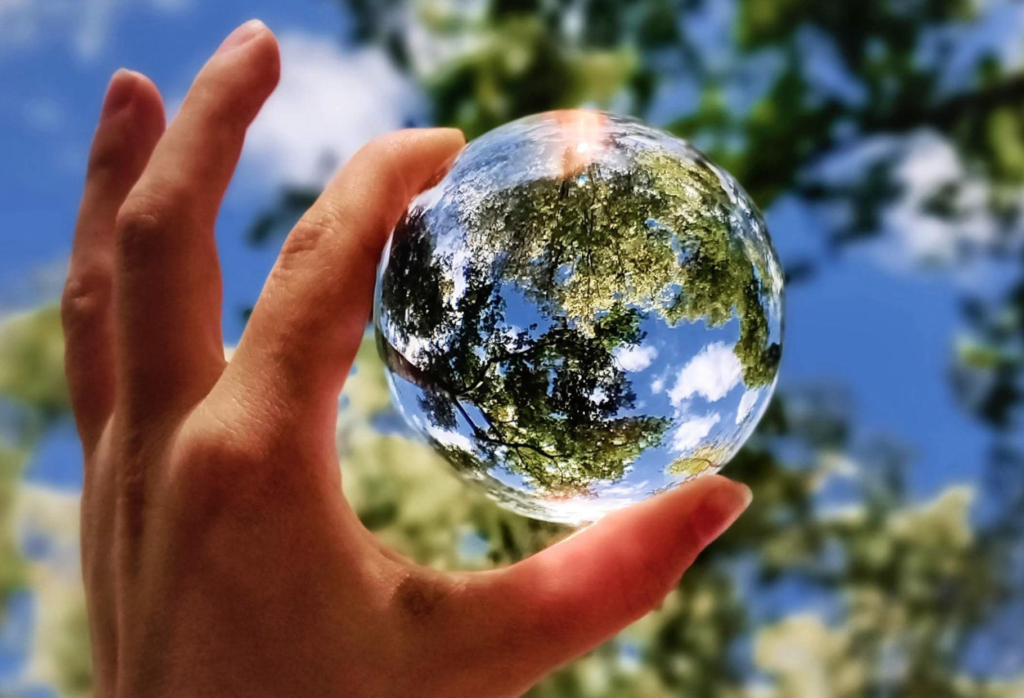 April 22 Celebrate Earth Day at American Museum of Natural History's EarthFest, featuring a full day of family-friendly activities, performances, and lectures showcasing local and international efforts dedicated to preserving planet Earth. Free with Museum admission, activities include a birdwatching scavenger hunt, nature-inspired facepainting, nail-art, and hair-styling, a showcase of sustainable agriculture with giveaways, interactive presentations in Spanish about nature conservation by Museum conservation biologists Ana Luz Porzecanski and Felicity Arengo, a lecture titled Back to the Future: Insights into Future Climate Change by paleoclimatologist Kira Lawrence about how research into past climate conditions can help us better understand climate change, and a fly over our planet in the Hayden Big Bang Theater. A series of special interactive performances by Polyglot Theatre in the Milstein Hall of Ocean Life will also be taking place throughout the day as actors dressed as ants invite children to explore their dynamic world through movement, sound, and play.
From Depero to Rotella: Italian Commercial Posters Between Advertising and Art at CIMA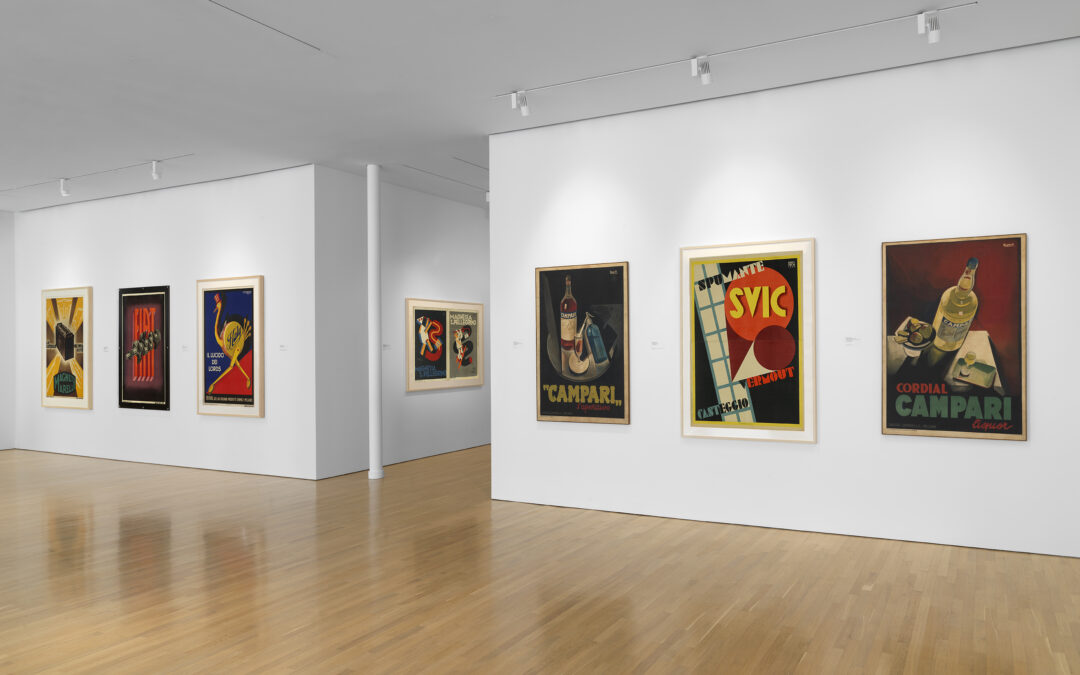 NEW! Now open at the Center for Italian Modern Art in SoHo is a new exhibition, From Depero to Rotella: Italian Commercial Posters Between Advertising and Art.
The show examines the merge between avant garde artwork and commercial posters in Italy, focusing on the interwar years and the early post-World War II era, during the country's economic boom. Click here to read more on this exhibit.
THIERRY MUGLER: COUTURISSIME AT BROOKLYN MUSEUM
Alan Strutt (British, born 1967). Yasmin Le Bon, Palladium, London, 1997. Evening Standard, October 1997. Haute couture Fall/Winter 1997–98 collection ("La Chimère"). © Alan Strutt
Now -May 7 Thierry Mugler: Couturissime, now open at Brooklyn Museum, is the first retrospective to explore the fascinating, edgy universe of French designer and creator of iconic perfumes Thierry Mugler. A fashion visionary, Mugler's bold silhouettes and unorthodox techniques and materials—including glass, Plexiglas, vinyl, latex, and chrome—made their mark on fashion history. The exhibition features more than 100 outfits ranging from haute couture pieces to stage costumes, alongside custom accessories, sketches, videos, images by leading fashion photographers, and spectacular installations that mirror Mugler's futuristic approach. For more information, visit brooklynmuseum.org.
THE TIN BUILDING
Now open seven days a week, the latest from restaurateur Jean-Georges Vongerichten, is Tin Building, a sprawling 53,000 square foot market down by The Seaport. It includes six full service restaurants, six fast casual outlets, four bars, along with a food market and curated gourmet grocery packed with specialty ingredients, meats, cheeses, and fresh produce. tinbuilding.com You can read more about Jean-Georges in DOWNTOWN's Winter 2023 issue, out now!
JACKIE ROBINSON MUSEUM
Ongoing. Nearly 75 years after Jackie Robinson made his debut with the Brooklyn Dodgers, the Jackie Robinson Foundation (JRF), founded by Robinson's wife Rachel, finally opens its doors, at 75 Varick Street. The nearly 20,000 square-foot space honors the life and legacy of a ballplayer who broke the color barrier in Major League Baseball, but also played an integral role in the Civil Rights movement. jackierobinson.org.
Halles des Lumieres: Gustav Klimt
Ongoing The Hall des Lumieres is the brainchild of Culturespaces, the creators of the original immersive digital art centers including Ateliers des Lumieres, with international event leaders IMG. The inaugural exhibition, Gustav Klimt: Gold In Motion, explores the revolutionary art of the Viennese painter, and has been created exclusively for Hall des Lumieres by an artistic team led by Gianfranco Iannuzzi. Hall des Lumieres will present new art experiences based on the work of world-renowned artists every 10 to 12 months Tickets on sale now. halldeslumieres.com
MUSEUM OF JEWISH HERITAGE: THE HOLOCAUST-WHAT HATE CAN DO
Ongoing at The Museum of Jewish Heritage, the new core, 12,000 square-foot exhibition features more than 700 original objects and survivor testimonies from the Museum's collection, in objects donated by survivors and their families. Many of the items are from Ukraine. mjhnyc.org.
QCNY Spa on Governors Island
Ongoing QC NY Spa at Governors Island. Now you can take advantage of a spa filled day on Governors Island any day of the year, enjoying the most incredible views of the Manhattan skyline. There are steam rooms, saunas, and architecturally stunning relaxation rooms. qcny.com