The newest Fonda outpost from celebrated Mexican chef and author Roberto Santibañez offers an elevated take on traditional Mexican cuisine and cocktails. The successful chain has been continuing to grow since 2009, with additional New York locations in Chelsea and Park Slope.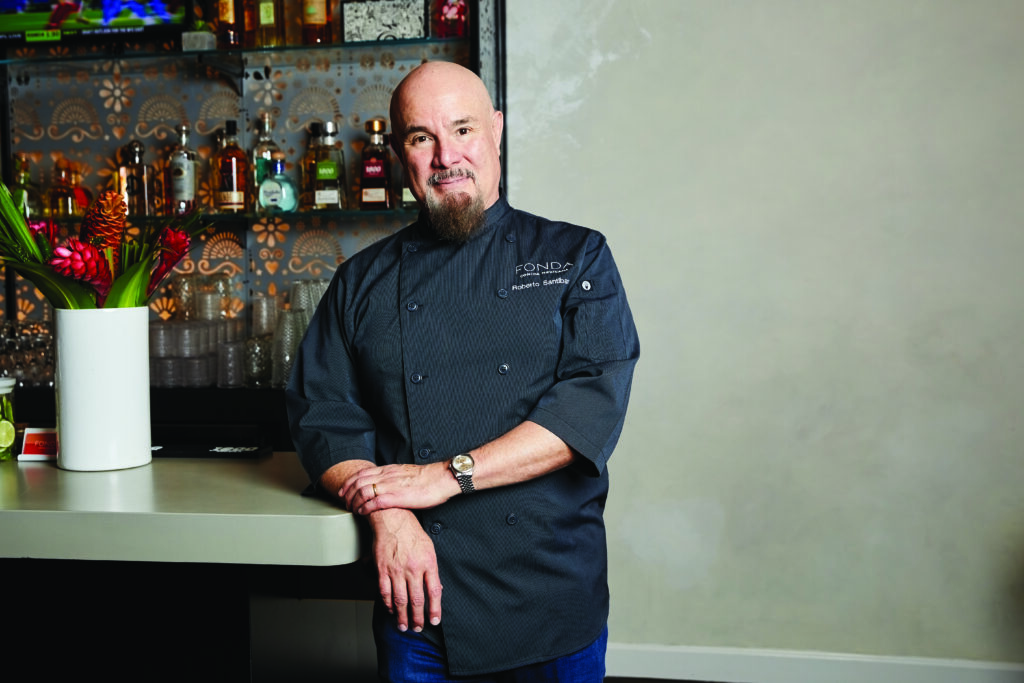 Santibañez, who hails from Mexico City and is a Cordon Bleu trained chef, ran three successful restaurants in his home city, before serving four years as executive chef at Fonda San Miguel in Austin, Texas. In 2007, he penned Rosa's New Mexican Table, for which he was nominated for an IACP and a James Beard Award. In addition to the Fonda restaurants, he also owns Mi Vida in Washington, DC. He has made his mark playing on the complexity of flavors that can be found in traditional Mexican cuisine. In DOWNTOWN's Summer 2022 issue, Santibañez spoke with writer Fernanda Mueller about his recipe book, Truly Mexican: Essential Recipes and Techniques for Authentic Cooking. "For example, the mole we serve is stone-ground and consists of more than 20 ingredients."
While Fonda's may be a 'chain', this is not to be a rushed dining experience. It's laidback, but elegant; you'll want to stay a while. The interior is inviting and colorful, with red banquette seating in its center, as well as in the back.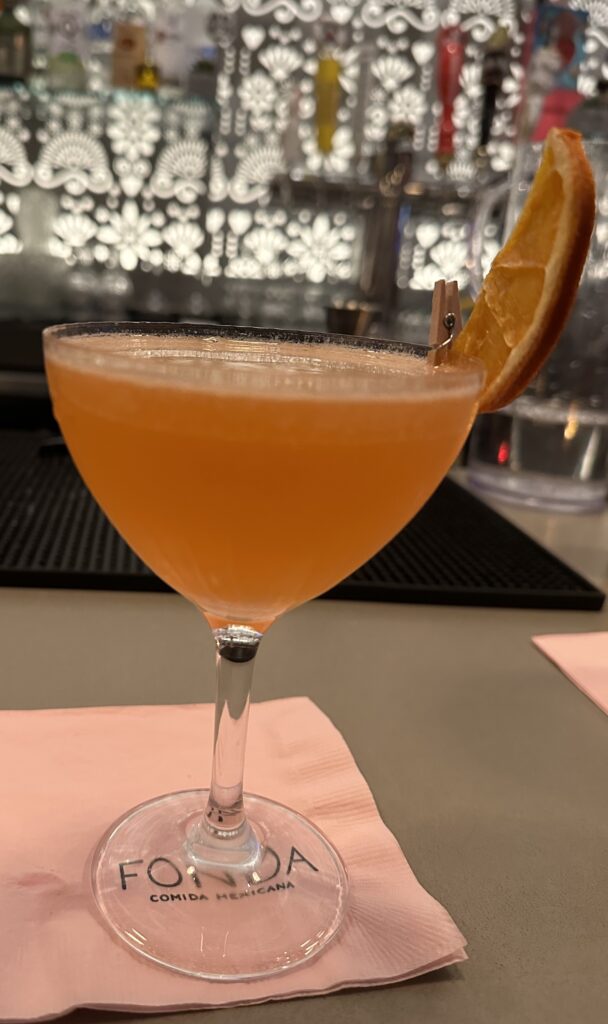 We began the evening at the bar. Bartender Juan "Sonic" Ramirez created most of the cocktails on the menu. His Sonic Tonic is a must, with Illegal Joven Mezcal, Amaro Nonino, Aperol, Lemon Juice, Tonic, and Orange Bitters. My friend enjoyed a well-poured Margarita with Dos Hombres Tequila.
Come hungry. The dishes are generously portioned, making for a nice shared experience. For starters, we began with the appetizer Duck Zarape/Zarape de Pato, braised duck tucked between tortillas lavished with habanero-spiked tomato salsa, that burst with flavor and a nice kick. We also devoured the freshly prepared guacamole and chips.
For entrees, we went with the Carnitas de Fonda-cast iron skillet braised pork shoulder that was perfectly succulent, served with salsa verde, pickled poblano peppers, charro beans and tortillas. We also loved the Taco de Pescado, a trio of crispy tacos (can also be grilled) that had a pleasant citrus flair.
There are plenty of vegetarian-friendly options too; enchiladas, chilaquiles, taquitos, salads, that can also be prepared without dairy for vegan diets.
Dessert sent us sweetly on our way, with a heavenly Citrus Tres Leches (citrus three milk soaked sponge cake served with Chantilly cream and fresh berries), and Morenitas (warm chocolate brownie with vanilla ice cream) that left us wanting more.
Fonda Tribeca is located at 139 Duane Street. For more menu details and reservations, visit fondarestaurant.com