Ice skating rinks at The Seaport and Brookfield Place, a Winter Village on Governors Island, holiday markets at Union Square, a new rooftop bar, an exhibit about the Jewish delicatessen, and more! Read on for the best things to do in Downtown NYC in December!
And if you're looking to get that special someone a gift, check out DOWNTOWN's Holiday 2022 Gift Guide!
ICE RINK RETURNS TO THE SEAPORT
Ongoing -A winter tradition, with a downtown twist. The Ice Rink returns to The Seaport for a season of winter festivities and complimentary skating along the East River. Skyline views continue to set the Ice Rink apart, and this year skaters can also take in the celestial sights of Aurora, an overheard light installation designed by Ithaca Studio.
The Ice Rink will be open daily. Rink admission is free, with skate rentals available for cost. Our neighbors and Seaport Insiders have the opportunity to receive a discount offer.*
Tip: DO NOT book the "Rink Admission ONLY" ticket if you need to rent skates. You MUST book a "Rink Admission + Skate Rental" ticket, otherwise you may be subject to an additional fee onsite, on top of the existing skate rental fee. Book here.
The Rink at Brookfield Place
Now – March 2023 The Rink at Brookfield Place Located on the Waterfront Terrace, the Rink at Brookfield Place opened in mid-November for another memorable skating season. New Yorkers and tourists alike can enjoy breathtaking views of the cityscape and Hudson River while skating the 7,350 square-foot outdoor rink. It's the perfect place to celebrate a birthday. New to skating? Guests can also sign up for private and semi-private lessons led by US Olympians Melissa Gregory and Denis Petukhov. Hours vary and are weather permitting.
Click here to read about more holiday happenings at Brookfield Place.
UNION SQUARE HOLIDAY MARKET
Now-Dec. 24 Regarded as one of the best in the nation, Union Square's perennial favorite Holiday Market returns for another season, with dozens of vendors! Open rain or shine. urbanspacenyc.com

MIRACLE COCKTAIL POP UP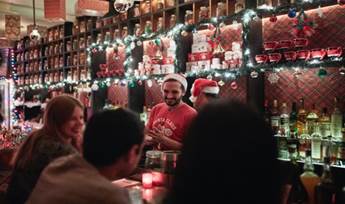 Now-Dec. 31 Miracle Cocktail Pop Up –Miracle, the beloved holiday-themed Cocktail Pop Up is set to return to The Cabinet. Fan favorite cocktails are returning and will be served at both locations such as Christmapolitan, Christmas Carol Barrel, Snowball Old-Fashioned, Nog, and Naughty Shot. New this year is the Grandma Got Runover by A T-Rex, Island of Misfit Toys, and Rudolph's Rum Rhapsody.
CHRISTMAS MOUNTAIN AT THE GREEN SPACE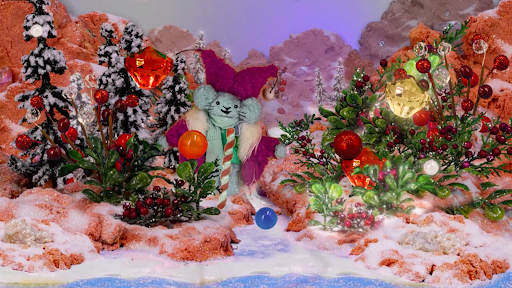 Dec. 1-21 This holiday season, the windows at The Greene Space at WNYC and WQXR in SoHo will illuminate with"Christmas Mountain," a 21 day multimedia, family-friendly installation from NYC live arts collective Piehole, which draws inspiration from a range of Christmas traditions throughout history. WNYC's Brian Lehrer narrates the tale of a town of mice scurrying to fix their TV signals in time for the longest night of the year, the Winter Solstice. An opening night reading on Dec. 1, will be narrated by WNYC's Brian Lehrer. Doors open 6pm, event at 6:30pm. The Windows at The Green Space at WNYC and WQXR are located 44 Charlton (corner of Charlton & Varick Streets.) The full exhibition runs through Jan. 9. xmasmountain.com
CHRIS BOTTI RESIDENCY AT BLUE NOTE JAZZ CLUB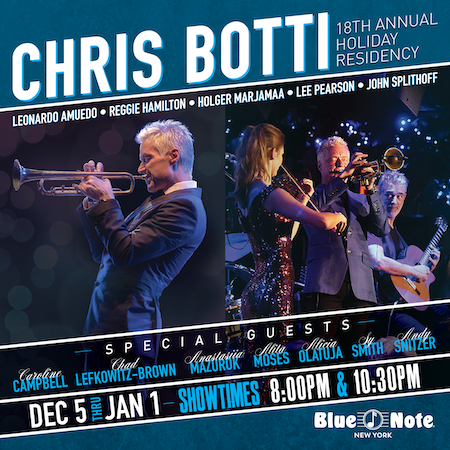 Dec. 5-Jan 1 Chris Botti's highly anticipated 18th Annual Holiday Residency at the iconic Blue Note Jazz Club. This will be a four week engagement from early-December through early January (including Christmas and New Year's Eve). Botti, described by The Wall Street Journal as "a December institution in the Big Apple at the Blue Note," has called the club his home every December since 2005. bluenotejazz.com.
DARRYL's DREAM HOLIDAY BENEFIT AT CUTTING ROOM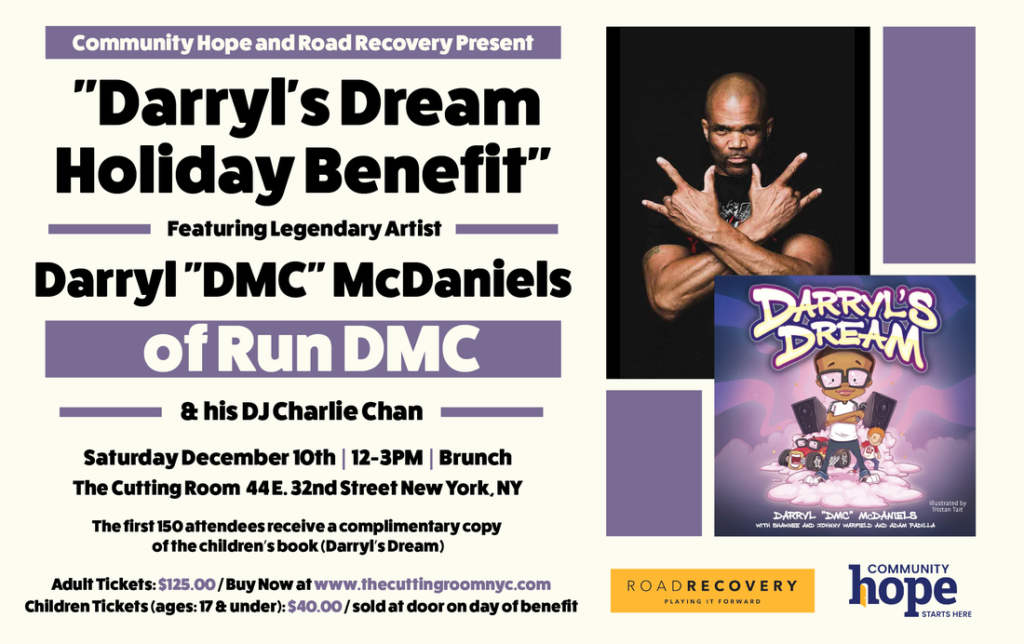 Dec. 10 Entertainment non-profit, Road Recovery will be hosting a benefit brunch at The Cutting Room from 12pm – 3pm with Community Hope to raise funds. The brunch will include a read-aloud by Run DMC's cofounder Darryl McDaniels, of his children's book, Darryl's Dream. There will also be a performance! Guided by music and entertainment industry professionals who have confronted similar life struggles, and with support from the mental health field, Road Recovery's action-driven programs provide mentorship, performance workshops, and "all access" opportunities for a community of motivated peers to create and produce live concert events and studio recording projects.
ART HISTORY HAPPY HOUR THIERRY MUGLER: COUTURISSIME AT BROOKLYN MUSEUM
Alan Strutt (British, born 1967). Yasmin Le Bon, Palladium, London, 1997. Evening Standard, October 1997. Haute couture Fall/Winter 1997–98 collection ("La Chimère"). © Alan Strutt
Dec. 15 A special Art History Happy Hour: Thierry Mugler: Couturissime will take place on Dec. 15, from 6pm.-7:30pm, and 8pm-9:30pm. Enter the fantastical world of the late visionary designer Thierry Mugler with Matthew Yokobosky, Senior Curator of Fashion and Material Culture, and feathercraft designer Eric Charles-Donatien.
Click here to read more about Thierry Mugler: Couturissime. brooklynmuseum.org
STREET ART SUITE AT THE DOMINICK HOTEL WITH PAUL RICHARD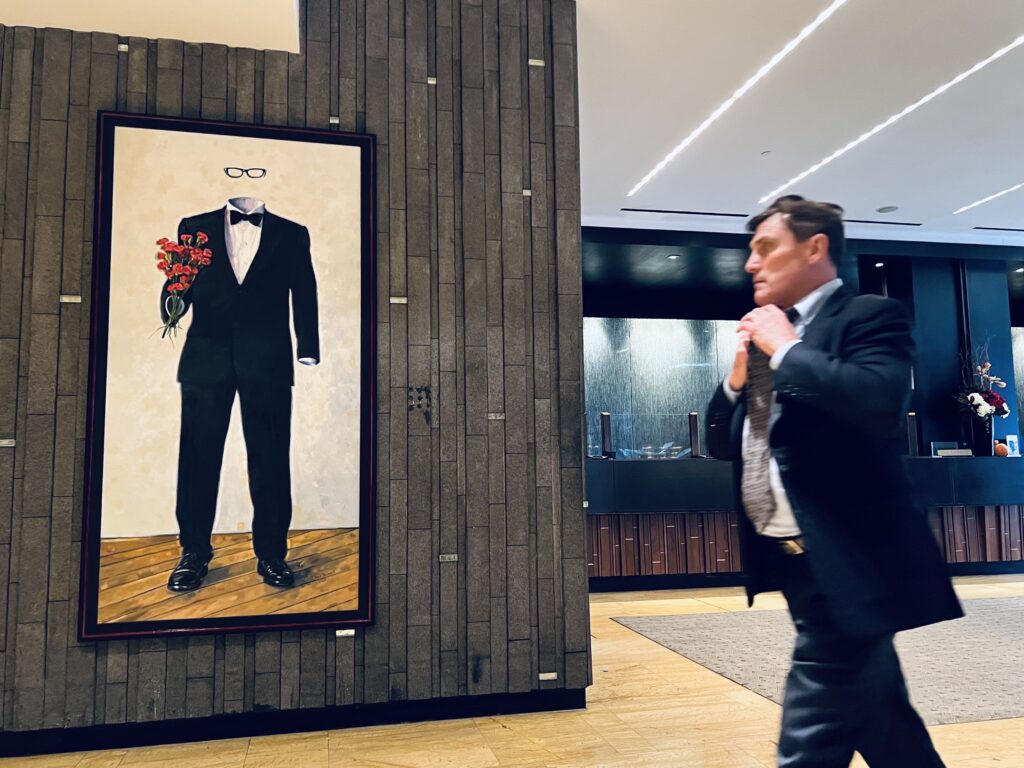 Now-March 31, 2023 In collaboration with renowned New York artist Paul Richard, The Dominick Hotel is home to a new art-forward experience. A custom-curated, gallery-style penthouse suite comes with a commissioned portrait by the artist and opportunities to collect original Paul Richard works. SoHo is known as a destination for art galleries, street fashion, character and edge in Manhattan. Today, The Dominick hotel on Spring Street officially launched, "The Street Art Suite," in collaboration with Paul Richard, one of the city's best-known artists. The Street Art Suite – a re-imagined Landmark Sunset Penthouse – pays homage to NYC's most celebrated art form and offers guests the opportunity to turn their own portrait into a lasting piece of sidewalk art. A minimum of 72 hours notice-reservation is required. To reserve The Street Art Suite and commissioned work, visit: https://www.thedominickhotel.com/paul-richard or email The Dominick reservations team at [email protected] or Instagram DM @thedominickhotel
NFTS Now: A Digital Exhibit
Now-Jan. 26, 2023 at The Seaport, The Gallery on Pier 17 presents NFTS Now: A Digital Exhibit from Early Backers of Web 3. The collection is from Jamie George and Harris Lipton, co-founders of Bored of Directors-A Collective of Select Ape NFTs. The collection features pieces by Beeple, @Beeple, Fewoious, @FEWOCiOUS, Lisa Nicole, @love_thy_land, TJO, @0XTjo, Dana Taylor, @itsdanataylor, Bored Ape Yacht Club, @BoredApeYC , World of Woman, @worldofwomennft, and others.
Winter Village at Bryant Park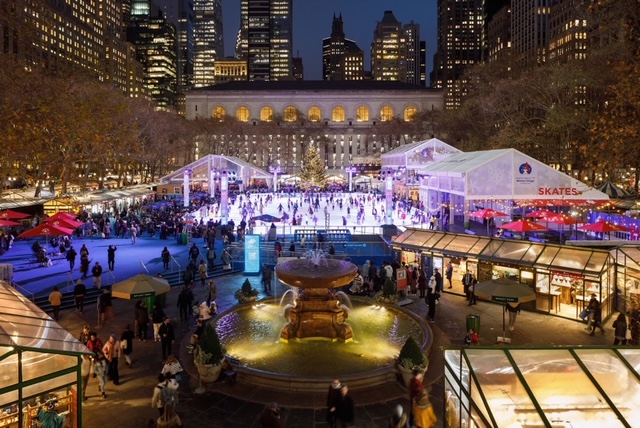 Now-March 5, 2023 New York City's celebrated Bank of America Winter Village at Bryant Park, featuring the city's only free admission ice skating rink, holiday market and delicious food offerings, returns. Highlights include the The Rink, 100+ shops by Urbansapace, a rinkside Lodge where skaters can grab a bite and a cocktail, and more.
GOVERNORS ISLAND WINTER VILLAGe
Ongoing- Governors Island Winter Village will transform historic Colonels Row into a singular seasonal destination for the second year in a row. The popular Winter Village will include a 7,500-square foot skating rink for visitors of all ages to enjoy, along with wintery activities, festive decorations, games, cold-weather food and drinks, and warming fire pits. The rink will be open Thursday through Sunday and all New York City public school holidays, with additional Winter Village activities available seven days a week. govisland.org.
I'LL HAVE WHAT SHE'S HAVING: THE JEWISH DELI AT N-YHS
Carnegie Deli, NY, 2008. Photo by Ei Katsumata/Alamy Stock Photo
Now-April 2, 2023 The title taken from Nora Ephron's classic film When Harry Met Sally, the hit exhibit at The New-York Historical Society examines how Jewish immigrants imported and adapted traditions to create a uniquely American restaurant, and NYC staple, the Jewish delicatessen. Click here to read more about the exhibit I'll Have What She's Having: The Jewish Deli at N-YHS. nyhistory.org
EDWARD HOPPER AT THE WHITNEY
Ongoing- Edward Hopper's New York will take a comprehensive look at Hopper's life and work through his city pictures, from his early impressions of New York in sketches, prints, and illustrations, to his late paintings, in which the city served as a backdrop for his evocative distillations of urban experience. whitney.org.
JACKIE ROBINSON MUSEUM
Ongoing. Nearly 75 years after Jackie Robinson made his debut with the Brooklyn Dodgers, the Jackie Robinson Foundation (JRF), founded by Robinson's wife Rachel, finally opens its doors, at 75 Varick Street. The nearly 20,000 square-foot space honors the life and legacy of a ballplayer who broke the color barrier in Major League Baseball, but also played an integral role in the Civil Rights movement. jackierobinson.org.
Halles des Lumieres: Gustav Klimt
Ongoing The Hall des Lumieres is the brainchild of Culturespaces, the creators of the original immersive digital art centers including Ateliers des Lumieres, with international event leaders IMG. The inaugural exhibition, Gustav Klimt: Gold In Motion, explores the revolutionary art of the Viennese painter, and has been created exclusively for Hall des Lumieres by an artistic team led by Gianfranco Iannuzzi. Hall des Lumieres will present new art experiences based on the work of world-renowned artists every 10 to 12 months Tickets on sale now. halldeslumieres.com
MUSEUM OF JEWISH HERITAGE: THE HOLOCAUST-WHAT HATE CAN DO
Ongoing- at The Museum of Jewish Heritage, the new core, 12,000 square-foot exhibition features more than 700 original objects and survivor testimonies from the Museum's collection, in objects donated by survivors and their families. Many of the items are from Ukraine. mjhnyc.org.
Meret Oppenheim: MY EXHIBITION at MoMA
Now-March 4, 2023. Meret Oppenheim: My Exhibition at the Museum of Modern Art is the first major transatlantic exhibition—and the first in the United States in over 25 years—to survey this visionary Swiss artist's career. The exhibition, spanning five decades, considers the full scope of Oppenheim's lifelong innovation through over 180 works, including paintings, sculptures, objects, collages, and drawings. The exhibition will explore all of these facets of Oppenheim's career, from early paintings such as Quick, Quick, the Most Beautiful Vowel is Voiding, M.E. by M.O. (1934), to mid-career sculptures such as The Green Spectator (1959), to monumental late works like New Stars (1977–82). Her broad thematic interests ranged from the natural world and mythology to gender and selfhood. "Nobody will give you freedom," she stated in 1975, "You have to take it." moma.org.
THE TIN BUILDING
Now open, the latest from restaurateur Jean-Georges Vongerichten, is Tin Building, a sprawling 53,000 square foot market down by The Seaport. It includes six full service restaurants, six fast casual outlets, four bars, along with a food market and curated gourmet grocery packed with specialty ingredients, meats, cheeses, and fresh produce. tinbuilding.com
MACHINE DAZZLE AT MAD MUSEUM
Now-Feb. 19, 2023 Boundary-breaking, "living sculpture" designer Machine Dazzle (né Matthew Flower) is having his first solo museum exhibition, at the Museum of Arts and Design (MAD). He is best known for the genre-defying sets and pieces worn by Taylor Mac and Justin Vivian Bond, that are an integral aspect of New York's cabaret and drag scene. The Pulitzer prize-nominated designer is showcasing over 80 creations spanning two floors of the Museum, running through February 19, 2023. Throughout the duration of the exhibit there will also be talks, screenings of films that inspired Machine Dazzle such as Clash of the Titans , Star Trek: The Motion Picture, and Xanadu, and other events. Machine Dazzle is also completing his first album, due out this fall. madmuseum.org
Louis Vuitton Pop Up: 200 Trunks, 200 visionaries
Now -Dec. 21 Check out a new pop up celebrating Louis Vuitton's bicentennial, 200 Trunks, 200 Visionaries. It's located in the old Barneys space at 660 Madison Ave. Reservations recommended. Hours: M-F, 10am-8pm.
QC NY Spa at GOVERNORS ISLAND
Ongoing QC NY Spa at Governors Island. Recently opened in March 2022, now you can take advantage of a spa filled day on Governors Island any day of the year, enjoying the most incredible views of the Manhattan skyline.  There are steam rooms, saunas, and architecturally stunning relaxation rooms. qcny.com