Perelman Performing Arts Center designed by REX. Image Iwan Baan. 
Perelman Performing Arts Center (PAC NYC) celebrated its opening with an emotional ceremony, including remarks by Paula Grant Berry from the 9/11 Memorial & Museum, investor Ronald O. Perelman, former Mayor Michael Bloomberg, Governor Kathy Hochul, and Mayor Eric Adams.
The dynamic cube-shaped building at 251 Fulton Street is a trailblazing architectural wonder 20 years in the making, a cultural keystone opening Sept. 19, that is the final piece to help bring Downtown Manhattan closure following the aftermath of 9/11, as well as a hopeful new beginning.
"The arts, as we all know, is the heart of what makes New York a beacon of life for people around the world," Bloomberg said. "Lower Manhattan has always been a crossroads of the world and a cauldron of creativity."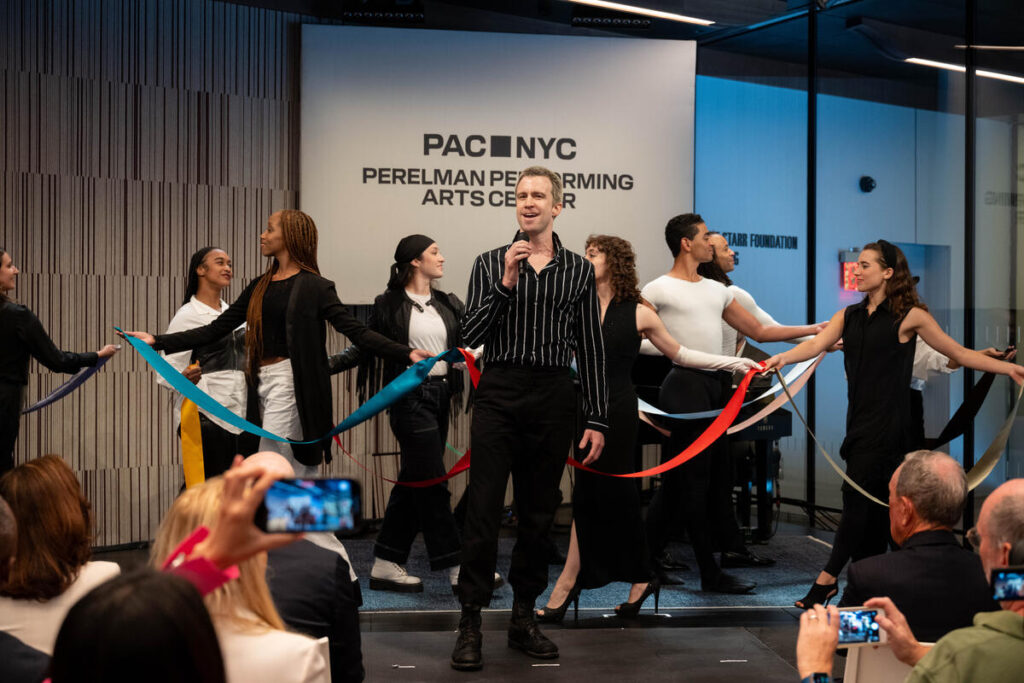 Soprano Larisa Martinez performed "Somewhere" from West Side Story, with violinist Joshua Bell, and pianist Peter Dugan. Tony-winning vocalist Gavin Creel, accompanied by members of the NYC branch of the Joffrey Ballet School, and pianist James Olmstead, performed a stirring version of "Beautiful City" from Godspell. 
PAC NYC, designed by the Brooklyn-based firm REX, in collaboration with theatre designer Charcoalblue and executive architect Davis Brody Bond, includes three flexible theatres that seat from 90-950 people, offering 62 stage audience configurations (two-46 ton, and two-23 ton moving walls, moving columns, seats, stages), and multiple theatre proportions.
The facade is designed with marble from Portugal encased in glass, that will allow sunlight to come through. At night, PAC NYC will glow.
Its lobby will have a Marcus Samuelsson restaurant, opening Oct. 2023; both are designed by the Rockwell Group.
PAC NYC's inaugural season will begin with Refuge: A Concert Series to Welcome the World – a five- night global music series featuring a vibrant mix of acclaimed musicians centered around the theme of refuge.
NYC Tapestry: Home as Refuge (Sept. 19 at 8 pm) – artists who have come from other parts of the world to make New York their home, including Laurie Anderson, Raven Chacon, Natalie Diaz, and thingNY, Angélique Kidjo, Michael Mwenso, Mwenso and the Shakes, Emel, Wang Guowei, and Forro in the Dark.
Devotion: Faith as Refuge (Sept. 20 at 8 pm) – artists who use music to express their spiritual traditions, including The Klezmatics, Tanya Tagaq, ÌFÉ, Damien Sneed and Chorale Le Chateau, Innov Gnawa, Arun Ramamurthy & Trina Basu ft. Samarth Nagakar, and The Choir of Trinity Wall Street.
Playing it Forward: School as Refuge (Sept. 21 at 8 pm) – artists who are educating the next generation, including David Broza, Common, Arturo O'Farrill & The Afro Latin Jazz Orchestra, and Mahani Teave.
Relatively Speaking: Family as Refuge (Sept. 22 at 8 pm) – artists for whom making music is a
family affair, including Martha Redbone, Amal Murkus and Firas Zreik, the HawtPlates, Fanoos Ensemble, and Villalobos Brothers.
Childhood Songs: Memory as Refuge (Sept. 23 at 8 pm) – artists sharing stories and musical
traditions from their childhoods, including Michelle Zauner, Shoshana Bean, Alphabet Rockers, Daniel Gortier, Trinity Youth Chorus, and Abigail Washburn.
PAC NYC's opening will also include free events for the community: Open House: Arts Community Day (Sept. 27) and Open House: Five Borough Family Day (Sept. 30).
The inaugural year programming will also feature commissions, world premieres, partnerships, festivals and co-productions. The artistic programs will range from World Premieres of Laurence Fishburne's one man tour-de-force play Like They Do in The Movies, to a fabulous reimagining of CATS set in the  competitions of New York City's Ballroom culture, to new multi-disciplinary work Watch Night from the  acclaimed artistic team of Tony Award winner Bill T. Jones, poet Marc Bamuthi Joseph, composer  Tamar-kali, and dramaturg Lauren Whitehead. PAC NYC has also partnered with Creative Artist Agency  (CAA) to present conversations with renowned celebrities such as Kerry Washington and will host the  2023 Herbie Hancock Institute of Jazz International Piano Competition, the most prestigious  competition of its kind.
For more information, visit pacnyc.org.