We made it through Winter, beyond holiday shopping and finding that one pine needle hiding under our sofa, through Spring, watching the last bit of snow melt, only to showcase spring's fresh beautiful tulips; and Summer, we're all trying to catch that final ray of summer sun at our favorite beach. We finally receive that one long-awaited email with those famous words: Return of Dîner en Blanc. 
This means it's time to search your wardrobe or better yet, head out to the summer sales for a new head-to-toe mandatory formal attire of white. White, WHITE, did I say, White? Dig out, dust off your white table linens, champagne flutes, and start planning your chic, one-night-only party of the year.
This year Thursday, September 14, Le Dîner en Blanc returns to New York. Today, this urban picnic occurs in 65 cities across six continents, and will return to the city that jumpstarted this international sensation. Thousands of people will come together at an iconic undisclosed location for a one-night celebration of food, wine, and friendship.
How did it start? Francophone François Pasquier, and his family lived in Tahiti for several years in the 1980s and upon their return to Paris, wanted to celebrate with friends. "Our garden was too small, so we decided to host a picnic in the Bois de Boulogne. To make it easier to find each other, we agreed to dress all in white. The dinner was such a complete success that we decided to repeat it again the following year, and again, and again…until eventually, we had more than a thousand guests!"
Fast forward to 2011, Sandy Safi joined forces with Aymeric Pasquier to host the American premiere of the gourmet mass picnic, Le Dîner en Blanc, in New York City. Because of its enormous success and increasing demands from cities all over the world to host the event, the pair co-founded Dîner en Blanc International in 2012. In 2022, Safi acquired 100% of the organization's business interests and continues to curate relationships with hosts, sponsors, and partners, in an ever-expanding global network, and promotes and develops the brand around the world.
DOWNTOWN's Managing Editor Linda Sheridan had the pleasure of speaking with Sandy Safi, today. We wanted to check in with Sandy after one year of purchasing Diner en Blanc, to see where DEB is, and what's next.
DTM: Where was the first Dîner en Blanc in NYC?
SS: The first one in NYC was in 2011, at Brookfield Place, that's why last year we went back for the 10th anniversary. The first year was a small space, accommodating about 1,000 people. We had no idea what we were signing up for. It was a dream to bring a French concept to NYC. Last year, it was nearly five times that amount!… Now, we're growing in the Arab world, Asia. We have a strong presence in Canada, Australia, Thailand, and Taiwan.
DTM: Now in your first year after acquiring Dîner en Blanc in 2022, what can we expect that's different?
SS: It's going to be so different, I'm very excited. We're working with authorities to do something extra special; also, we're working more with the community to bring in local staff, caterers, restaurants, and talent, so putting a big focus on local communities and collaborating, 
DTM: How does it feel to be the head of this legendary international dinner party?
SS: It was a challenging transition, it was during covid. I had dedicated already more than 10 years of my life doing this, bringing together people on a global scale, but appreciating local communities. I want you to be able to connect…we're creating a global community around foodies, and travel, appreciation of outdoor spaces, we're building that community, that learns how to interconnect with a niche community, by gathering people, sharing a meal…it's very intercultural, it's intergenerational, it's the most dedicated community I've ever seen.  People are very fond of it; memories are built, and between themselves, they build a network. We're gonna see that come to life.
DTM: Now that Dîner en Blanc is international, what is it about the concept that drives you?
SS: Personally, I come from a very diverse, mixed background… my parents were business people in fashion and moved around a lot, in Cyprus, Italy, Canada, United States. I learned to embrace different cultures and foods and communities, it's an innate part of me. It was also very difficult, challenging. [I learned to be able to have] very strong adaptability, a willingness to embrace and unite cultures… Each city has what defines them, there can be more of a focus that allows that local flair to shine while getting together for a meal, appreciating your own city, and strengthening bonds. 
DTM: What can we expect from Dîner en Blanc's future in the next two years?
SS: I'm hoping this year's event is going to set a new direction for Dîner en Blanc; this year's going to be awesome.
Thinking about attending? DO NOT WAIT, follow our instructions. Dîner en Blanc is one of the most magical yet mysterious dinner parties of the year.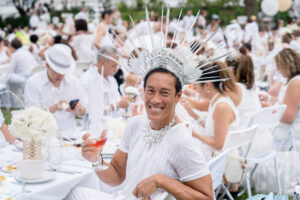 To be part of the celebrations,
people can sign up now by visiting
newyork.dinerenblanc.com
and clicking on the register tab.
In order to maintain the uniqueness of Le Dîner en Blanc, every guest has a part to play and observes certain requirements such as:
Dress code: head-to-toe in white only. Elegance and Originality are key
Table setting: all white
French-influenced events, only wine and/or Champagne are served.
As per New York alcohol regulations, guests cannot bring their own alcohol. Guests wishing to enjoy some wine or Champagne must reserve online through Le Dîner en Blanc's e-store. However, guests are welcome to bring their own non-alcoholic beverages.
To ensure that the secret location is kept undisclosed until the last minute, guests meet at assigned departure locations throughout the city and are escorted by a Dîner en Blanc volunteer.
So, the event location is left as clean as when guests arrived, they are required to leave with all their belongings, leftovers, and litter.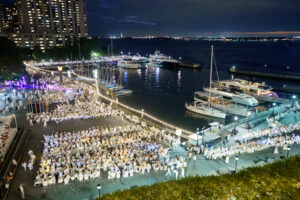 Attendees are to bring
A table, two white chairs, white tablecloth.
A picnic basket comprising fine food and proper stemware and white dinnerware.
A catered picnic basket option, which can be picked up on-site, will be available for those who do not wish to pack their own. Guests wishing to do so must reserve online through Le Dîner en Blanc's e-store.
Le Dîner en Blanc is so much more than an event. It's a unique cultural movement that empowers friends of friends to gather and celebrate their shared passions for life, food, fashion, and community, year after year, with a pinch of mystery and a large serving of spontaneity. Elegantly dressed all in white, guests arrive at a secret location for a chic picnic en masse.
DEB is a huge success for many reasons, one is that the entire team cares, but also those who attend are diligent in the rules. The event location must be left as clean as when guests arrived, they are required to leave with all their belongings, leftovers, and litter.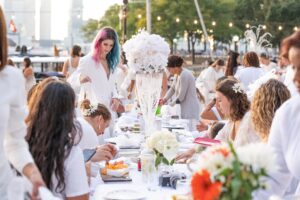 DOWNTOWN & THE ENTIRE DEB TEAM WILL SEE YOU THERE IN JUST A FEW WEEKS!
GET YOUR WHITE ON!