Photos by Delilah Brainin
Smorgasburg, the largest weekly open-air food market in America, is back for its first full season since 2019. Following the Covid-19 pandemic, Smorgasburg has returned to its pre-pandemic levels with 80 vendors, 20 of them new, across the market's locations. The market features a variety of cuisines, such as Lebanese-Portuguese, Trinidadian, Filipino, Iranian, Dominican, Mexican, Malaysian, Peruvian, Indian, and more, and boasts vegan options and unique desserts, making Smorgasburg's 13th year more inclusive than ever.
The Smorgasburg WTC location is open each Friday by The Oculus, with 30 weekly vendors. Some favorites from the World Trade Center Smorgasburg are Nadas NYC, offering an array of colorful Colombian empanadas, Petisco Brazuca, featuring authentic Brazilian snacks, Rolle Drinks, making Jamaican drinks, and So Sarap NYC, serving Filipino street food.
While some of the vendors serve exclusively meat-based options, there are options at market for people of all preferences. Frubae offers a unique twist on smoothie bowls: they blend whole fruit, freeze it into blocks, and shave the blocks into airy and refreshing ribbons, complete with toppings of your choice. I tried their Super Acai bowl, made with blended acai, blueberries, banana, mango, and dragonfruit, topped with granola, banana, and peanut butter. In mid-July, the New York City air is thick with humidity, and this was a healthy, revitalizing, and tasty respite from the summer heat! I also tried spinach and cheese coxhina from Petisco Brazuca, a type of fried dough with filling popular in Brazil, and finished with chocolate mochi from Mochidoki.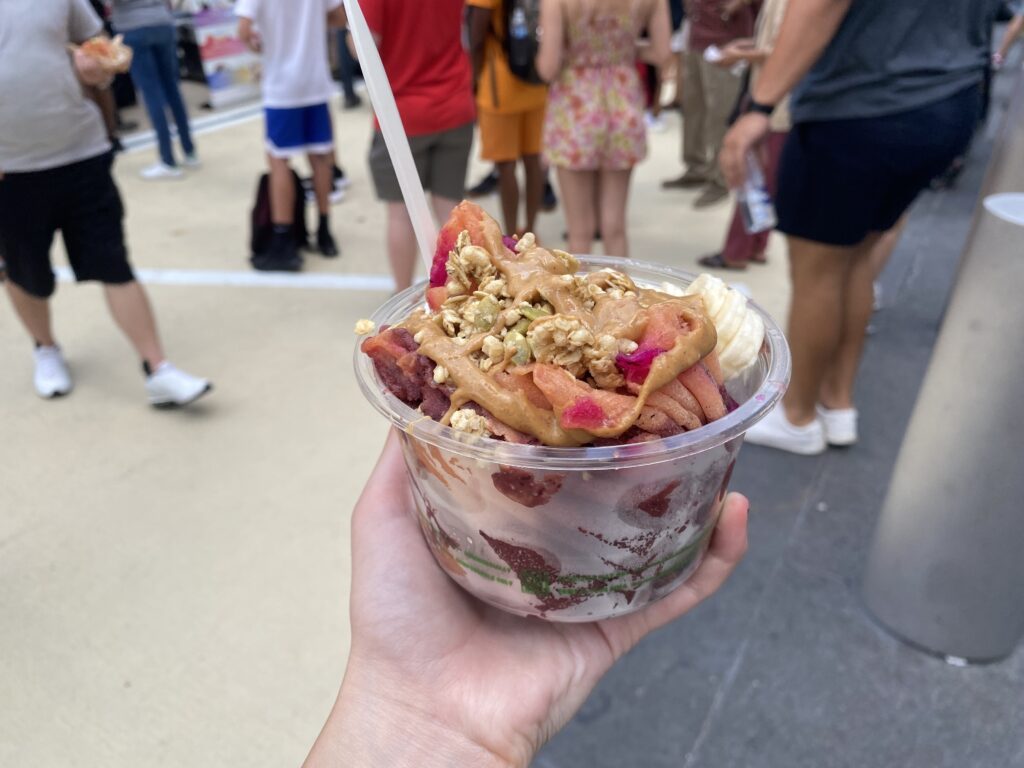 Frubae's Super Acai bowl, blended acai, blueberries, banana, mango, and dragonfruit, topped with granola, banana, and peanut butter.
This year market visitors will be able to skip the lines and quickly order from any vendor using ChowNow —which many New York City restaurants (and vendors) prefer because the app does not charge restaurants a fee or commission, allowing them to keep all of their food sales. All vendors' menus will be available on ChowNow, with quick pickup directly from each booth.
Smorgasburg WTC is located at The Oculus (Fulton & Church Streets) every Friday, 11am-7pm. Additional Smorgasburg locations are located in Williamsburg, (the original site) , Prospect Park, Los Angeles, Miami, and this year, Toronto. smorgasburg.com