Walking into Fenty' Skin's pop-up installation in the Meatpacking District, one is immediately launched into summer, surrounded by a cherry-filled experience to engage all the senses. The event celebrated Rihanna's clean, vegan, and cruelty-free makeup and skincare line launching their Cherry Dub collection. The pop-up featured the Cherry Dub Superfine Daily Cleansing Face Scrub and Cherry Dub Triple Action AHA Body Scrub, as well as the unisex Fenty Eau de Parfum – a perfume carefully curated using only middle notes for a complex and long-lasting scent. It also spotlighted other products from Fenty, such as moisturizers and makeup, including the Fenty Icon Velvet Liquid Lipstick in 'The MVP' worn by Rihanna when she performed at this year's Superbowl.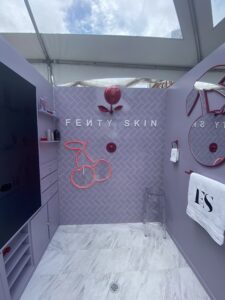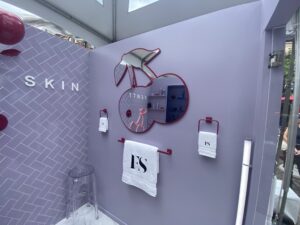 Photo by Delilah Brainin
The Fenty skincare products hit the nose first — powered by Barbados cherry, a vitamin C-packed ingredient unique to Rihanna's brand, and a tribute to her heritage, the Cherry Dub Face Scrub, Body Scrub, and Eau de Parfum all smelled light, fresh, and subtly sweet, earning them their place as the perfect summer skincare products. The effects of the scrub and lotion left their mark, as my skin was remarkably soft for hours, and was noticeably smoother and more vibrant.
The pop-up installation allowed visitors to step inside and experience an aptly cherry-themed shower full of Fenty Skin products, including a screen that transformed into a steamy glass shower wall and a cherry-shaped mirror for a fun photo-op. On the way out, they offered a blushing-red cherry Italian ice, a refreshing treat complete with pieces of cherry inside – of course, I had to try a scoop, and it made for a vibrantly sweet conclusion to the experience! fentyskin.com