MY DAUGHTER Amanda and I at Stonehenge. Photo taken by a kind tourist.
FIVE YEARS AGO, AFTER VISITING A FRIEND STUDYING ABROAD, my daughter Amanda, now 28, moved to Amsterdam. The transition hadn't been easy, but she found her groove, new friends, work, and began to thrive. I'd missed her something fierce when the fall holidays began to come around, and booked a much- needed weeklong mom daughter trip-the first half staying in Amsterdam, the second visiting London.
Holland.com is the official tourism site for The Netherlands. Though significantly smaller in population compared with New York City (less than 1 million vs. 8+ million), its capital city, Amsterdam, a must see any time of year (late night summer sunsets and cocktails on the canals, holiday markets and mulled wine in winter) is brimming with charm, quaint streets, museums, shops, and restaurants for every taste (and the Euro these days is about equal with the dollar.) Fly into Schiphol Airport, and you're a good half hour or so by Uber into the main part of the city.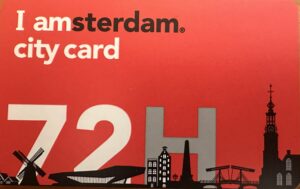 Whether it's your first time or your tenth, it pays to get an iamsterdam city card, that will grant you access to city transport (Metro, tram, bus, and ferry), 70+ museums, a canal cruise, and bike rental. You can pick it up at their office, located in Amsterdam Central Station. You can choose from 24, 48, 72, 96, or 120 hours. The office can also help give you guidance planning day trips. Don't forget to swipe both when you get on, and when you get off! iamsterdam.com/citycard
We used our iamsterdam card to get around on the tram, and visited the Stedelijk Museum located at Museumplein. This modern art museum that opened in 2012 with an exterior shaped like a bathtub, boasts some 90,000 pieces of art, including pieces by Picasso, Warhol, Mondrian, Rothko, and many others. It also has various interactive installations, such as the Lafva Lab, a plastic infinity pool that you can slide into, or write words with magnetized bottle caps.
I have visited my daughter numerous times over the years, when she used to live in DePijp, a quaint neighborhood filled with shops, parks, and perhaps most famously Albert Cuyp Market. Since she now lives in Oost (East) with roommates, we decided to get a hotel together.
Ambassade Hotel, which began as one canal-side building in 1953, is located on the Herengracht canal, in Amsterdam's center. Today it offers 55 elegantly designed hotel rooms, distributed among 15 historic UNESCO-canal houses. Most of these canal- side homes are on the Herengracht canal (as was our room), while some others are located on the "Singel" canal.
The no. 1 rated hotel in Amsterdam on TripAdvisor, Ambassade Hotel earns that status, thanks in part to being an advocate for energy efficiency, teaming with multiple green organizations in the Netherlands, including Green Choice for gas, Hotels for Trees, and more. All its linens are GOTS and Fairtrade certified.
In addition to truly luxurious bedding (we loved our Deluxe Canal View room), guests will find a spacious bathroom with a large bathtub (a huge perk; tubs are not easy to find in Amsterdam!) with a separate shower, heated floors (that felt amazing), and cozy slippers.
A hearty breakfast was served everyday downstairs in The Brasserie. In addition to fruits, smoked salmon, a selection of cheeses, croissants and cereal, guests can also order freshly made items, such as omelets. If you need to get a workout in, there's a gym, even personal training available.
For an evening nightcap, my daughter and I grabbed a cocktail with one of her friends in Ambassade's lovely Librarie on the ground floor, a light, cheery space filled with books and even some table games. If you're staying longer and want some extra pampering, Ambassade's Koan Float offers a variety of floating sessions and 15 types of massage treatments.
For more information and reservations, visit ambassade-hotel.nl.
DAY TRIPS
• Museumplein No, you don't have to leave the city for this, but make sure to allocate a day, or several, to explore this giant quad in Amsterdam Zuid (south) that connects a group of museums, including Stedelijk Museum, Rijksmuseum, the Van Gogh Museum, and MOCO Museum.
• Utrecht Is only about 20 minutes out of Amsterdam.
• Haarlem This lovely, compact hub of culture and cafes (Frans Hals Museum, Molen de Adriann windmill) is just 15 minutes outside of Amsterdam.
• Keukenhof Of course The Netherlands are renowned for their flowers, and from late March til May, it's prime time to see the tulips in Keukenhof, which boasts a staggering seven million blooms. About 35 minutes outside Amsterdam. keukenhof.nl
• Rotterdam Renowned for its edgy architecture and nightlife, port city Rotterdam is another great day trip, just an hour from Amsterdam. Just outside of Rotterdam are the iconic Kinderdijk windmills.
While you can easily grab flights between the two cities on an airline such as Easyjet, this time around we decided to take the EuroStar, which is nice, because you do double duty customs when you check in. You also get to see the countryside, enjoy the snack bar, and relax a bit. Arrival at St. Pancras station. eurostar.com
Located in London's trendy Shoreditch, CitizenM (a hotel chain which is based out of the Netherlands) offers reasonably priced rooms with king sized super comfy beds, and all the smart gear you need, at your fingertips. CitizenM Shoreditch is a short walk (two blocks) from the Shoreditch High Street train station.
Each CitizenM has its own distinctive style; the Shoreditch location has a bold red scheme, British motifs, inspiring artwork (Shoreditch is renowned for its colorful street art), a variety of workspaces and lounge areas. Each room comes equipped with an iPad, where you can adjust the room temperature, ambient room lights in a host of colors, shades, the smartTV, order food, and more. They also have handicap accessible rooms. They recently opened another CitizenM at Victoria Station and will be opening another location in Paris Opera later this year. There are additional locations in Scotland, Copenhagen, New York, DTLA, Miami in Brickell, and more. The canteenM is a 24 hour cafe, where we filled up on a full blown breakfast selection, from eggs, mushrooms, sausage, fresh salmon, croissants and French jams, a variety of coffees, cocktails, to salads, sushi, sandwiches, and hot dinner selections.
For more information on CitizenM hotels and reservations, visit citizenm.com. MUST VISIT BAR: Just a few blocks away from CitizenM is Lounge Bohemia, a reservations-only cocktail spot since 2007, specializing in alchemy. loungebohemia.com
DAY TRIPS
• Camden Lock (formerly Old Stables Market) is a cavernous space where you can shop for everything from bags, to gin, to vintage tshirts, or grab a bite. It's gone through a bit of a renovation since covid. It's a short Tube ride to Camden from Shoreditch. Camdenmarket.com
• Tate Britain Entry into the gallery is free, but tickets required for exhibitions. In Westminster. tate.org.uk
• Stonehenge The mysterious prehistoric monument (3000-2000 BC) of two sets of stones perfectly aligned with summer solstice, is located in Salisbury, about 90 miles out of London. It's been a UNESCO heritage site since 1986. english- heritage.org.uk/visit/places/stonehenge
• Hampton Court Palace It's the former home of King Louis VIII. Explore his kitchens, art collections, and apartments, in addition to the Georgian Story and William III's Apartments. Some scenes from Bridgerton were shot on the gorgeous lawns. About 45 minutes outside of London by train. hrp.org.uk