The sprawling exhibit in 3WTC has been a draw for artists, as well as those who want to learn more about World Trade Center's dynamic history.
By Matt Kapp Photography by Joe Woolhead
Reprinted from DOWNTOWN Winter 2023
WHEN LARRY SILVERSTEIN announced he wanted to rebuild the World Trade Center, the naysayers were legion and vociferous. "Everyone told me I was crazy," he recalls. "You'll never get it financed. No one will ever comedown here. No one will ever rent space. Why are you wasting your time?" But the developer remained steadfast in his determination to rebuild after 9/11. Besides, doing otherwise would signal defeat. "If you don't rebuild it, then the terrorists have won, right? I absolutely couldn't let that happen."

Despite the headwinds, by 2006 Silverstein had managed to open the 52-story 7 World Trade Center, designed by Skidmore, Owings &Merrill's David Childs. It wasn't easy attracting tenants to a tower directly across the street from a contentious construction site on top of what many considered to be sacred ground. But by 2009 the building was fully leased to a diverse roster of companies, including financial analytics firm Moody's, the New York Academy of Sciences, music publisher BMI, and Mansueto, publisher of Fast Company and Inc. magazines.
Glossy brochures, slick video presentations, immersive 3D walkthroughs—just to name a few—are important marketing tools for commercial real estate developers. But thinking outside the box has been critical to Silverstein Properties' success in leasing its towers at the World Trade Center, which are now more than 90 percent occupied.
"You can paint the ceilings, the floors, the walls, the windows, you can even paint the toilets," Larry Silverstein told the more than 50 street artists he invited to 4 World Trade Center's 34,000-square-foot 69th floor in 2016, not long after the 72-story Fumihiko Maki-designed tower opened. Few surfaces were left blank. When music-streaming service Spotify was a prospective tenant, according to Silverstein it was a casual tour of the floor for company executives that ultimately sealed the deal." When they looked around, they realized that, by golly, this space was a spectacular space,"he recalls. "It took the street artists to open their eyes and minds to the reality of what they had here."
A few months later, Spotify signed a lease for 378,000 square feet (which would later grow to half a million). "Art is embedded into the corporate culture at the new World TradeCenter," observed Forbes magazine of the deal, crediting Silverstein with "flipping the corporate office script Silicon Valley style."
Top of the World, a multi-media exhibition the 80th floor of the 1,079-foot-tall Richard Rogers-designed 3 World Trade Center, is the latest example of the developer's outside-the-box approach to marketing its properties. But it's much more than that. It's a comprehensive history of the rebuilding of the World Trade Center over the past two decades.
The concept for the exhibit was hatched in the fall of 2020, when the World TradeCenter complex was still all but a ghost town." During the pandemic, we thought it might be interesting to fill one of our unleased floors with photographs, art, architectural models, sketches, renderings, and souvenirs of the 20-plus-year effort to rebuild the WorldTrade Center site," explains Dara McQuillan, Silverstein Properties' chief marketing and communications officer. "It's the story of rebuilding, as told through the eyes of architects, artists, engineers, construction workers—the men and women who were involved in this project day in and day out."
The exhibit also includes an eclectic collection of memorabilia, including pairs of gigantic scissors used for ribbon-cutting ceremonies and a skateboard Larry Silverstein's employees bought their nonagenarian boss as a housewarming gift when he and his wife, Klara, moved into nearby 30 Park Place. "We got it for him because he has a one-and-a-half-block commute to the office and it's downhill," McQuillan recalls. "But our risk manager at the time nearly had a heart attack, so we mount edit on the wall instead of having Larry risking life and limb on his way to work."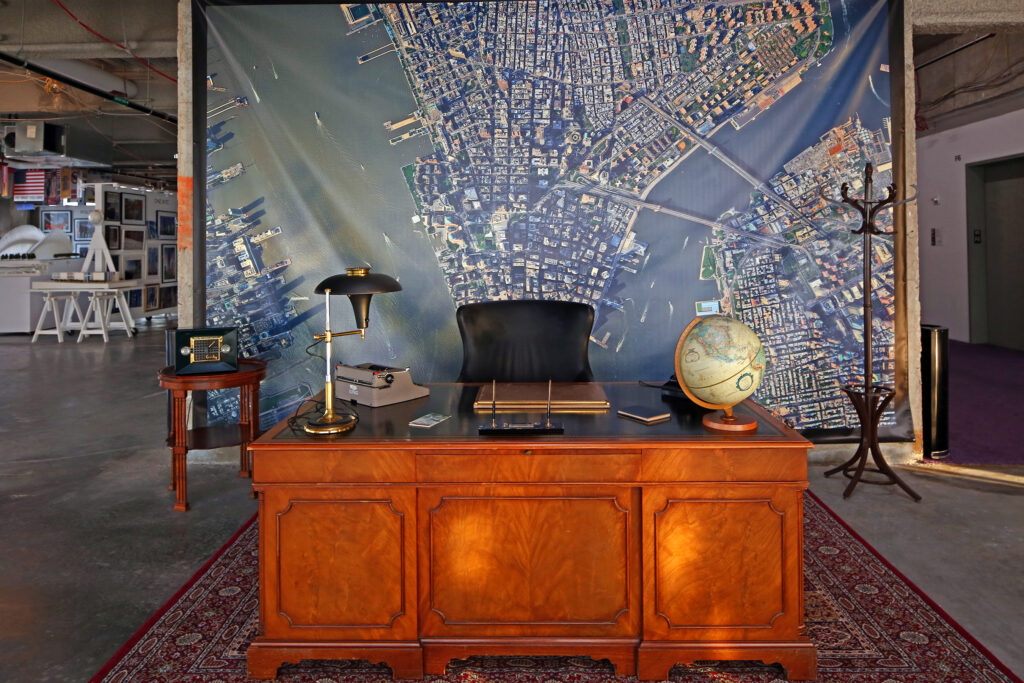 One of McQuillan's favorite parts of the exhibit is Larry Silverstein's father's desk. "Everything on it is from 1957, the year Larry and his dad started their company together,"he explains. "There's a typewriter, a globe, a desk lamp, an ink blotter, and a rotary telephone." He says he gets a kick out of showing the desk to younger visitors, many of whom have never seen a rotary phone and have no idea how it works. "I just tell them it's an early version of the iPhone."
Top of the World also showcases the work of artists, filmmakers, and photographers who have spent years, if not decades, documenting the rebuilding effort. Photographer Joe Woolhead estimates he's taken four million photos at the WTC site since 2001. "I'm quite humbled witnessing the work that went into creating this beautiful complex of buildings,"he says. "Every individual, whether laborer, supervisor, contractor, architect, or developer, should be proud of the work they put into this monumental achievement in construction."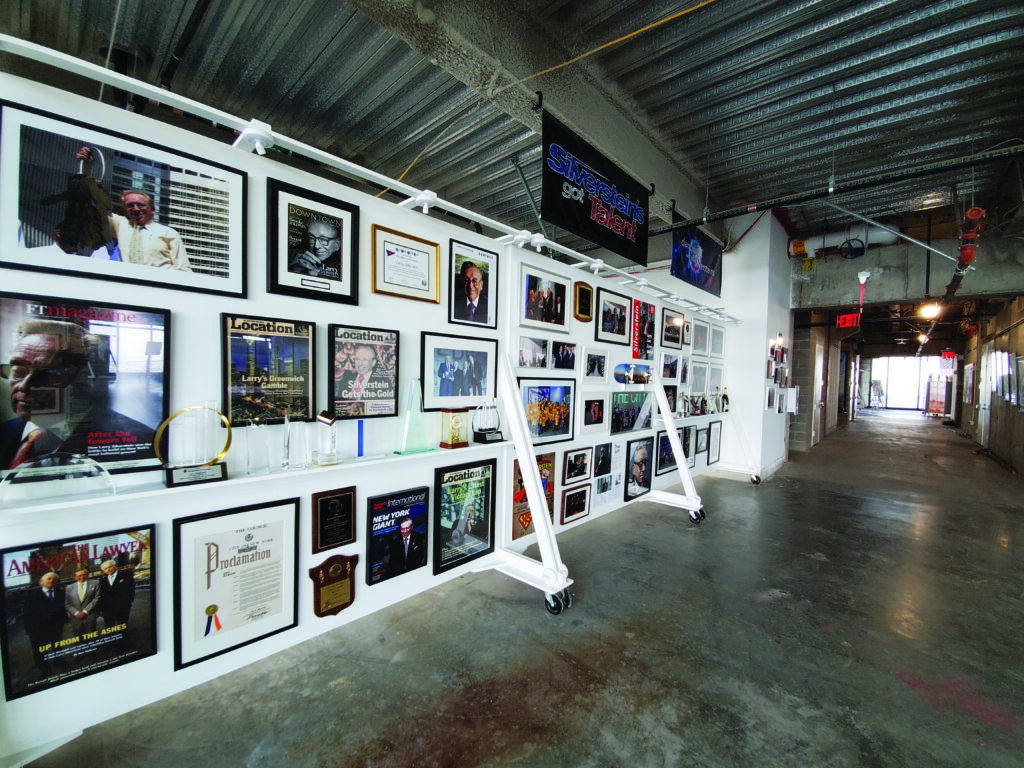 Not only are dozens of their works on display, two of the exhibit's artists also have studios on the 80th floor. Painters Jacqueline Gourevitch and Kerry Irvine each have a personal connection to the WTC site. The 90-year-old Gourevitch worked on the 91st floor of the NorthTower as part of the Lower Manhattan CulturalCouncil's artist residency program. Irvine's sister died in the South Tower on 9/11.
Perhaps most rewarding for McQuillan is how the exhibit has given Silverstein the opportunity to educate the newest generation of employees working at the World Trade Center about its extraordinary history. "The average age of employees of the newer creative and tech companies that have moved down here is around 28-years-old," he says. "They have no memory of what happened here on9/11 and don't know much about our efforts to rebuild the place. The exhibit is a great way to let them know that they're part of something much bigger than just themselves or the company they work for."
While the exhibit isn't open to the public, a virtual tour is available at https://wtc.com/topoftheworld. DT