Stylist-turned abstract artist Kerry Irvine channels the pain of loss into art, with help from Silver Art Projects. Reposted from DOWNTOWN Fall 2022 issue
Photography by Joe Woolhead
FOR THE PAST FIVE YEARS, ABSTRACT ARTIST KERRY IRVINE has been working out of the World Trade Center buildings, as part of Larry Silverstein's Silver Art Projects. Thanks to the program–which provides artists with studio space free of charge and asks for nothing in return–Irvine has been able to push the limits of her art and create without boundaries.
Art is in her blood. "I am the daughter of an abstract painter and the granddaughter of a sculptor," says Irvine. "So I've got art in my family." Irvine says she knew right away that she was meant to be an abstract painter, and credits her mother with this realization about her own artistic style.
She wasn't, however, able to support herself as an artist initially, something she is very candid about. But she did have another love: fashion, and that's how she came to work at Ralph Lauren. Even though she wasn't painting with a paintbrush and a canvas, she was still able to share her vision with the world in another way. "I fell into the advertising department as an assistant and worked my way up. I became a stylist. I would go to huge, beautiful shoots with some of the most amazing, legendary photographers. I loved clothing. So it was like I was painting with clothes."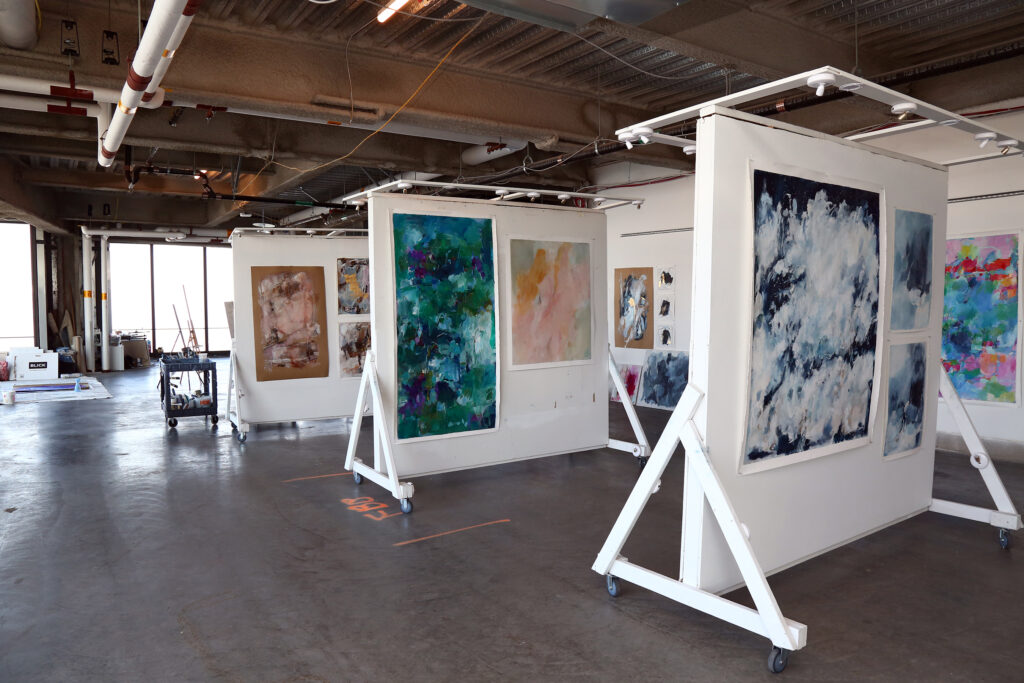 Irvine's journey to WTC was not an easy one. After 9/11, she struggled to even revisit the downtown area. "I lost my sister on 9/11. I lived just in the West Village, and it still terrified me down there. I'd only been there for a couple of the memorial services and I got out of the subway and I turned around…and the [9/11] Memorial…it's the two pools. Her name is directly in the middle. So I got out of the subway, and I said, "Oh my God, there she is."
That day she was meeting with a fellow artist, and after seeing their studio space, things changed. " I was amazed at how calm it was and that this wasn't scary. I didn't want to cry," she said. "I didn't want to leave."
Now, after years of working in the fashion industry and avoiding the downtown area, Irvine had found the Silver Art Project, and reached out to Dara McQuillan, Chief Marketing and Communications Officer for Silverstein Properties, about working in the World Trade buildings. She has nothing but praise for Silverstein and his team. "They love artists," she told me. "Larry Silverstein loves artists."
For the past few years, Irvine has been moving from building to building and floor to floor, creating art in different studios. About the experience she says, "It's been such a lesson in gratitude and the gifts that other people give you. And they have no idea exactly how, you know, what a mark it makes on your life, because this has truly been the last step of my healing [from the loss] of my sister. And I know she orchestrated all of this; in the morning I can go touch her name, and I can say hello and go upstairs and just work."
There are so many artists creating via the Silver Art Project, and Irvine has been able to meet quite a few of them. "Being an artist is a very solitary life," she said. But even in such a solitary career, there are always others
to support you. "There's a little community of us, and it's really nice, and everybody's very good with boundaries."
To Kerry and to so many of us, art has been an incredibly important part of our lives, especially in the past few years. "I think art saves, I think art's going to save us all. Either it's music, writing, painting, sculpture. And I think because of social media, it's so much more attainable for people. You don't have to go to a museum or a gallery. It's [right] there and you can flip through Instagram, and it doesn't go out of style."
The studio space provided by Silverstein gives Irvine and the other artists something that is in short supply in NYC: space. "My last studio was my apartment in my very skinny kitchen. I got a lot of work done [there], but it just makes you even more grateful," she said.
With all of the additional space, Irvine was able to create a piece that is incredibly important to her: City on Fire. "It might be eight feet by three feet, and it's on paper. It had been a very colorful piece. And I painted over all these colors with just blue, all different shades of blue. And then I was just annoyed with it. So I took a razor, and I started to razor it down, and it was very rough. And these shots of magenta and red and orange were coming out, and I stood back, and I looked at it and again, surrounded by these smokey blues. And I was like, it's 9/11. And it looked like the city, but again, sort of like being there [in the studio] it was okay. You know, you don't want anyone to know the darkness, but the last five years of my life I've been able to deal with what happened to myself and my family and accept the darkness and not worry about that because I think I walked through a lot of life, you know, with the color, trying to make everybody else happy, and the color makes people happy. So I was able to accept this painting as it was, and it was beautiful."
For aspiring artists, Kerry has this advice: "Paint, paint, paint, paint. Every day. And if you can't paint, do something else. Cut paper. Stretch a canvas. Think about it, read about it, go to openings, go to galleries, go to museums. And find something else you can do to make money at the same time." DT
For more information on Kerry Irvine's work, visit kerryirvinefineart.com. For more information about Silver Art Projects, visit silverart.org.