Photos: Erica Capobianco and Chef David Duszak.
DOWNTOWN's Lifestyle Editor, Erica Capobianco, along with Chef David Duszak, recently had the pleasure of dining at The Wesley, a plant-forward restaurant from Mulberry Hospitality, located in The West Village. Executive Chef Santiago Astudillo (previously of Le Bernardin and Daniel) offers a vegetable-focused and produce-driven menu alongside a unique, sustainable beverage program featuring fresh ingredients and locally-made spirits, and a wine list of predominantly female producers, curated by Gabriel Maldonado (previously of Jean-Georges and Le Cou Cou). The highly designed 60-seat subterranean space by Elmo Studios features three uniquely defined rooms that are inspired by The Wesley's health-oriented concept.
After our lovely greeting from Maitre D, Tynae, we were escorted to our table. The decor was stunning. One room has a white organic feel, adorned with wheat, and the other has a monochromatic theme with black velvet and papaya accents. And the bar was chic, contrasting illumination with the darkness of the fixtures. It was obvious that a lot of effort was put into the design thanks to Elmo Studios.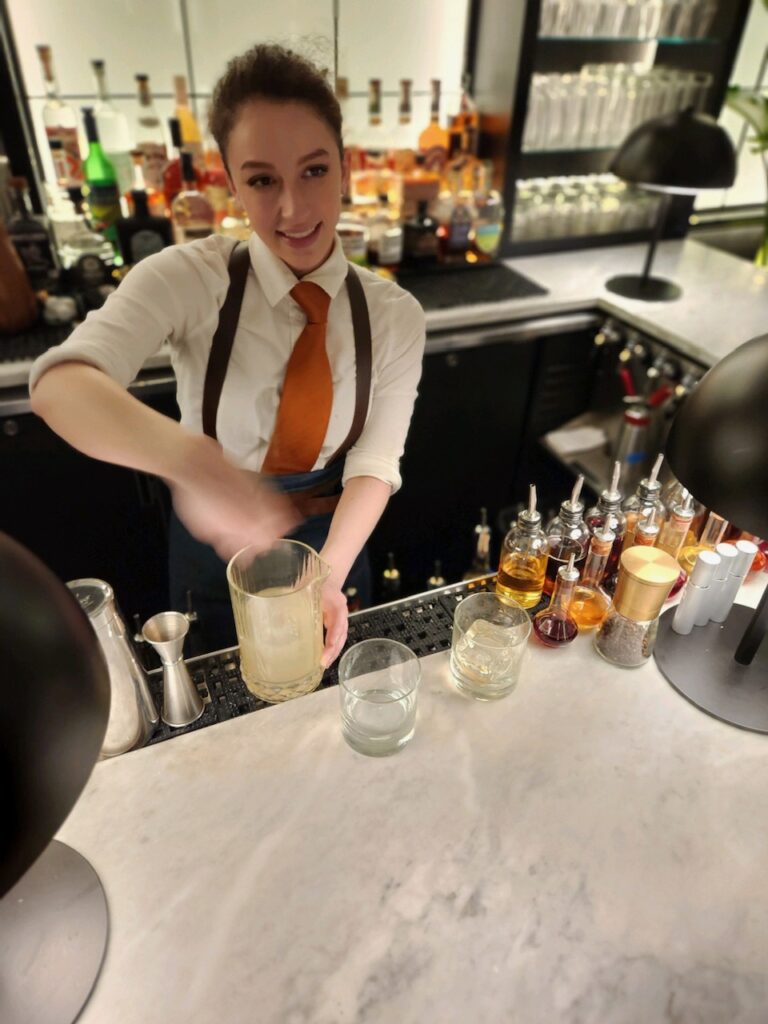 Our bartender Patricia handcrafted for us two of the house's special cocktails. "The Wesley" a two-toned mix of flavors including Vodka, Sherry, Valencia Triple Sec, Pineapple, Banana, Black Pepper, Pea Flower Tea, and "The Hudson" with Hudson Whiskey Bourbon, Forthave Amaro, and wood smoke to finish. The cocktails directly complement the health-forward menu incorporating ingredients such as vegetable juices, tea, and other gut-health components.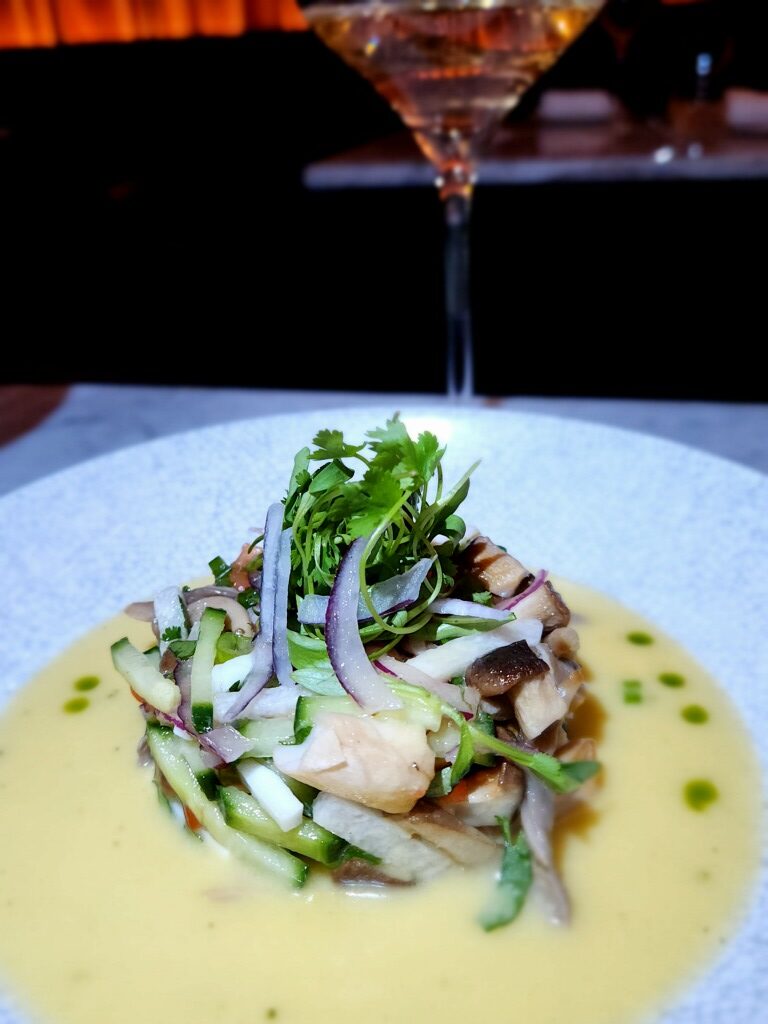 Chef Santiago's plant-forward menu starts with a selection of sharable small plates such as Fall Kale with frisee, shaved fennel, brussels sprouts, sweet potato, squash puree, and hemp seeds; Baby Lettuce & Fennel with persimmon, almond ricotta, and jalapeno fennel vinaigrette; Royal Trumpet Ceviche with sweet potato, mote, and coconut leche de tigre; Royal Trumpet with garlic, thyme, basil, and macadamia nut pesto; and Braised Carrots with ginger, coconut, and vadouvan curry. Entrees include an Artichoke Pasta with saffron, cashew cream, and toasted garlic; Cauliflower Gnocchi with fava beans, charred scallions, and shitake yuzu broth; Roasted Stuffed Honeynut Squash with black lentils, quinoa, scallion aioli, and a chili chimichurri; Amish Chicken, with roasted breast, braised thigh, white corn, shitake, and swiss chard; and Whole Trout with crisped skin, jalapeno fennel sauce, arugula and a side of potatoes with sunchoke puree and trout roe.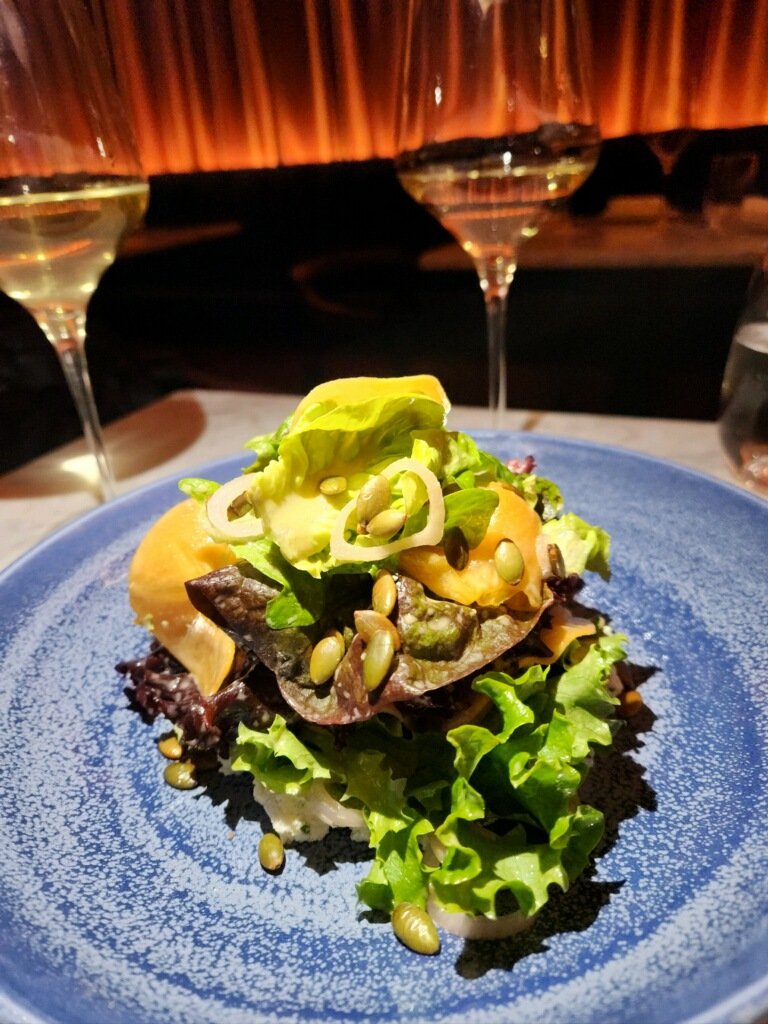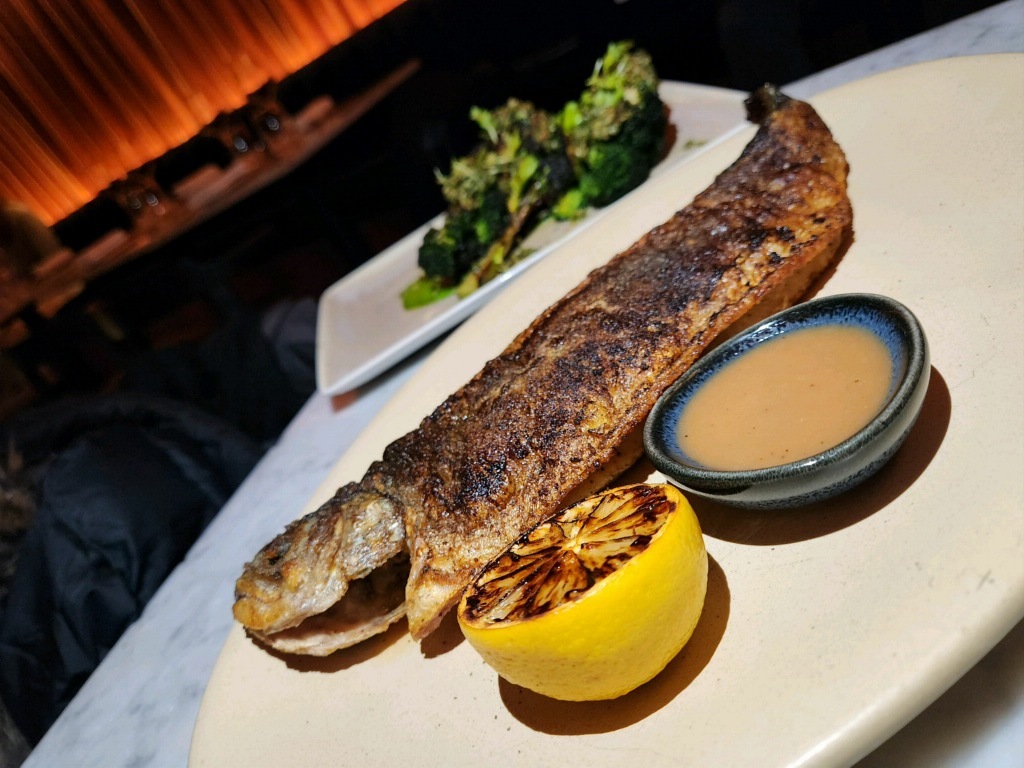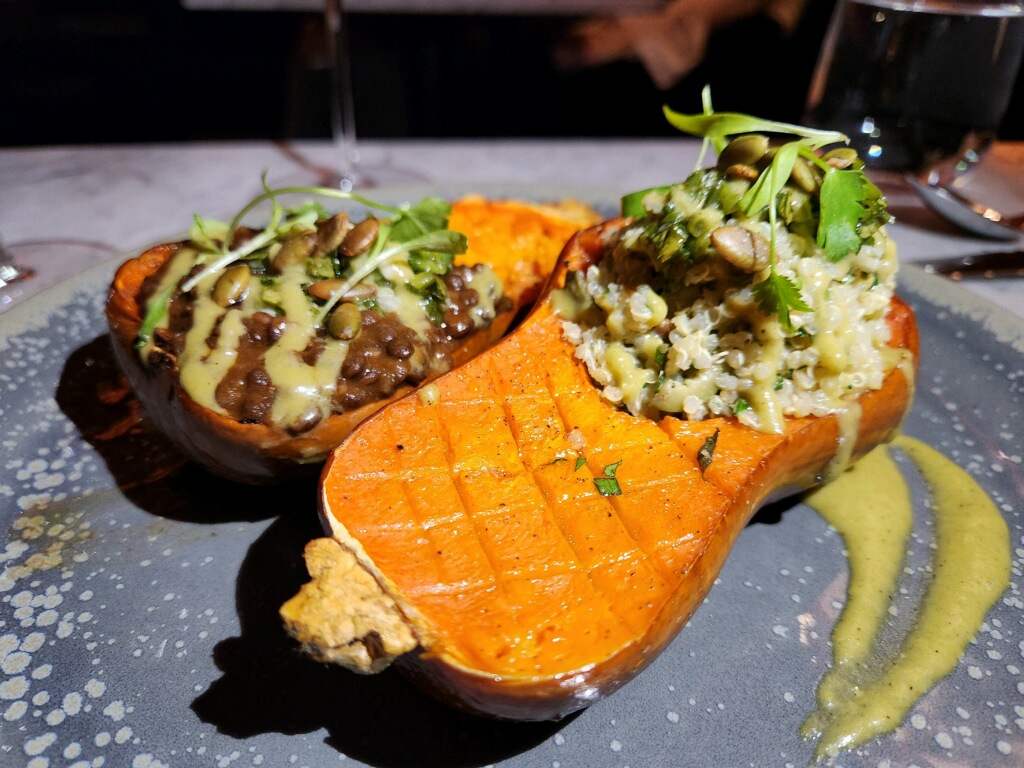 Each dish is perfectly paired by their general manager Gabriel. Be sure to ask for him and take advantage of his extensive knowledge when visiting. One favorite was the Merry Edwards 2020, Sauvignon Blanc.
Our favorite course was the roasted honey nut squash. As pleasing to the palate, as it was to the eyes. The whole trout also wowed us with its simplicity and was a great sustainable protein option.
The staff encourages their guests to share each course, which adds to the intimacy and charm.
Also a deserved nod to our servers Micheal and Ryan, for their menu knowledge and attention to detail. Absolutely the sweetest and most gracious group from walking in, till being thanked by the owner Justin when leaving.
Bring your imagination and your appetite for an unforgettable dining experience. A new favorite for us in NYC. Erica and Chef David will be returning very soon!
The Wesley is located at 310 W. 4th Street, at the corner of 12th Street. They're open for dinner from 5 PM-10 PM on Wed, Thurs, and Sun, and until 11 PM on Fri and Sat with reservations available via Resy. For more information, visit thewesley.co and follow along at @thewesleyNYC.