Amuse bouche-Peconic bay cocktail oyster-blueberry and pomegranate spheres, and grand osteria caviar. Photos: Erica Capobianco and Chef David Duszak.
Cornelius, a new high-end farm-to-table restaurant named after Cornelius Vanderbilt, is tucked away in historic Grand Central Terminal. The latest from the City Winery team joins their signature experience. DOWNTOWN's Lifestyle Editor, Erica Capobianco, along with Chef David Duszak, recently had the pleasure of dining there.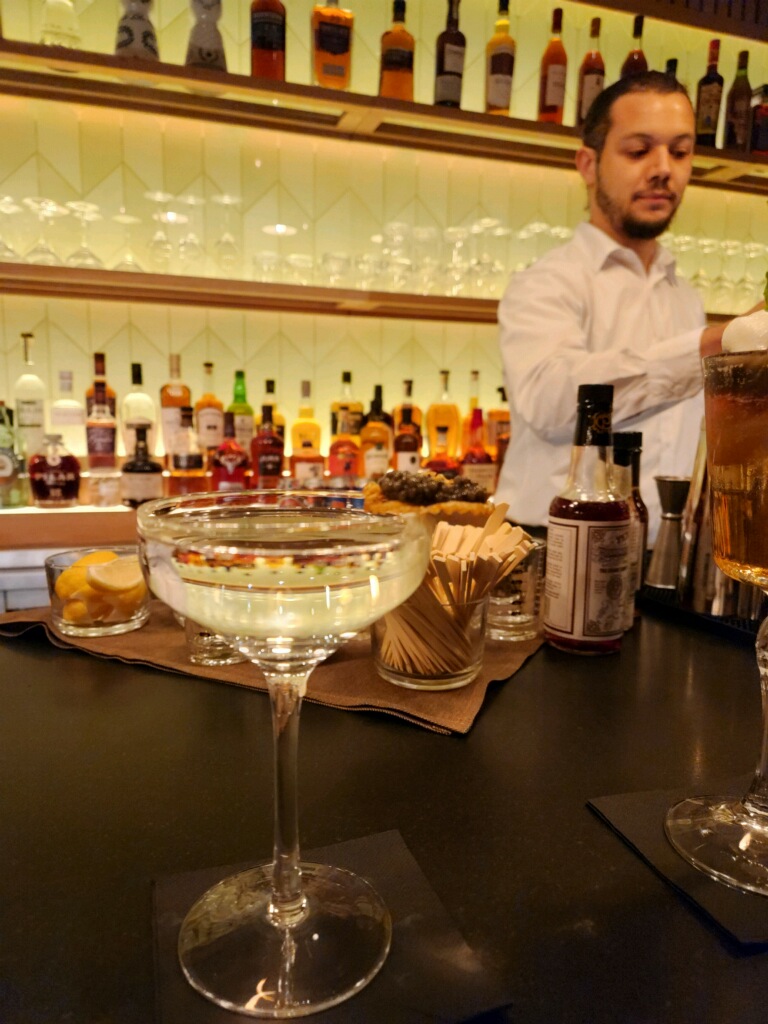 "The Cobbler" : Aged rum, simple syrup, soda water, fresh seasonal fruit with sabayon, mint.
"After some bending of my arm, I was convinced to try the Duck, which is the closest thing to red meat I've eaten since I was 12 years old. Perfect confit texture with du puy lentils. The same lentils my GG used to make quickly brought her to mind." Erica Capobianco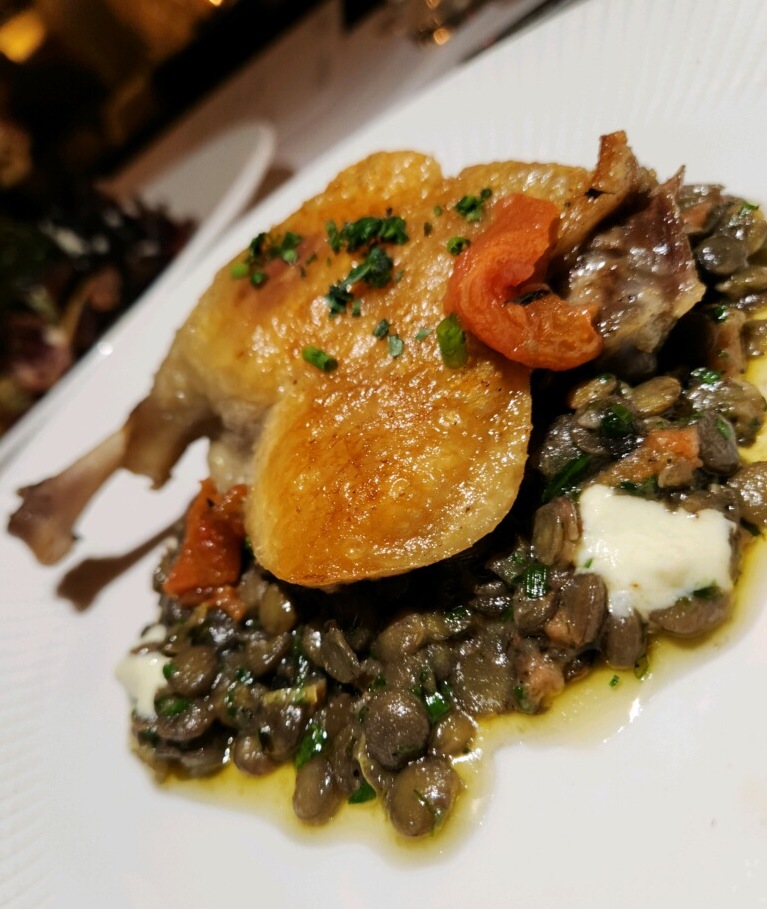 "Another favorite for Chef David Duszak, was the Linguini; Perigord truffle is pleasantly more subtle, than the black or white truffle variety along with good caviar and two-year-old Reggiano making this trio of three strong flavors married together like a polygamist wedding.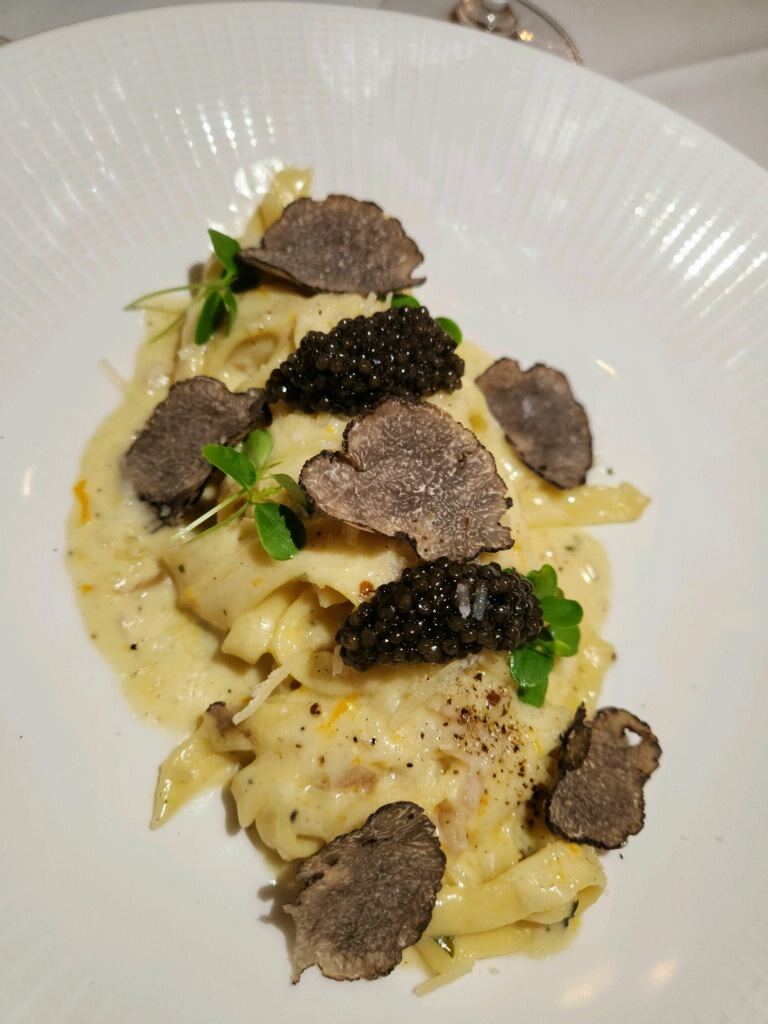 Linguini Perigord truffle, with grand osetra caviar, citrus, 24 month aged reggiano.
"A must-add to your New York city repertoire of restaurants, this newly white tablecloth restaurant will also feature "old farm, new table" dishes such as Lobster Strudel, Wall-Dorf Salad with Hudson Valley apples, Hudson Valley Steelhead Trout, and more." Chef David Duszak
"I am looking forward to bringing my passion and experience to Cornelius," says Zach Bondy, Executive Chef of Cornelius and New York native who has experience across a variety of cuisines working at establishments such as Black Point Inn in Portland and Mopho in New Orleans. "The menu puts a modern twist on familiar favorites with ingredients sourced from Hudson Valley and the local area."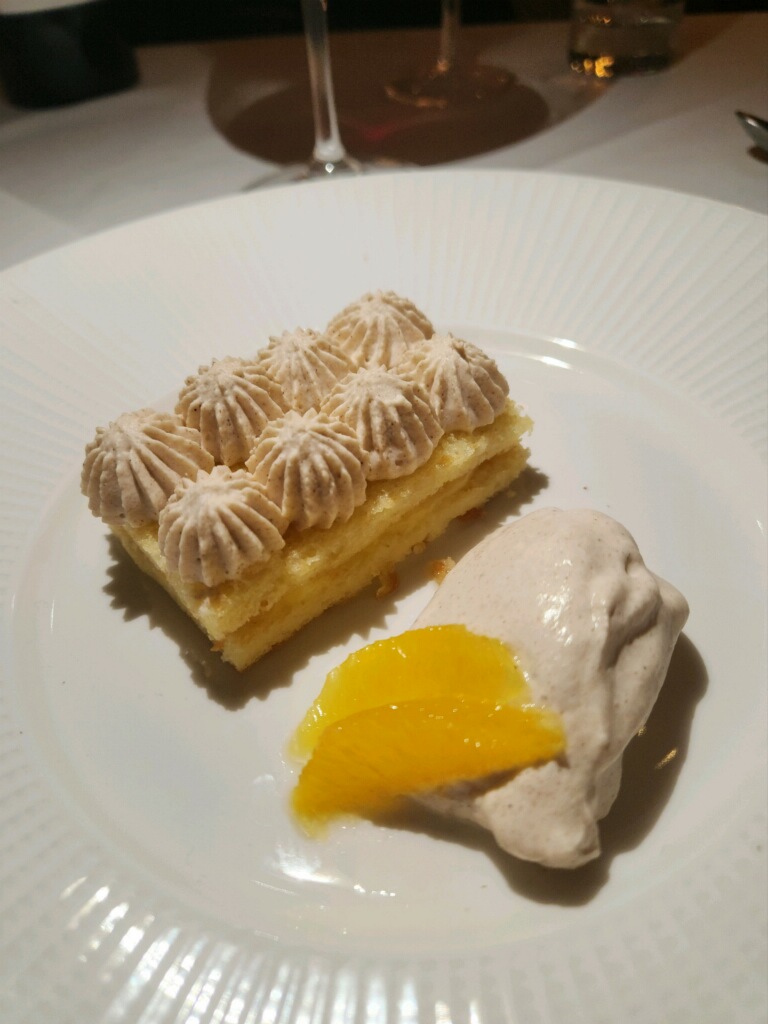 The restaurant interior features Art Deco-inspired tilework, light-hued natural wood, intricate lattice accents, plush banquettes, and suede wingback stools. Formerly the Terminal's ladies' waiting room, the restaurant's walls are lined with large sepia-toned photographs of iconic New York City landmarks and Grand Central in construction and throughout the years to bring the history of the space to life.
Reservations on Resy are highly recommended and walk-ins will be accommodated based on availability. Cornelius is located at 89 East 42nd Street and entrances are at Grand Central's namesake's Vanderbilt Hall West, adjacent to City Winery, and the Shuttle Passage off 42nd Street. Cornelius is open for lunch and dinner Monday-Saturday from 12 PM-10 PM and Sunday from 12 PM-9 PM. For more information and reservations, visit cornelius.nyc.