The exterior of Jolie at 77 Greenwich, at night.
With stunning unobscured views of the Hudson River, the residential building Jolie is top-heavy with both luxurious and family-friendly amenities. Photography by Binyan Studios.
LOCATED IN THE FINANCIAL DISTRICT, 77 Greenwich–better known as Jolie–is a LEED-certified sculptural tower with 90 luxury condominiums and gorgeous water views.
The kitchens in these apartments were designed by Deborah Berke Partners and feature Blue de Savoie marble and Grohe faucets. Deluxe appliances from Wolf, Sub-Zero, and Miele also have a home in the kitchen. From the living room, residents can look out over the Hudson River. The primary bedrooms feature walk-in closets and en-suite bathrooms.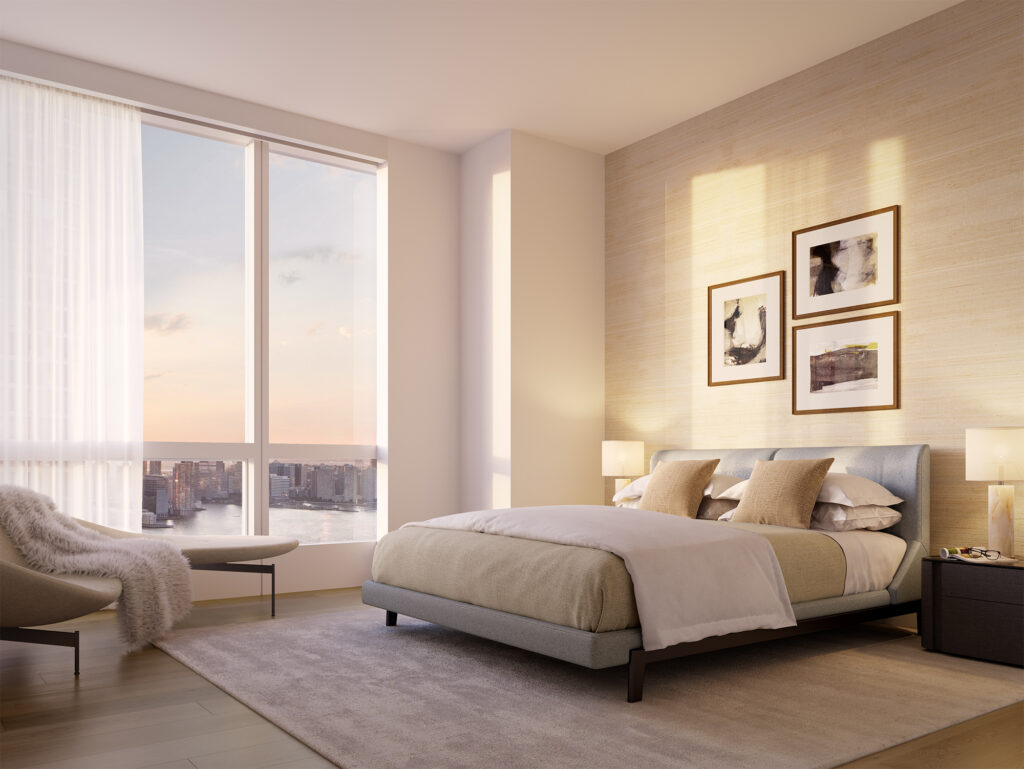 The building's amenities are housed on the top of the building, starting with the Cloud Club. Relax in the fireplace lounge. Cook a meal at the outdoor kitchen and grilling station. Work out in the double-height fitness center or visit the observation deck to take in the expansive views of the city and the Statue of Liberty. Jolie also has a full-time doorman, private storage, and concierge services.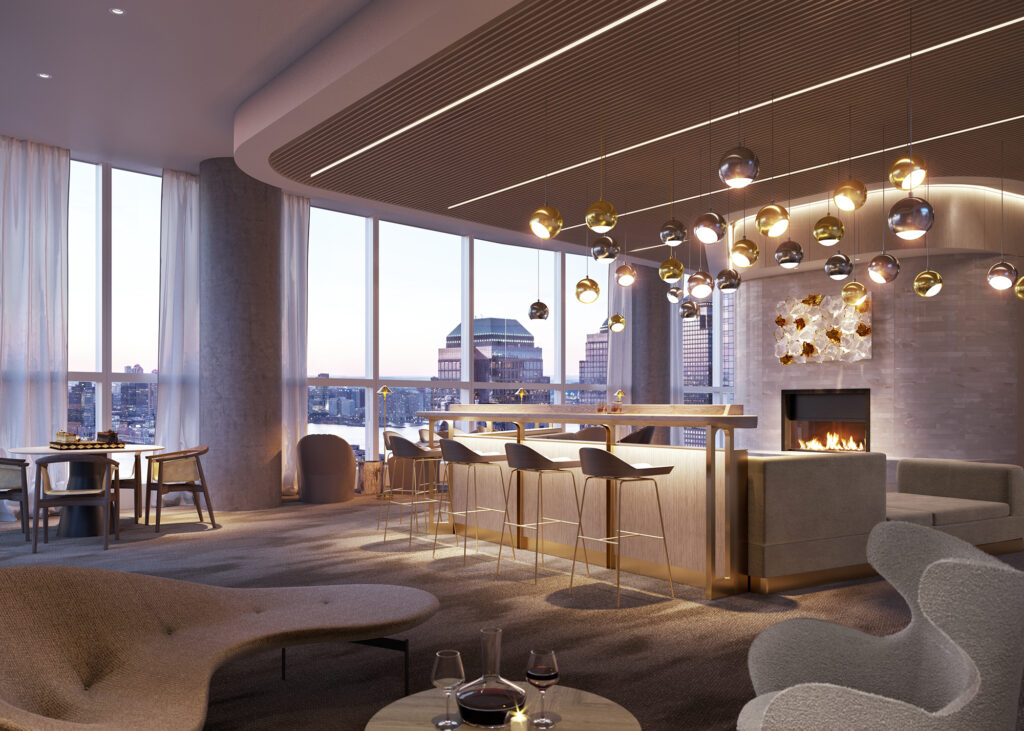 With a prime location in the Financial District, residents are centrally located to an impressive collection of art pieces, fitness centers, shopping spots, coffee shops, restaurants, and transportation hubs. There are seven parks within a mile, three dog parks, and three playgrounds close by.
77 Greenwich was developed by Trinity Place Holdings, a company with a portfolio that spans New York, New Jersey, and Florida. Interiors were done by Deborah Berke Partners, with FX Collaborative being the architect.
Stephen Brockman, LEED AP, Partner at Deborah Berke Partners, said that the design "embraces the organization of the building because it puts most of the shared and unique amenities at the top. Amenities like the Cloud Club, fitness room, and the variety of outdoor spaces and terraces are both novel and unusual, especially for downtown living.This organization allows residents to connect directly with nature in an urban setting, and the specificity of the design of the spaces will invite more use by the residents."
More of these unique amenities include a beautiful view ofTrinity Church from the ninth floor terrace, a dog run, and urban garden cabanas.
Deborah Berke Partners, who has been involved with this project for the past 10 years, was drawn to this project because "we are passionate about creating spaces that foster community within buildings. Theproject both allowed us to create moments of respite as well as places of sociability for entertaining."DT
For more information, visitjolieongreenwich.com