As chilly fall weather descends on New York, nothing calls louder than the warm, beautiful beaches of Mexico. For a getaway that combines lavish relaxation and adventurous immersions into rich, local culture, Todos Santos is the ideal excursion.
The Guaycara Boutique Hotel Beach Club & Spa, located in a charming, 19th century brick building in the heart of Todos Santos is the perfect homebase for an adventure down south. Only 30 minutes away from the airport in La Paz and a 50 minute drive from the Los Cabos Airport, Guaycura is easily accessible no matter where you're
traveling from. Recognized by Mexico's National Institute of Anthropology and History as a historic and artistic structure, this jewel features 14 spacious rooms impeccably decorated with Mexican-inspired decor, and a world-class staff dedicated to pampering guests for a truly one of-a-kind experience.
The property offers exclusive access to the El Faro Beach Club & Spa, Todos Santos' own little slice of paradise. You could spend days at El Faro alone, lounging by the infinity pool, indulging in luxurious spa treatments, and enjoying piña coladas as you take in the incredible views of the coast.
Though the spas and beaches here are nothing short of breathtaking, we'd be remiss to leave out the incredible culinary experiences the area has to offer. The El Mirador Oceanview Restaurant serves a menu of Mediterranean and
Mexican Haute Cuisine made with ingredients traditional to the Todos Santos region. Celebrated Chef Ernesto Torres runs the show, crafting unique dishes that showcase freshly picked produce and classic Mexican flavors, along with his own creative touches. Enjoy delicious plates of Chef Torres' masterpieces and take in the stunning scenery as the sun dips below the waves of the Pacific Ocean, painting the sky with an unforgettable sunset.
The amazing dining doesn't stop at just El Mirador. For a hearty breakfast before a day of adventuring, hit up La Garita, a locally-owned oasis for authentic Mexican eats. La Garita is both inviting and exciting, embodying the heart
of the local culture. If you plan on staying in for the day, The Guaycura Hotel's Sky Lounge Bar provides a trendy, yet easy-going atmosphere to unwind. Sip on refreshing cocktails and glasses of wine as you chat with your travel companions and observe expansive views of the surrounding town, ocean, and mountains.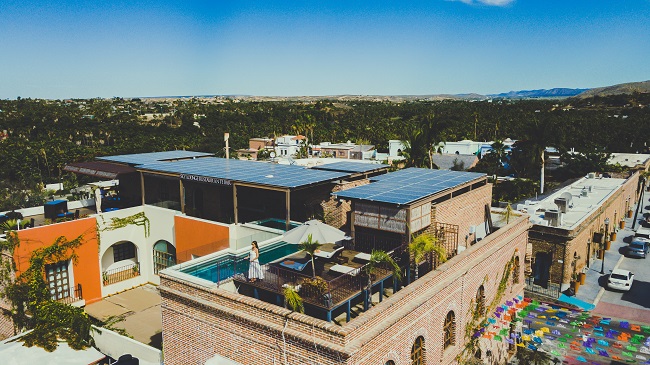 Day trips are what make vacations so memorable, and a journey to Espiritu Santo Island is sure to leave a lasting impression. Espirutu Santo is home to gorgeous natural landscapes, with scenic wonders including pristine beaches and volcanic rock formations. Not only is the island a haven for nature, but it's also recognized as both a UNESCO World Natural Heritage Site and National Park.
With Todos Santos Eco Adventures, take a boat ride across the stunning Sea of Cortez and snorkel beneath the waves for a closer look at the region's vibrant marine life. On the tour, you'll explore astonishing sea caves and encounter colonies of sea lions – including adorable baby pups if you're lucky like us! On the island itself, Espiritu Santo has endless activities, from hiking to stand-up paddle boarding.
What truly sets this destination apart from the rest is the character of the town and those who call it home. As you stroll through Todos Santos, you'll pass plenty of lovely boutiques, galleries, restaurants, and friendly locals that bring the streets to life. Dive into the rich history of the area on a tour of the town, and be transported back to the times of Columbus and Cortez. Though this quaint town is growing in popularity, it maintains the slow, old-world charm of a traditional Mexican village.
When it's finally time to pack up your bags and return to the States, don't be surprised if a little piece of your heart stays behind in the magical town of Todos Santos.
---
Find more of DOWNTOWN's favorite travel destinations here.