Doris Dear and Crystal Kellogg perform together in The Doris Dear Christmas Special.
Review by Nick Appice
The Doris Dear Christmas Special has been an annual event in NYC for seven years now. Doris and her cast of performers from Broadway, jazz, opera, and cabaret were back live this year after COVID shutdowns and last year's cancellation due to COVID two days before opening.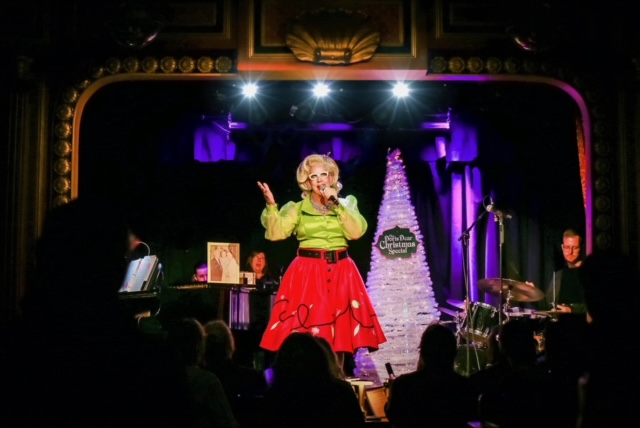 Doris Dear has been bringing her mid-century modern housewife style and nostalgic stories for many years now, and as always, her shows are packed with memories of her time growing up in Staten Island with her parents Taffy and Duke and her sister Nancy. As Doris will tell you, "all the stories are true" and I am forever wishing I could spend just one night at one of her mom's fabulous Holiday Rumpus Room parties sipping a 'Tom & Jerry' cocktail, a drink Doris introduced to us this year. A concoction of eggs, sugar and "lots of rum", as Doris describes it,  and sipped throughout this spectacular holiday romp!
It seems that Ray DeForest, aka "Doris Dear" is not only a polished performer, but also a master at production. From casting the guests, writing the script, and producing opening videos, the show from start to finish is a modern tour de force unlike most "drag shows" you see popping up all around the city. It started with Doris appearing bigger than life on a screen on stage telling us she was a "little behind" and still in the Rumpus Room getting ready! She introduced the "Blake Allen Holiday Orchestra" as the screen rose and we were presented with the orchestra playing the overture to "Babes in Toyland" which represented the early 1900's. 
The show was subtitled 'Christmas Through the Decades' and for the entire evening we were taken on a holiday journey with music and stories of how each decade changed how we celebrate the holidays. Doris has a way of connecting the dotted lines and always bringing us back to tales of her family. For Ray DeForest, who's character of Doris Dear is based on his mother, family is everything. As Doris reminds us in her show, "My family made me who I am. They filled our house with love and acceptance and gave me my soul and my heart". It's a beautiful sentiment that weaves her tales accordingly throughout the show.
The lineup of artists this year was impressive with award winning stars from almost every facet of professional entertaining. The 1920's were represented by soprano Emily Kate Gentile singing "Ding Dong Merrily on High". Her voice soared and the crowd was wowed by her angelic tone. Then we met Aaron Lee Battle who served up a jazzy smooth rendition of "I've Got My Love to Keep Me Warm" representing the 1930's. For the 1940's Doris was joined by what she called "The Dears", made up of 2 members of "Those Girls", Karen Mack and Wendy Russel. Apparently COVID hit home with this year's show and one of the backup girls fell ill the morning of the show, but this cast is all pro's so everyone stepped up and no one would have ever guessed that any sudden changes happened. This is when a show packed with top notch talent like this really shows it's worth! Doris and his Dear's sang the title song "Holiday Inn" from the movie of the same name. Then Doris took another sip of her cocktail and brought us into the 1950's. She gave us a tale of knowing one of the Maguire Sisters when she was a showgirl in Las Vegas! A hilarious recollection of when her parents came to see her and she appeared overhead in a G-string and her father, Duke, looked up and just shook his head and mom screamed… "that's my baby!" The crowd roared and then The Dears took over and brought the Maguire Sisters hit song "Christmas Alphabet" to us. Leave it to these fab pros to rewrite the song so we could also celebrate Hanukkah! The 1960's was dedicated to Charles Schulz and "A Charlie Brown Christmas" . I don't know how Doris Dear knows so much about each decade, but she delivers the info with such panache and humor you continually want more. She told us how Mr. Schulz wrote her letters as a child and how a small act of kindness can change the world. She was never more right! The orchestra played a wonderful rendition of the Vince Guaraldi music from the TV show and Doris finished it up with a sweet meaningful verse.
One of the most hilarious moments of the show was when Doris saluted the 70's by bringing us a song from what was called "the worst 2 hours of TV". It was the "Star Wars Holiday Special". After reading the atrocious reviews of the one-time special from 1978, Doris sang or rather did a dramatic reading of sorts, of "Princess Leia's Life Day Song". Little did I even know this existed, but now we all know! It was truly a brilliant moment of comedy played like a pro as only Doris could have done.
Then we went through the 1980's with Broadway star Crystal Kellogg singing "A Kid at Christmas" from the Broadway musical version on the movie "A Christmas Story". Beautiful and belting to the back of the room, there is no doubt why Miss Kellogg is a casting agents dream! The 1990's gave us another beautiful orchestration of the movie music from "Nightmare Before Christmas". I must acknowledge the musicians playing. Apparently, the original musical director Blake Allen took ill the weekend before opening and they had to find a replacement to play the piano and lead the band. Grammy nominated Kristopher Koelzer stepped in and took over for Mr. Allen. He led the band made up of Mike Raposo on reeds, Camille Enderlin on violin and Robert Guilford on drums, and no one would have ever guessed that any last-minute changes happened. Doris told me afterward that Mr. Allen zoomed in for the band rehearsal from his hospital bed! Now that's dedication and true professionalism!
The 2000's brought us a moment in the show that left the audience with wet eyes and hearts filled with loven. Meg Flather has been a guest before in the Doris Dear shows and she always brings her unique take on songs. Something has definitely changed with Ms. Flather since we last heard her sing. Her voice has a clarity and sound unlike we have heard from her in the past. She brought us the beautiful song "Believe" from the movie 'Polar Express' written by Alan Silvestri and Glenn Ballad. She inspired us before singing by chatting with Doris about her mother Becky, who was an amazing human being. She sang with so much emotion coupled with twinkling lights (the Triad has definitely upped their lighting game recently) it left the audience rising to their feet with cheers of 'more'.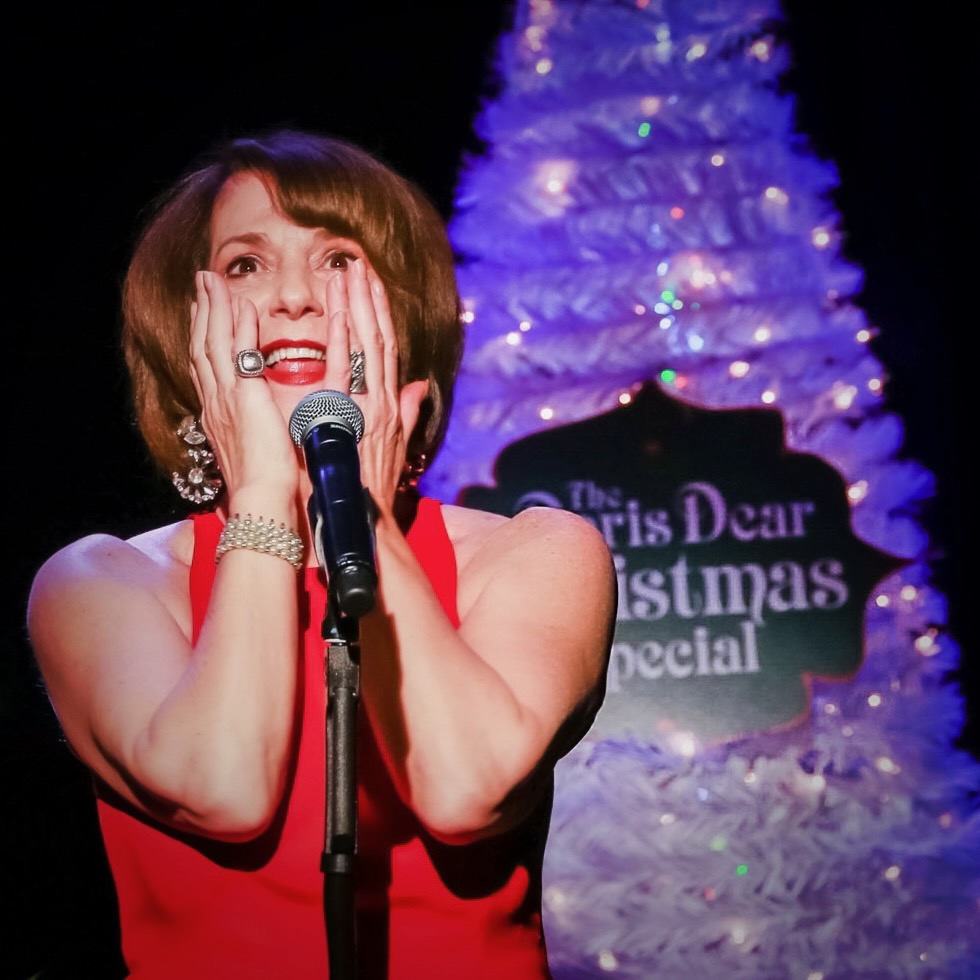 Bringing the decades to a close with the 2010's Doris introduced us to a singer I have definitely seen and heard before, Jana Robbins. Jana is an award-winning actress, producer and singer that walked on stage in a killer red ruffled gown that told us 'I am here to slay' and she did! Ms. Robbins recently lost her mother who was 100 years old! Mothers and family are so much a part of these Doris Dear shows, I do hope she decides to bring back her Mother's Day show which we have reviewed here in Downtown Magazine. Ms. Robbins belted out "Winter Wonderland" and showed us how a true pro does it.
It was time to end the show and Doris Dear said her goodbyes and gave us her heartfelt vocals singing "Merry Christmas Darlings". Doris is so warm and giving on stage when she says goodbye you always long for more and of course she gave us that. Throughout the show she made sure we knew she would not sing "White Christmas". As she said in the show, "no one can sing it like Bing!' So true, but in pure Ms. Dear style, Doris led us through a sing along of the tune as she exited out the theater.
I have said I before and I must say it again… no one brings us holiday cheer like Doris Dear. As we all stood after 75 minutes of such a joyous show, the audience all felt like good friends. People who didn't know each other hugged, cheered, introduced themselves… all because Doris Dear is the pied piper Christmas!
As I left, I remembered the verse Doris sang during the Peanuts decade and thought how perfect it was that she chose that particular piece
"Christmas time is here, Families drawing near, Oh that we could always see, such spirit through the year".
Thank you Doris Dear, you truly are the Pied Piper of Christmas.
If you missed the show, you can stream it starting December 23rd through Jan. 1 on Broadway Demand. Here's a link: https://www.broadwayondemand.com/events/the-doris-dear-christmas-special/occurrences/065dc69d-d9c5-4793-87ac-77f734bef238