Pandemic baking inspired Lucie Franc de Ferriere's floral cake business.
A LOT OF US TOOK UP BAKING DURING THE PANDEMIC, if only to keep busy. Yet most of us didn't make it to the point where, post-lockdown, we started our own businesses. That's where Lucie Franc de Ferriere stands out from the crowd. The young French baker's unique floral cakes, made in her Lower East Side kitchen, have become a sensation. Her online cake business, From Lucie, is distinct even in New York's thriving culinary scene.
Hailing from Bordeaux, Ferriere began baking under the guidance of her mother, who ran a tea room and wine bar in France. "I grew up around her baking all the time, and I was helping her out in the kitchen and learning all those tips and tricks," Ferriere recalls. Following graduation from university in the UK, Ferriere opted into a career as an art curator and moved to New York, before the pandemic put a halt on gallery visits. With COVID confining us all to the home, she dove into baking as a way to create the desserts she craved.
"Most of the cakes I've tried here are extremely sweet compared to French cakes, so I couldn't really find the things I wanted. I started doing it for myself and then asked, 'Why not do it for other people? Maybe they'll enjoy different flavors, and probably more unusual flavors,'" Ferriere notes.
Initially baking only for herself and her friends and family, requests from local restaurants soon came piling in for Ferriere's cakes, which were not only tasteful but artfully designed. She launched her online cakeshop, From Lucie, in 2020.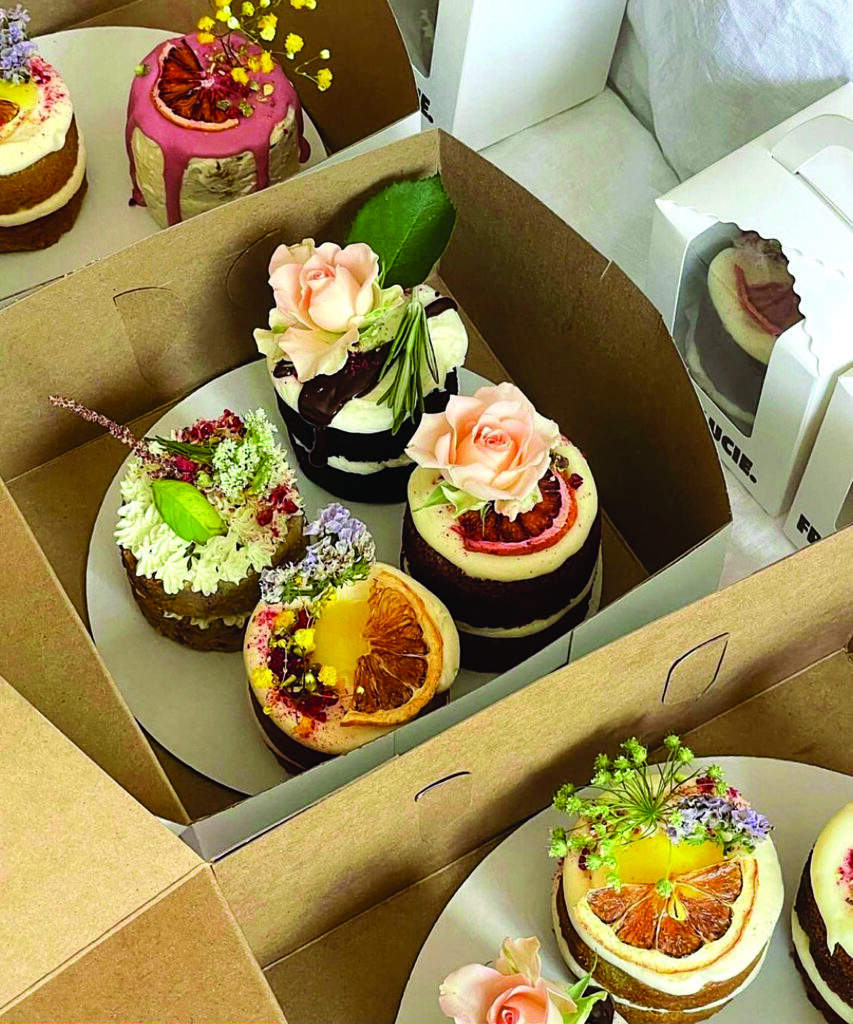 Each of Ferriere's cakes are topped with an organic flower that allows each cake to tell its own story. While placing flowers on topis not a new trick, it's a very personal one for Ferriere. She explains that "it came from growing up around my mother, who really enjoyed gardening. She used to come home and cook with flowers and put them on top of cakes, so to me it was evident that a nice little decoration on top of the cake could make a difference to people."
The flowers Ferriere uses are sourced from local farmers markets and chosen both for their organic properties, as well as how the taste of the petals pairs with the flavors in each cake. "Rose petals are amazing to taste with the cake," she enthuses, and recommends that each person try the flowers to taste. While that might take some people aback, "people were just really intrigued and interested as to why and how I found this idea of putting flowers on top of cakes," Ferriere explains.
With her online cake business thriving and clientele expanding, Ferriere is already exploring what her next step might be. Above all, she dreams of "having a little brick-and-mortar in the city where people can come and say hi and get the cakes, and sit down to eat a cake and have a nice cup of tea or coffee."
To learn more about Ferriere's cakes and connect with the baker, visit fromlucie.com.