Written by Dan Metz for the Spring 2022 Issue with the titles "House of Mouse."
FOR COLIN KOOP, THE DESIGN FOR DISNEY'S NEW HUDSON SQUARE headquarters comes down to sprezzatura, which Koop defines as a sense of fashion that is effortlessly put-together but approachable, with an emphasis on precision to make the effort look effortless. "It's not about being flashy," he says. "It's about being thoughtful." The Project Lead and partner for architecture firm Skidmore, Owings & Merrill (SOM) was tasked with creating a headquarters that would incorporate different Disney departments, while effortlessly blending with its surroundings. All of this had to fit in a single square block.
The result is Four Hudson Square, a twin-peaked single-structure campus rising above the streets of downtown NYC that has been in the works since 2018. The massive campus will split into two 320-ft towers for 1.2 million gross square feet of space. Instead of the sprawling, scattered complex that made up Disney's former Upper West Side headquarters, Four Hudson Square will be a full campus stacked on top of itself. In a way, it will reflect the new Disney: a complex, many-armed colossus merged into a single entity. Floors will be dedicated to local and national media and live audience tv production, but also to marketing, business operations, and a tech hub to support projects like Disney+ that's home to all films Marvel and Star Wars-themed.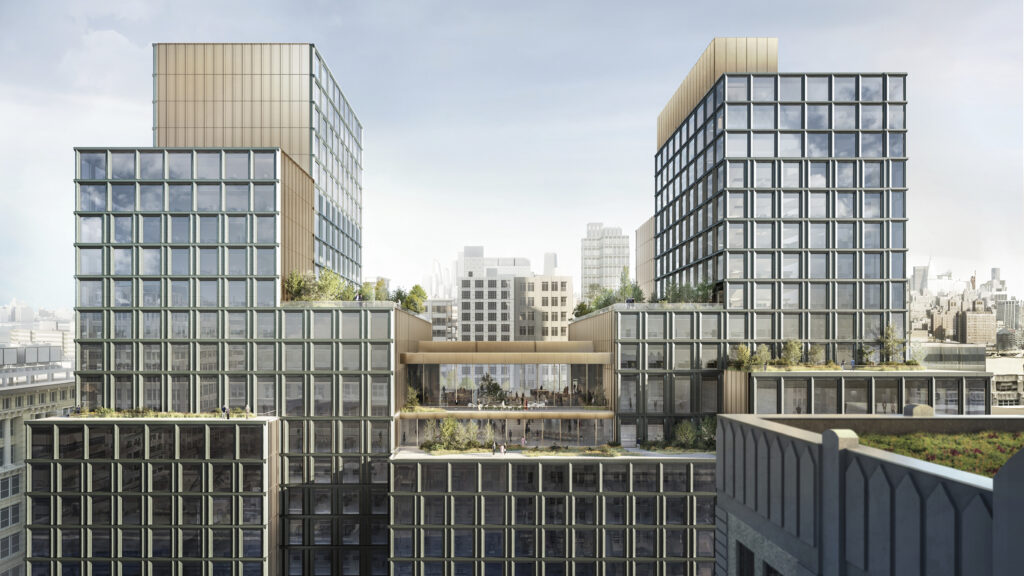 It's a lot to include in one building, even for The Mouse. That's where sprezzatura comes in. Koop's design needed to feel intuitive and natural, while helping Disney blend its departments and fit in with the neighborhood. For the former, Koop and SOM chose the floor below the tower split to be the heart of the campus. That floor will offer employees from diverse departments amenities, food, screening rooms, and outdoor congregating spaces. "You have wildly different professions, all intersecting with this one mission: content creation and delivery of information. They're all very different people, and I think there's something beautiful about a building which is this mixing chamber." Below, a full half of the ground floor will be open to the public, offering retail and a large open food hall that Koop is hoping will become an anchor along Spring Street. "It's an active, vibrant place," says Koop, "At different portions of the day, different portions of the year, it'll bring a new kind of energy to an already vital, energized neighborhood…There's this spirit of welcoming people in these spaces."
Four Hudson Square will echo the architecture of the neighborhood, but with a green twist: it will be a LEED Platinum, fossil-fuel-free building imbued with cutting-edge energy-smart design. The punched terracotta windows, adorned with fluted columns and pilasters, match the neighborhood but also allow for better indoor temperature control. The roofs of the multiple towers will be green and porous to help reduce the heat generated by dense, tall urban press. It will feature a green air system that pipes in filtered outdoor air instead of recycling the same self-contained air, heating or cooling as needed and using significantly less energy. It will be equipped with a stormwater reuse system for non-potable water needs.
Four Hudson Square is scheduled to finish construction by the end of 2022 or early 2023.