Right: Christian Dior Pale beige ribbed silk evening dress Metallic and faux stone embroidery, possibly by Rébé Autumn 1957, Left: Cristobal Balenciaga left Off-white silk faille evening dress Spring 1961, Photo: Museum at Fit
In a curatorial exploration and reevaluation entitled Dior + Balenciaga: The Kings of Couture and Their Legacies, the Museum at Fit (MFIT) explores the works of the legendary Christian Dior and Cristobal Balenciaga. Open until November 6, the exhibition focuses on both designers' innovative construction methods and the workmanship of their respective styles.
While the exhibition juxtaposes the methodologies and styles used by Dior and Balenciaga, the designers' fashions both contributed to France's post-war economic and cultural recovery after World War 2. Both launching their collections at age 42, Dior and Balenciaga were the reigning kings of haute couture during the mid-twentieth century, dominating fashion throughout their careers.
Born in Normandy, France, Dior was a savvy businessman whose company during the 1950s accounted for more than half of France's couture exports. He headed his couture house from 1947 until his passing in 1957. Hailing from a humble fishing village in Spain, Balenciaga had been honing his craft for decades before opening his Parisian couture house. Balenciaga's style matured during the dark days of the Nazi Occupation of Paris.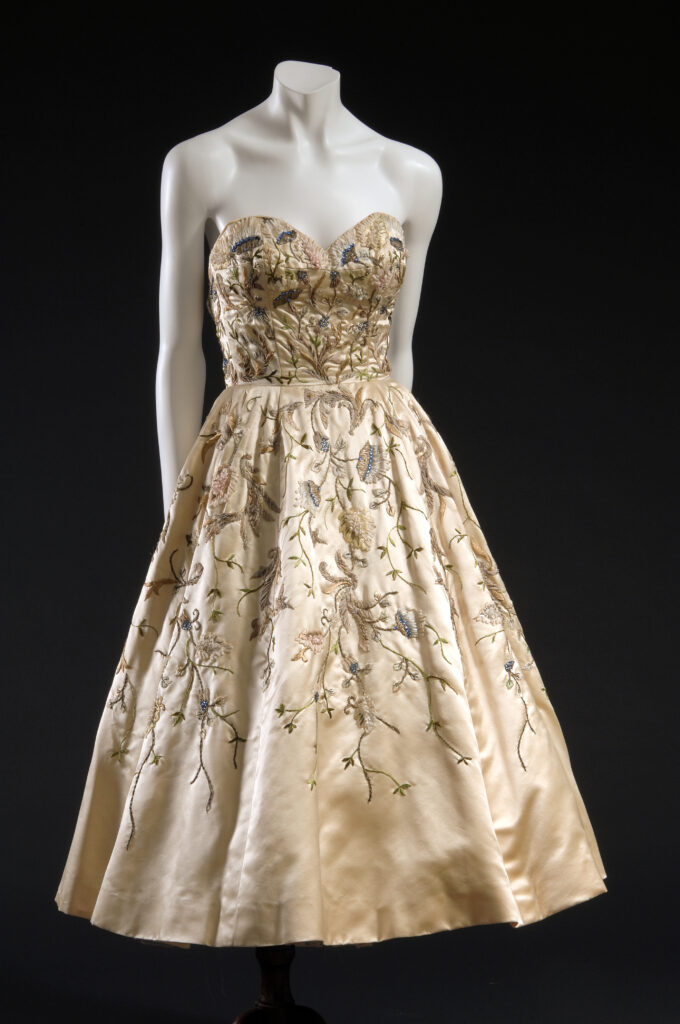 "Dior and Balenciaga were not only the most important and influential couturiers of their time, they have also remained very relevant today," said Patricia Mears, deputy director of MFIT, and curator of the exhibit. "So much so that contemporary fashion designers regularly look to them for inspiration. It is also the reason why curators and historians around the world continue to organize many large-scale exhibitions and produce lavish books celebrating their creations."
Displaying garments from the Museum's permanent collection, The Kings of Couture and Their Legacies presents the numerous ways the two couturiers differently constructed clothing. Dior's work focuses on the sensuous female form. An illustrator, Dior modernized the corseted shape of the Belle Epoque period he remained nostalgic for throughout his life. Balenciaga was known as the greatest dressmaker in the world. Fashion enthusiasts will recognize Dior's beautifully constructed dresses built upon corsets and crinolines and Balenciaga's cleverly crafted and voluminous coats and dresses.
At the gallery entrance, two beige silk evening dresses similar in color, fabrication, and silhouette are positioned to showcase the difference between the designers' dress craftmanship. Balenciaga crafted the volume and fullness of the skirt through the deft handling of fabric, while Dior relied on built-in corsetry and layered underskirts to achieve volume. The weight of each dress also denotes the contrast in methodology: the Balenciaga gown is only 2.2 pounds and the Dior piece weighs over 9 pounds.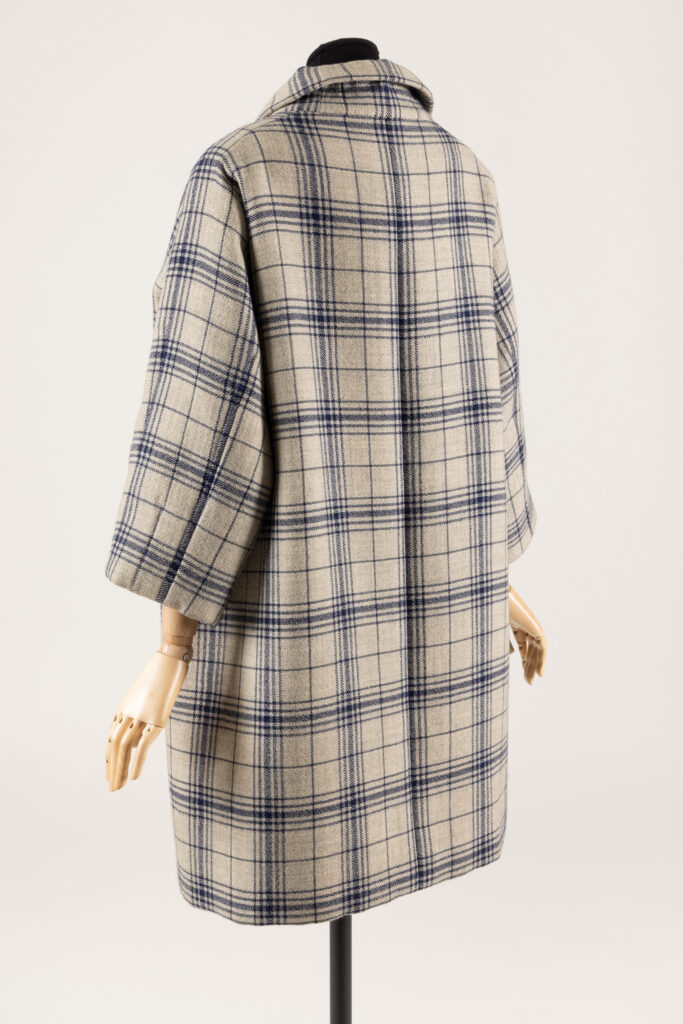 As Mears noted, "Dior made beautiful clothes they were not innovative, technically innovative in their construction, but nobody made more beautifully constructed and detailed clothes." One of these gorgeously crafted pieces seen in the exhibition is an ivory silk satin evening dress with silk and metallic embroidery from Dior's Spring/ summer 1954 "Muguet" Line by Rébé. Interestingly, the dress contains material that belonged to Marie Antoinette and has 18th-century style embroidery.
Known for his coats' Balenciaga has several of his carefully crafted outwear on display in the exhibit. One of these garments is a pale gray and navy blue wool plaid coat from 1961. The collar of the coat is strategically made to have its seams blended within the plaid pattern of the coat. As the senior conservator, Ann Coppinger of MFIT demonstrated, "He figured out how to sort of take a piece of fabric and fold it and seam it in such a way that it is a beautiful coat and thinking about the plaid and working with the construction of how the fabric is made… Being able to figure out how pieces can kind of curve around the body and how they're going to hang and drape."
Muslin reproductions, videos, and digital patterns accompany several key objects from the exhibition illustrating the complexities of haute couture construction. These components were created by Tetsuo "Ted" Tamanaha, an assistant professor of Fashion Design in FIT's School of Art and Design and also a theatrical costumer, couturier, tailor, and patternmaker. Tamanaha's digital patterns are rendered on 3D avatars to illustrate the garments in motion. Mears explained "We realized what could really help not only the visitors, but others who want to log on, is to show how the whole thing is made. So he (Ted) starts with the flat pattern and it morphs into the finished dress. He makes the muslin at the same time."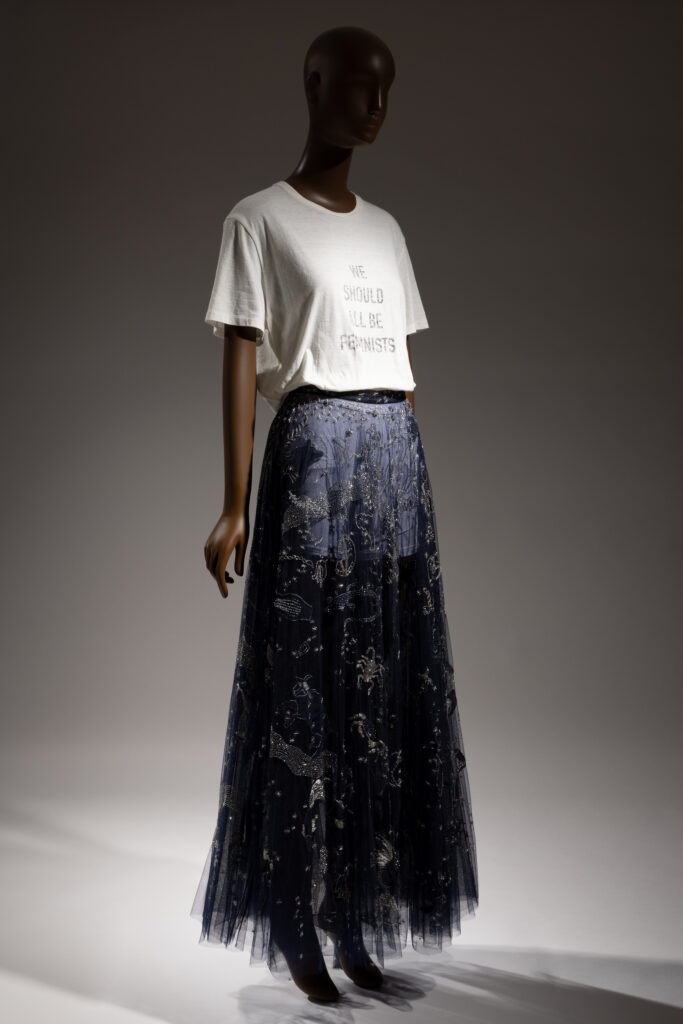 To examine the continued impact of Dior and Balenciaga, approximately one-third of the exhibition includes designs from the subsequent creative directors of the fashion houses they founded and other couturiers. The legacies of these master garment makers carried on thanks to the artful blending of iconic elements of the founders with current trends. The Dior aesthetic was carried on and expanded by Yves Saint Laurent (1957–1960), Marc Bohan (1960–1989), John Galliano (1996–2011), and, most recently, Maria Grazia Chiuri (2016–present), whose works are featured in the gallery. Hubert de Givenchy and two of Balenciaga's creative directors, Nicolas Ghesquière (1997–2012), and Demna Gvesalia (2015–present), have pieces in the collection inspired by Balenciaga's techniques.
Chiuri, who was one of the first women to head a major couture house, emanates her feminist pride in a t-shirt and skirt in the exhibition. The t-shirt that reads "We should all be feminists" is paired with an embroidered skirt. As Mears pointed out " She combines elements of men's wardrobe. She's got men's tighty whities under there and a t-shirt with a feminist slogan, but the skirt is tule just like the original Dior piece, beautifully embroidered."

Dior + Balenciaga: The Kings of Couture and Their Legacies, beautifully displays the contradictions between these two icons and how their legacy has left a meaningful impact on the fashion industry today.