As the warm weather kicks in and the streets fill with people of all ages, it is that time of year where you say goodbye to those warm winter coats and hats and say hello to an endless, colorful array of tops and dresses.
These summer essentials are not only affordable, but will last you for many summer seasons. Dress up your look by incorporating some of these basic pieces that you can also dress up.
Everyone loves a basic t-shirt. Whether it is to throw under a sweater to watch the sunset or pair with light wash jeans, the Tna Ribbed T-Shirt is a fan favorite. This ribbed t-shirt comes in all assorted colors such as Strawberry Sorbet, Brushed Green, Burnt Citrus Orange, and Outerspace, allowing your imagination to flourish.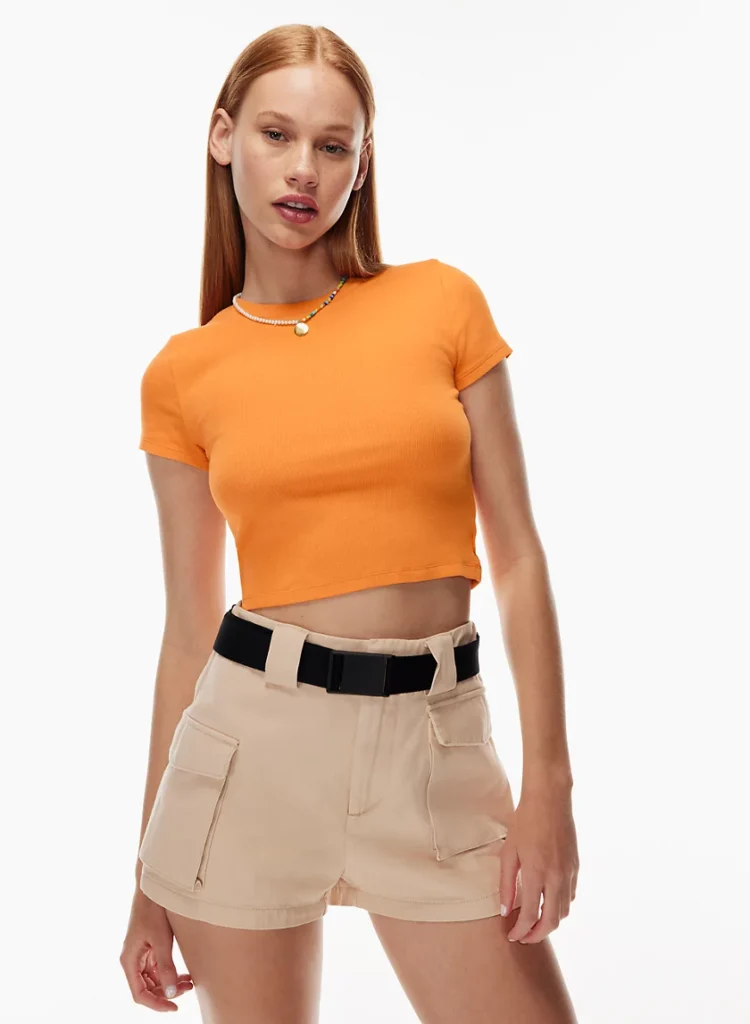 Another piece of clothing that you should always have is a basic tank. The Blondie ribbed tank by perfectwhitetee works wonders. This tank is amazing for the gym, running errands, and even lounging in your house.
The Blondie comes in an assortment of colors as well leaving your eyes in amazement when purchasing them. The colors this style tank comes in include but is not limited to Jade, American Blue, Pebble Grey, Petal, Desert Rose, Honeycomb, Sunset, Grape, and Sugar.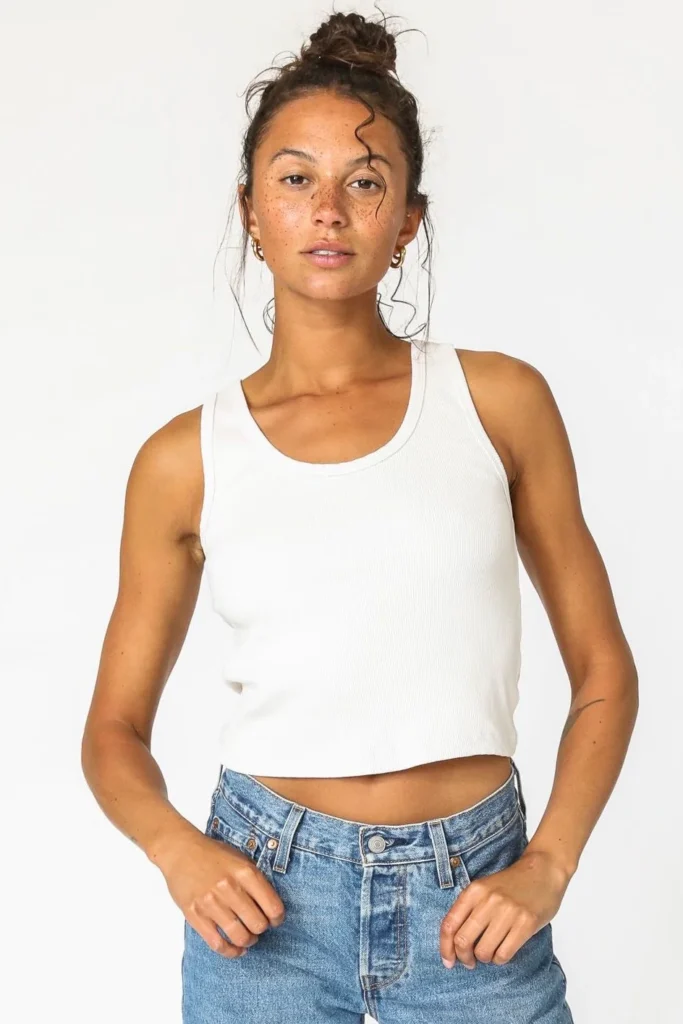 This tank will leave you wanting more, allowing you to buy them in an array of colors and sizes. This tank is a combination of luxury cotton and spandex, making this feel like part of your body. Making this another signature piece in your closet you do not want to leave out. You can layer this tank or simply wear it with shorts. Whatever the case may be, do the activities you enjoy in comfort.
Denim is one popular trend we cannot get enough of this season. No matter where you are, denim is styled within any wardrobe. Denim allows you the option to be unique and creative by implementing it in a daily fit or using denim as a focal point in any attire.
A must-have piece of denim clothing is a denim romper. What is also good about having a nice denim romper or dress or skirt is that denim will never go out of style. Designers are constantly thinking of ways to come up with innovative ideas to weave in denim in any outfit or clothing line.
Two denim rompers which I am obsessed with are the Gorgeous Denim Romper from alice + olivia in color Love Train and the Flight Stretch Twill Denim Romper in color classic white by WEWOREWHAT.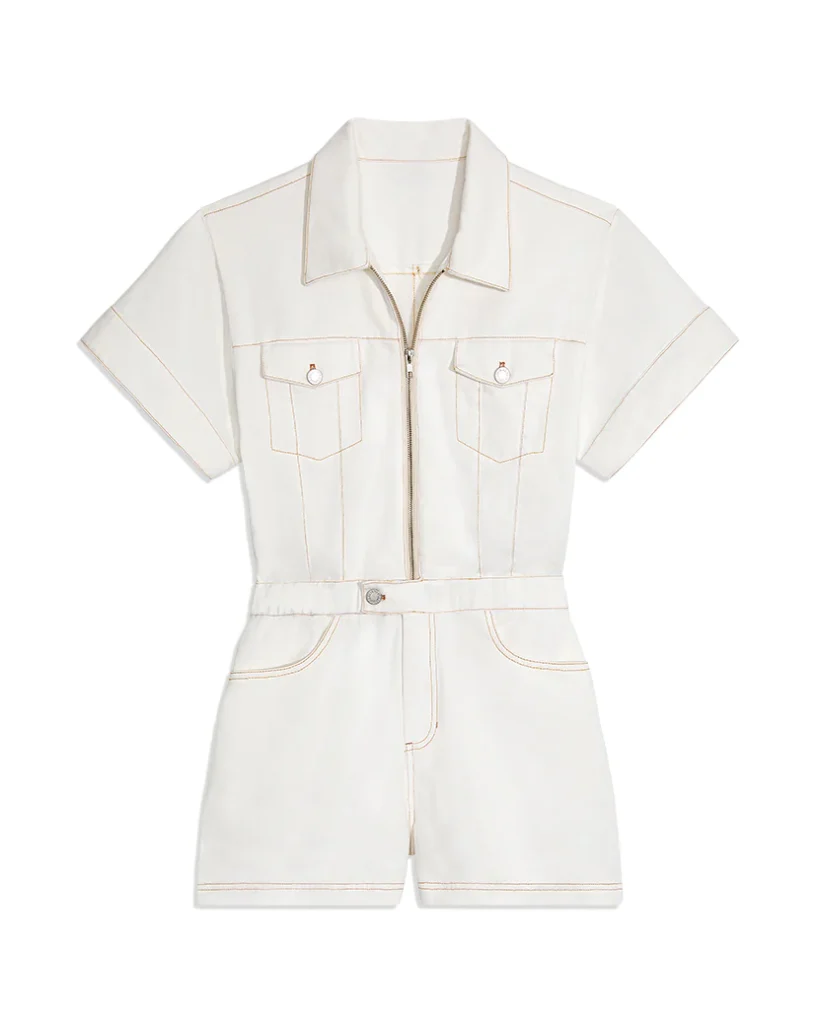 Whether you want to highlight your inner edgy aesthetic or just want to dress more vintage, this 70s- inspired alice + olivia denim jumpsuit with a front zipper is the perfect match for you.
Wanting something brighter and wearable for any occasion, the relaxed Flight Romper from WEWOREWHAT is made from only the best lightweight cotton denim and features a front zipper which gives you the option to zip it up or zip it down a little.
Another cute piece of clothing that can be used as an accent piece or just something you throw on is a layered ruffle skirt. These skirts are super easy to throw on, and you can pair it with a light sweater for when it gets a little breezy or even a cute short sleeve bodysuit. I know Forever 21 and Nordstrom has cute little ruffle skirts like the Tiered Ruffle Mini Skirt in Ash Brown or The Fresh Out Of There Eyelet Ruffle Miniskirt from BB Dakota By Steve Madden.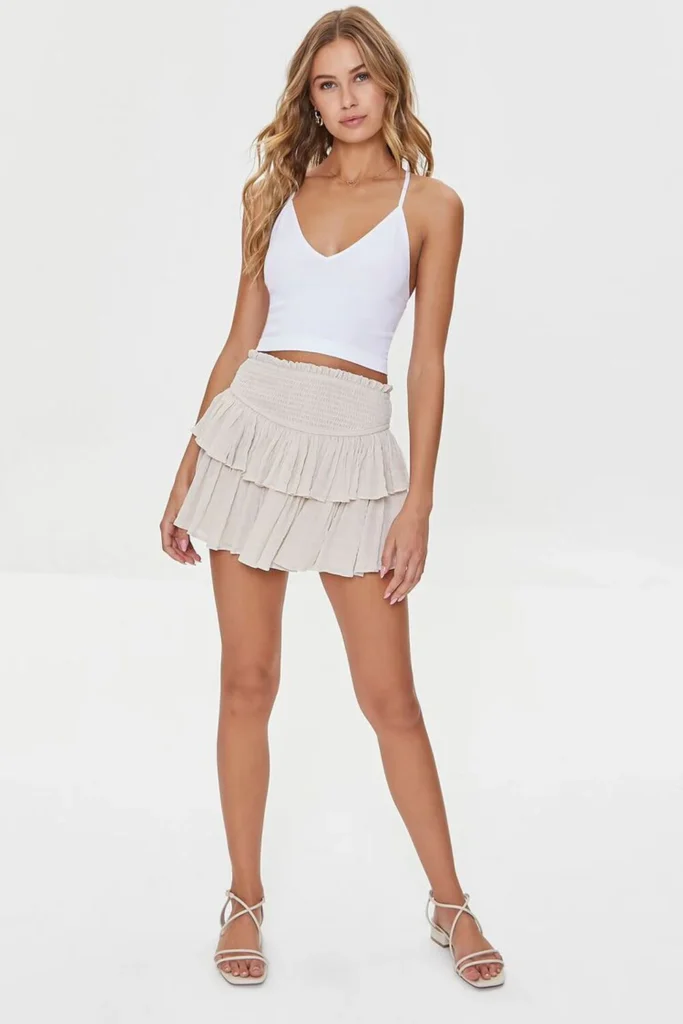 Having a fun summer skirt allows you to not only look put together but you can be lazy with it meaning that if you do not want to take the time to plan out your daily outfits, by throwing a skirt on with a cute top or tank it makes your look seem effortless yet adorable.
A fashionable look right now is the criss cross jeans trend: jeans that are not symmetrical when buttoning, but they have an offset button, making the top of the jeans crossed. These cool jeans can be paired with any heels, sandals, even sneakers. AGOLDE Criss Cross jeans alone leave a statement so you can leave them as is and pair them with a basic top or you can dress it up and pair them with a nice flowy silk tank like the one from CAMI NYC and you leave it half tucked.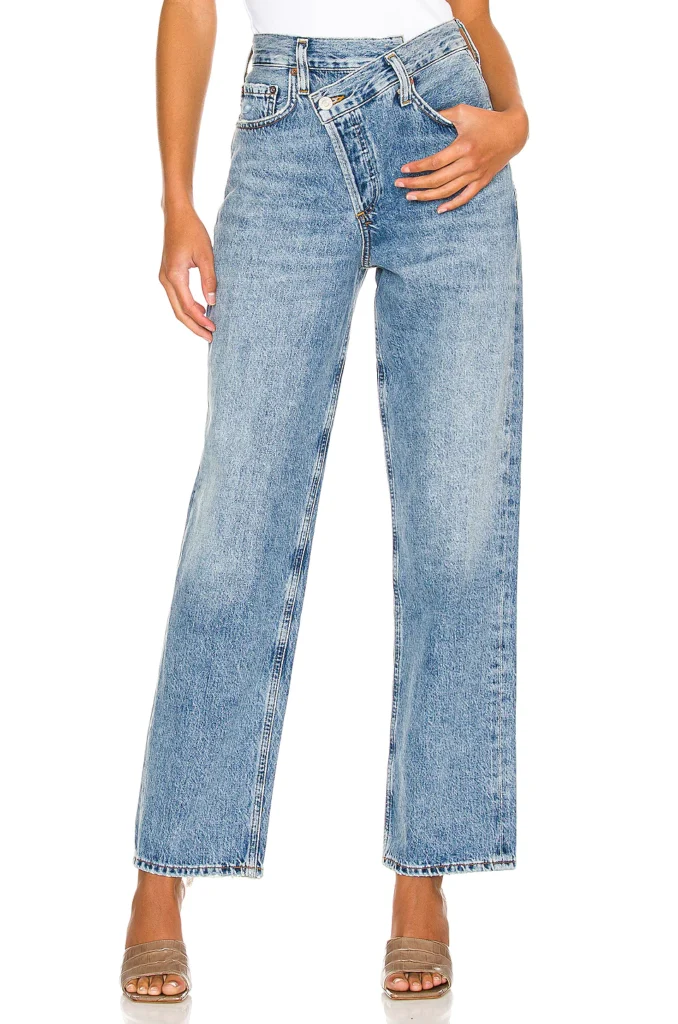 Shorts are the best wardrobe essential for summer. Like anything else in this article, shorts can easily be for any occasion. Enjoying a night out with friends or having a wine night for one, shorts are always the move. You rather be comfortable than hot, especially when it is a hundred degrees out you will not want to wear anything else.
The 501 Mid Thigh Shorts by LEVI'S are amazing and durable. These distressed frayed jean shorts are the cutest things allowing you to pair it with a crop top and cute sandals and you are ready to go. You can find this adorable number on REVOLVE, making your search easy and with just a click of a button they can be yours all summer long.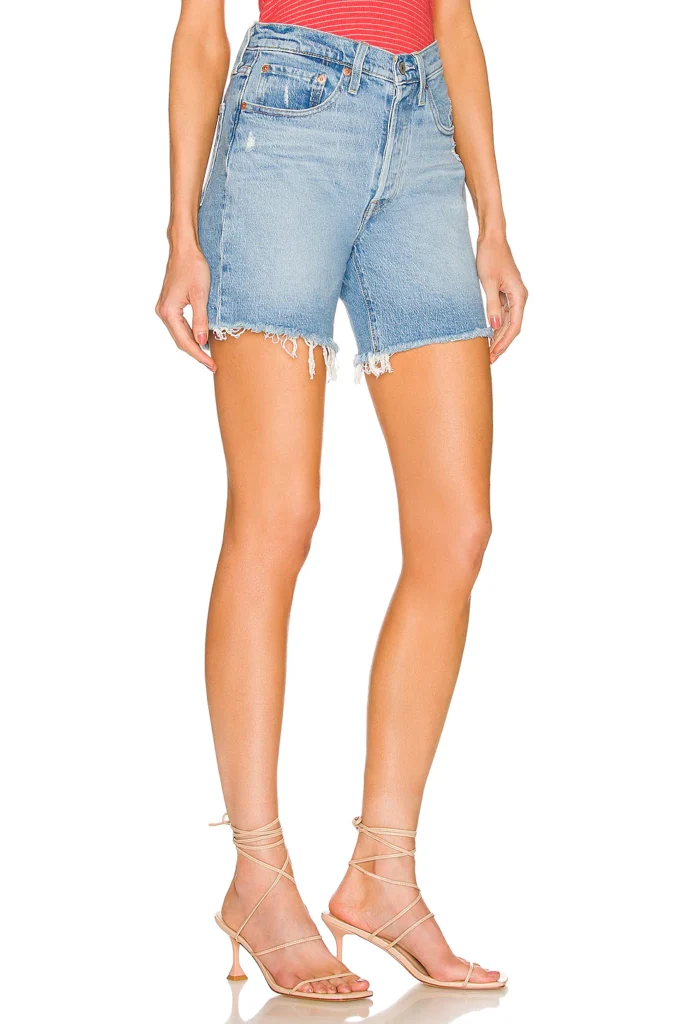 Now I know sometimes it is hard to figure out what you want to wear for that rooftop that has been all the rave this season. Well fear no more because I have just the right outfit for you. If you are anything like me, you want to spice up your look by adding a little puff sleeve.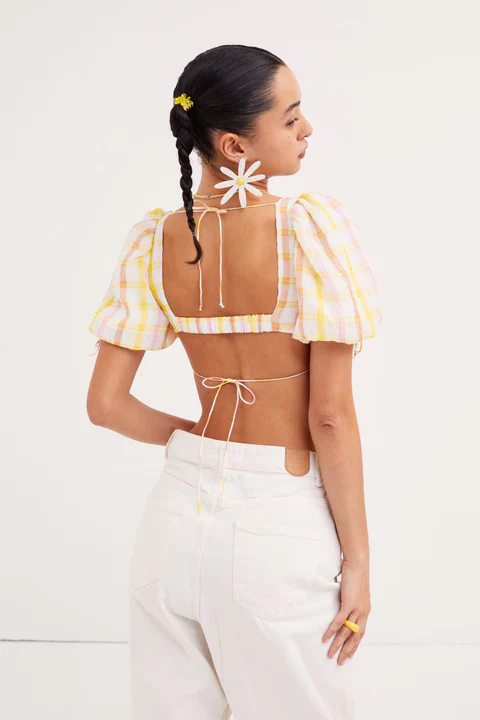 The one brand that I adore for all my cute going out finds is For Love & Lemons. Their puff sleeve tops are not only flattering but super cute and add a special touch to any outfit. From the colors and exotic patterns to the texture of the fabric you will love every piece of clothing that you buy.
For those chilly nights at the beach, on vacation, or just walking the dog, LINE THE LABEL has the best affordable everyday luxury staple pieces in gorgeous colors and fabrics. Between the unbelievable quality and unique yarn blends, this brand is like no other.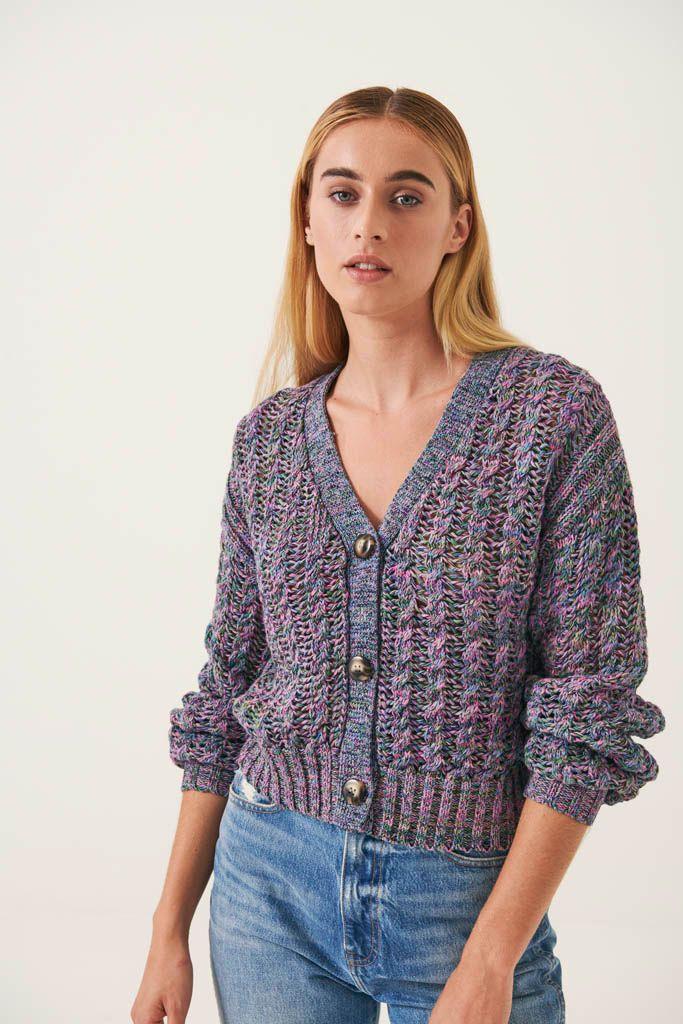 My favorite piece that I wear all the time from LINE is the Briallen Cardigan in Pink Coral. To complete the look, I paired it with light washed jeans and my Sunday Best Honor Tank from Aritzia. This outfit not only is colorful and adorable but is soft and keeps me warm. Perfect for summer and the sweater can be used as a transitional piece for your fall wardrobe which I am obsessed with.
Lastly, for those chill nights in where you either are curled up by your outdoor fireplace reading a book and drinking your favorite summer beverage or laying out by your pool to watch that amazing sunset that is just to die for, dressing cute while being comfortable is all that matters.
My go to sets that I love to wear all the time is something that is either knit, terry cloth, or any soft fleece material for that matter. You want to be able to dress in style while also feeling good as well. For me I love anything with an elastic waistband therefore it is easy to wear and can be stretchy. This is good for when you are at that one family barbecue and cannot stop eating all the food.
Some colors to keep an eye out for this summer consists of buttery yellow, lime, sunset orange, and of course bubblegum pink.
So next time you are changing up your clothes for the season keep in mind these easy transitional pieces for your wardrobe that can brighten up any look and add a little flavor to your style.
Read more on the latest in fashion here.