Beat the August heat trying a new downtown restaurant for less with Restaurant Week, a free screening of La La Land, concerts with Blondie and Elvis Costello at The Rooftop at Pier 17, a fashion exhibit at The Met, date night rollerskating at The DiscOasis, and more.
RESTAURANT WEEK
Photo: iStock
Reposted with permission from Downtown Alliance
Now through August 21. Just in time for peak outdoor dining season, everybody's favorite culinary event is back and ready to feed budgeting New Yorkers looking to try the best restaurants in the city. And Lower Manhattan's first-rate dining rooms are turning out, with generous Restaurant Week deals: Two- and three-course prix fixe meals hitting a range of price points for the diner who craves a little affordability — maybe even an ability to try 'em all. Click here to read the full list of participating Downtown restaurants.
BROADWAY DANCE PARTY AT BROOKLYN BOWL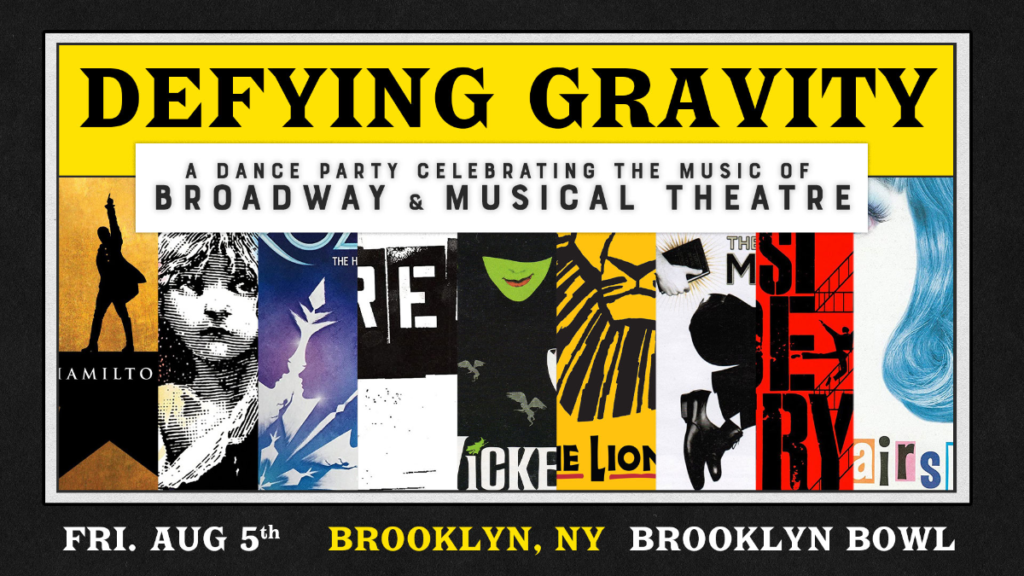 August 5 -If you enjoy musical theater you won't want to miss Brooklyn Bowl's Broadway dance party of the year "Defying Gravity." With music from Hamilton, Frozen, Wicked, West Side Story, The Lion King, The Book of Mormon, Hairspray, + more where Broadway lovers can dance their hearts out to these fan favorites. 11:30pm.
SUMMER STREETS
August 6, 13, 20. Summer Streets is a multi-day, annual car-free event held in August. This event takes place in Manhattan between the Brooklyn Bridge and East Harlem. Everyone is invited to play, run, walk, and bike along Park Avenue and its connecting streets. On the first day of Summer Streets, August 6, Citi Bike will be offering free day passes! Use the code SUMMER22 in the Citi Bike app to receive unlimited 30-minute rides on a classic Citi Bike for 24 hours.
SEAPORT DANCE NIGHTS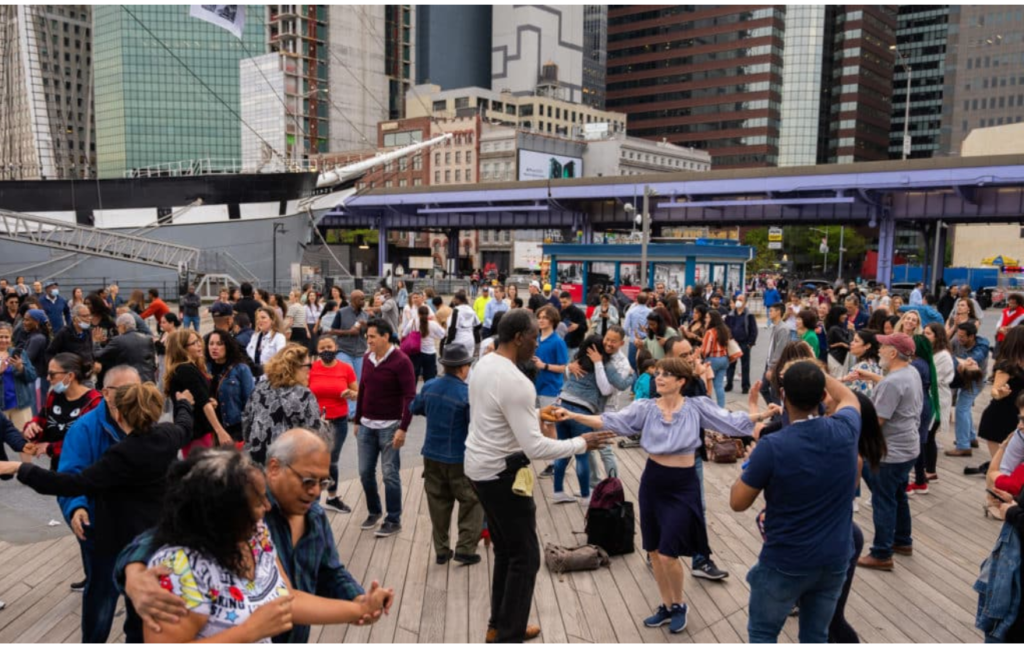 August 10, 17, 24, 31. Two-step. Merengue. Disco, salsa and swing. Seaport Dance Nights will consist of 90-minute dance events that include a 45-minute dance lesson led by instructors from the Emmanuel Pierre-Antoine Dance Studio, followed by a 45-minutes dance party where guests can put their newly learned skills to use. Events will be held on Seaport Square and include live music (either DJ or band). They will be FREE and open to the public and include a diverse offering of dance instruction.
August 10-Country. August 17, Disco. August 24, Swing, August 31, Latin. 7pm-8:30pm.
ELVIS COSTELLO & THE IMPOSTERS
August 11 Elvis Costello & The Impostors take to the stage at The Rooftop at Pier 17. W/special guests Nick Lowe and Los Straitjackets.
BATTERY DANCE FESTIVAL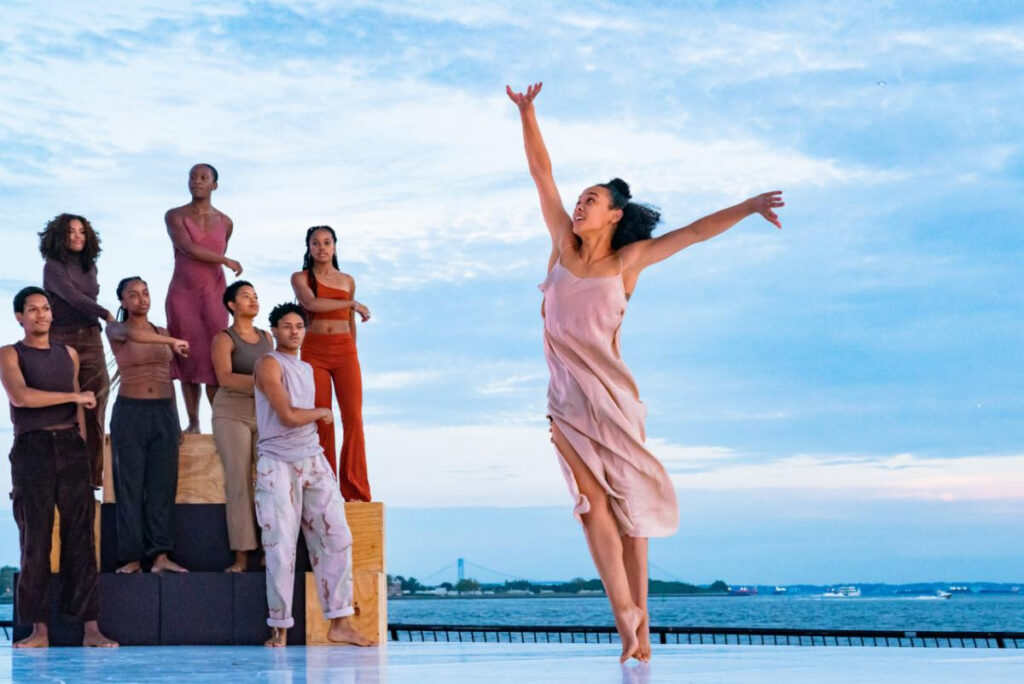 August 13-20 Battery Dance celebrates the 41st Anniversary of its free summer festival, in partnership with Battery Park City Authority. The 41st Annual Battery Dance Festival will feature in-person and live-streamed performances, staged at Wagner Park, Battery Park City, New York City at 7PM ET from August 13-19. A closing night event and VIP reception will be held August 20, 2022, at 6PM at The Schimmel Center. Reaching both local and international audiences, the Festival promotes Battery Dance's mission of connecting the world through dance. batterydance.org/battery-dance-festival/.
BLONDIE/THE DAMNED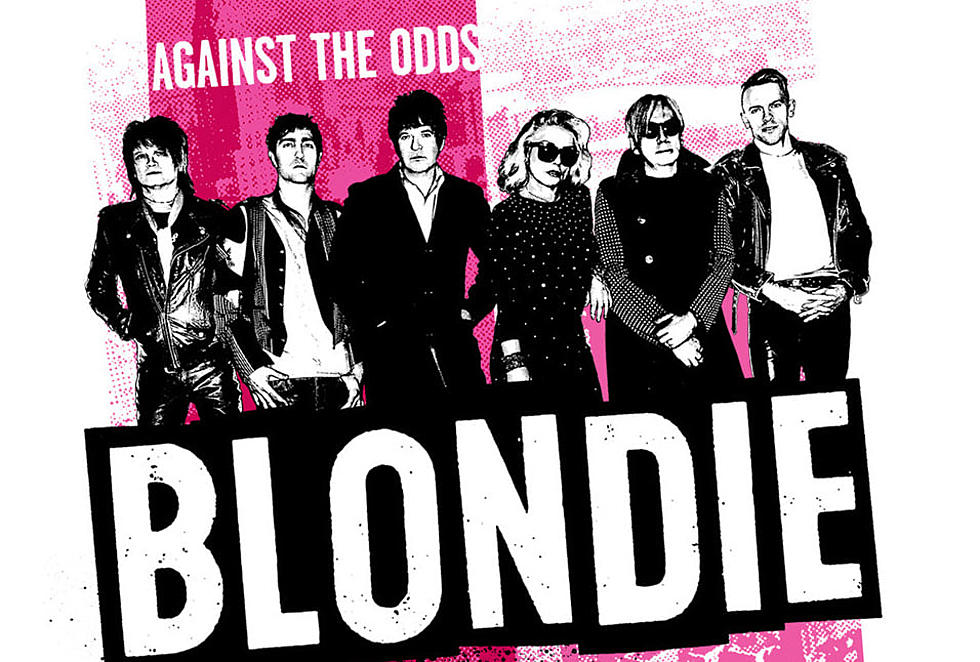 August 17-18 Blondie with special guests The Damned: Against the Odds Tour at The Rooftop at Pier 17.
DANCING WITH THE STARS FREE SUMMER MOVIES AT FOSUN PLAZA
August 24 Big outdoor movie nights are a beloved summer tradition in New York City. This summer, the Downtown Alliance is teaming up with Alamo Drafthouse and Fosun to bring you Wednesday-night screenings once a month at Fosun Plaza (28 Liberty Street), featuring a slate of films that you can move to. Tonight, it's La La Land. Screening is scheduled for 7 p.m., with plaza seating open at 6:30 p.m.
RISENY
ONGOING RiseNY takes guests of all ages through an immersive museum gallery exhibition followed by a sky-high tour of the Big Apple in the northeast's first flying theater – the only attraction that allows guests to visit all of NYC's top sights without breaking a sweat! The details: The 46-seat flight simulation ride is the first of its kind in Manhattan. You will be lifted 30 feet into the air and take in the splendor of NYC while suspended inside a 180-degree, 40-foot projection dome featuring 8K aerial footage that creates the sensation of flight. Full motion seats let you dip, turn and soar, while wind, mist, and scents heighten the experience. RiseNY is a must-do for families looking for air-conditioned activities with their kids during the hottest days of the year. Guests can explore the city's history through galleries featuring rare artifacts from NYC's pop-culture evolution, including favorites such as original Broadway costumes, reproduced television sets, and more extraordinary items throughout the finance, radio, film, music, and fashion halls.
DISCOASIS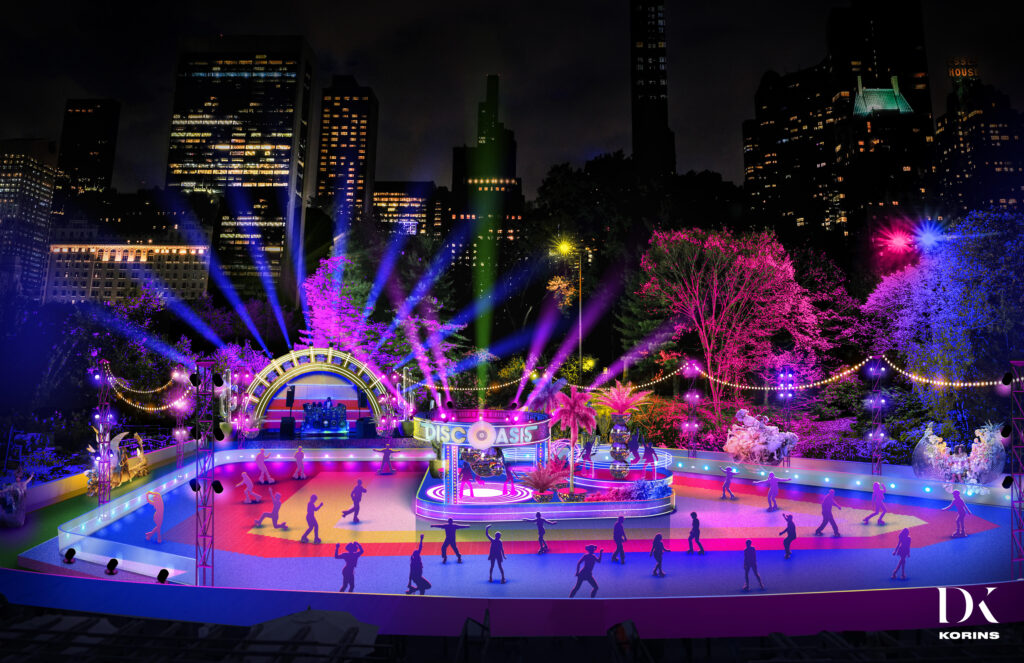 Now-Oct. 1 DiscOasis Roller Rink Opens in Wollman Rink. Get your roller skates on! The new seasonal roller rink, with music curated by Grammy-winning guitarist/producer Nile Rodgers, opens June 16-Oct. 1.
QC NY SPA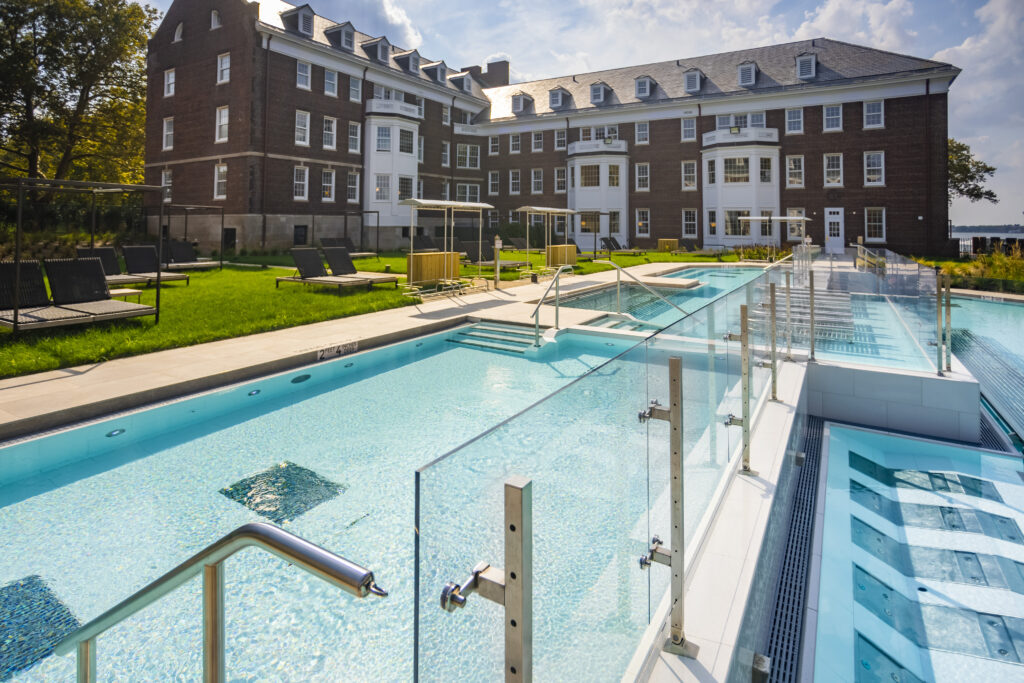 Ongoing QC NY Spa at Governors Island. Recently opened in March 2022, use summer days to take advantage of a spa filled day on Governors Island, enjoying the most incredible views of the Manhattan skyline. There are steam rooms, saunas, and architecturally stunning relaxation rooms.
TITLE IX ACTIVISM ON & OFF THE FIELD AT N-YHS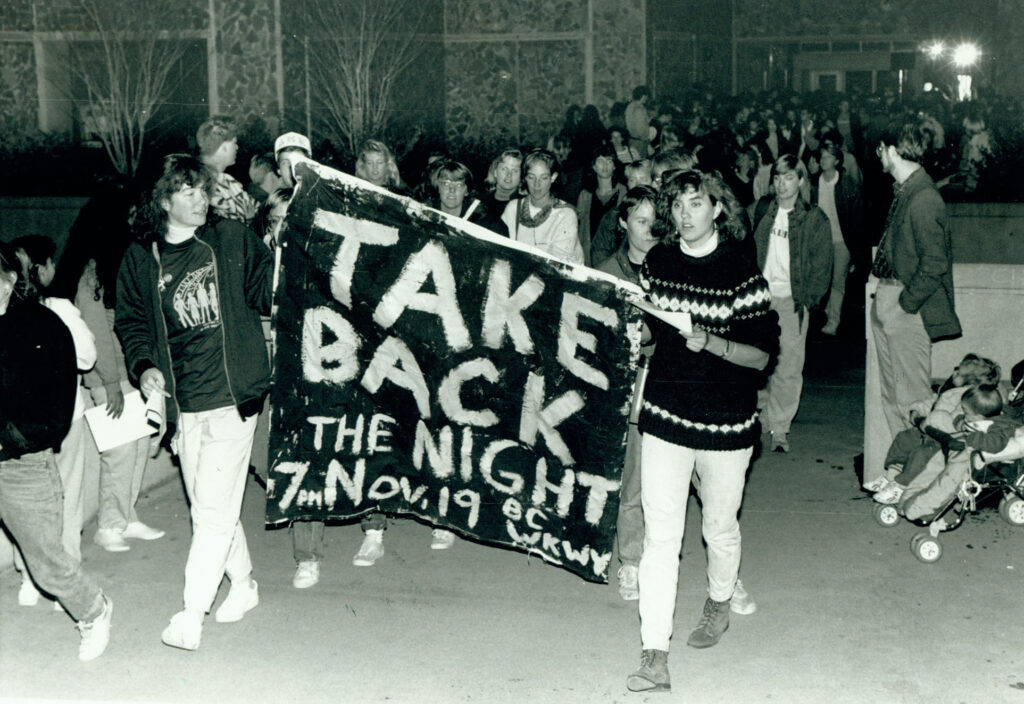 Now-Sept. 4. Title IX: Activism On and Off the Field, at New-York Historical Society, commemorates the 50th anniversary of Title IX, an addition to the Education Amendments Act of 1972 that reshaped American society by prohibiting discrimination based on sex in education programs or activities that receive federal assistance. Well recognized in the realms of sports and sexual harassment, Title IX covers a broad spectrum of American educational life, from K-12 to higher education, thanks to the activists and lawmakers determined to secure the advantages of education for all students.
IN AMERICA: AN ANTHOLOGY OF FASHION AT THE MET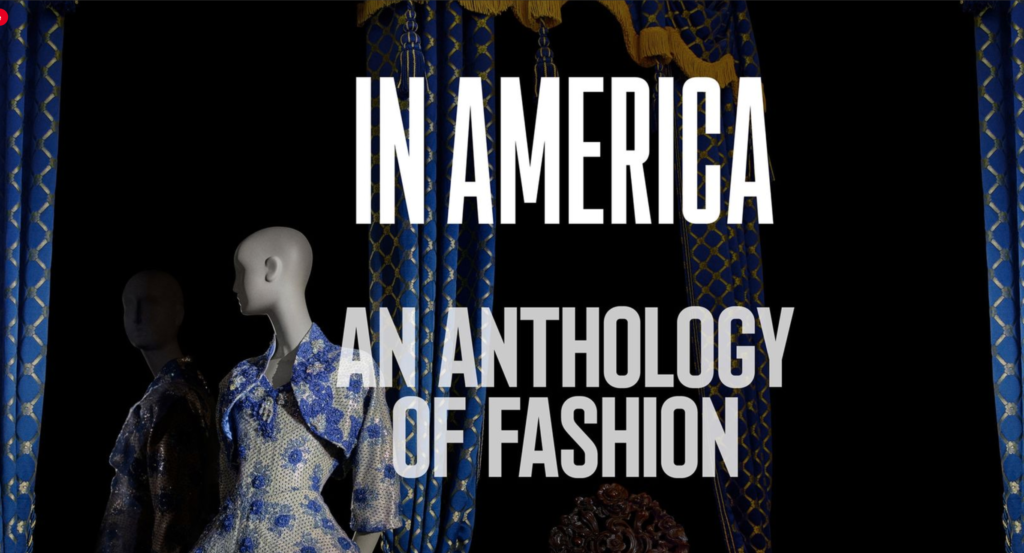 Now-Sept. 5 In America: An Anthology of Fashion at The Met Museum, is the second portion of a two-part exhibition exploring fashion in the United States. Men's and women's dress dating from the eighteenth century to the present will be featured in vignettes installed in select period rooms spanning ca. 1805 to 1915: a Shaker Retiring Room from the 1830s; a nineteenth-century parlor from Richmond, Virginia; a panoramic 1819 mural of Versailles; and a twentieth-century living room designed by Frank Lloyd Wright, among others. These mise-en-scènes will explore the role of dress in shaping American identity and address the complex and layered histories of the rooms.
SUMMIT ONE VANDERBILT
ONGOING SUMMIT One Vanderbilt. A must see for locals and tourists alike, the three-tiered SUMMIT opened its doors Oct. 2021, offering breathtaking views of the Manhattan skyline from midtown, in addition to stunning, kaleidoscopic views, enhanced by glass, lights, and mirrors. It will mesmerize the young and old, with photo and video ops of Manhattan's glorious grid to treasure for years to come. You can read more about the SUMMIT One Vanderbilt experience here. For more information and reservations, visit summitov.com.