Step inside a world where the views are breathtaking, and the decor is exquisite. From the gorgeous detail of the architecture to the custom smoke gray floors, this one of a kind 4,492 square foot space could be yours for just $28,500,000.
111 West 57th Street is filled with rich history from the historic Steinway Hall, but also infused with a new modern tower incorporating a sleek fresh look that complements the quality of this state-of-the-art building.  
The panoramic views overlooking both Central Park and Downtown Manhattan open the space and bring it to life creating a welcoming mood. Upon arrival, you will be greeted by a doorman at the private Porte Cochère entrance on 58th Street. Once the doors open, you will walk into the main lobby where you can find antique mirror doors and wood flooring with accents of Wallace Creek marble from the original Steinway Hall.
Soon you will be transported to your unit on the 42nd floor using the direct elevator service which leads you right to your front door. This three-bedroom, three bathroom and powder room unit depicts a sense of style and sophistication like no other. From the custom cabinetry designed by Studio Sofield in the kitchen stocked with only the best Gaggenau appliances to the best artwork from Galleria Ca 'd'Oro based in Miami, this sure makes the space a place you will never want to leave.
A fan favorite spot in the whole unit must be the master bath. The copper free-standing tub with a nickel finish in contrast with the warm tones of Onyx slabs on the walls and the beautiful frozen waterfall-like feel on the mirrors create a sweet escape.
This building was created by SHoP Architects and interiors done by Studio Sofield, and also comes with fantastic amenities such as a sauna and other treatment rooms, private dining area, fitness center, and study, along with much more.
JDS Development Group focuses on captivating a cool experience in all the design work they do in the real estate industry. They continue to go beyond creating places that have the best design and engineering possible. The help of Rita Chraibi and Louis Vuitton's collaboration makes the striking space come to life and brings all the amazing architecture and designs together.
Rita Chraibi, the French Moroccan interior designer, has been known for her unique European flare, making each project with luxury furniture brands and fashion houses more enticing and special.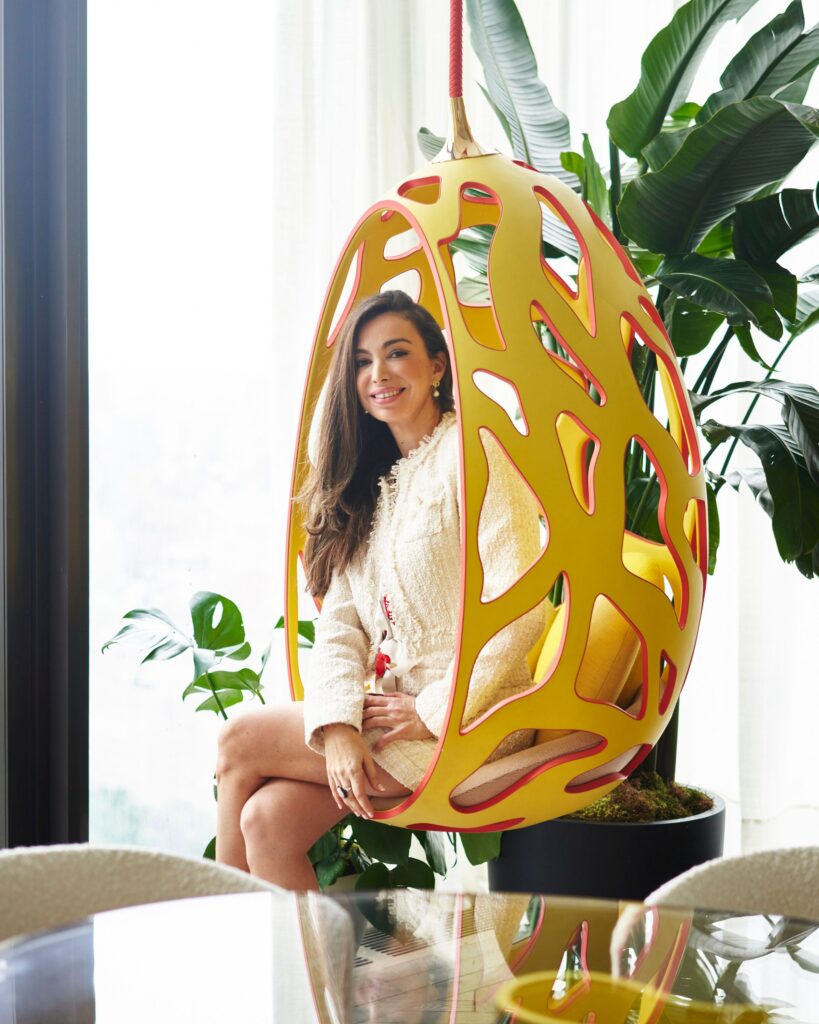 Rita pays attention to detail in every design project she has, making each project showcase its ultimate potential. Each design tells a new story making it fresh and fun. Using color, moods, context, and composition in her work, Rita infuses her travels into all aspects of her designs. Rita first opened her agency, International Designers, back in 2013 in Morocco and continued to expand to offices in New York City and Miami.
The pieces chosen for the interiors have been selected from Louis Vuitton's Objets Nomades collection where each piece was thought out, making the furniture have a rounded feel that brings all the colors and textures together.
Louis Vuitton celebrates 10 years since the creation of the Objets Nomades collection of travel-inspired furniture. The exhibition will also include the famous Louis Vuitton luggage, ready-to-wear pieces, and bags to create an enticing ambiance.
Louis Vuitton was established back in 1854 bringing staple pieces like the luggage trunk to life. Cultivating and innovating garments and other products with elegance and craftsmanship. "Art of Travel" has been implemented into all his designs and is truly the theme when it comes to the design and placement in this unit.
When speaking with Marci Clark, Managing Director, Strategy & Development at JDS Development Group, she stated, "Although we are a super tall structure, this is a very petite private residential building, and there are only 46 [units] in the building. So, to be able to showcase this incredible collection of furniture with a view like this is not something that any other development could offer."
From the views and the privacy to the well-crafted look and feel of the overall unit, nothing compares to 111 West 57th Street.
Cover Photo Courtesy of Adrian Gaut.
Read more about real estate in NYC here.