Protestor signs at Washington Square Park, Photo: Greer Hazzard
On Friday the United States Supreme Court eliminated the constitutional right to an abortion in a 6 to 3 ruling, which has been the law of the land for the last 50 years through Roe v. Wade. Almost immediately, New Yorkers began organizing and took to the streets to protest the court's decision.
In Washington Square Park, a crowd of thousands amassed hours after the ruling was announced to express their fear and anger over the decision.
Protestors had many different reasons for showing up to the demonstration after the appeal of Roe. One young attendee explained she was inspired to protest by a survivor of an illegal abortion she met at a previous protest.
"When the decision was first leaked I went to a protest…There was this woman there in the corner with this sign that said "I had an illegal abortion in Alabama in 1959," and she talked to me about her story… She gave this excruciating story about how she had a hose shoved up her cervix to basically flush everything out and how she almost died. She doesn't regret one single bit of it… Honestly, that's why I'm here," she said.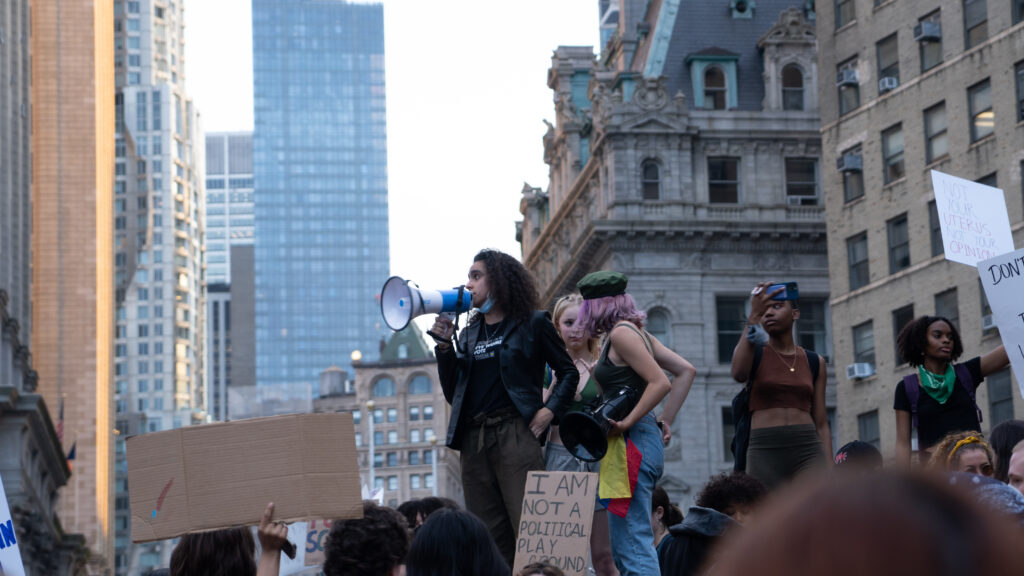 Filling the streets with chants of "Abortion bans have got to go" and "My body, my choice," the crowd marched from the park to Foley Square. In front of the New York County Supreme Court, organizers and attendees voiced their dissatisfaction with the new abortion restrictions.
Jasmine Garcia, a queer mother, took the megaphone to express her dissatisfaction with government officials actions.
"Too many times we have peacefully protested; there is nothing peaceful about taking our rights. As women of color, as women, I want every Republican, I want every pig to hear me when I say: this is not an issue of pro-life. You are not saving lives; you are killing them. If you care about children in this country, you will fight for programs for single mothers," she stated.
Like Garcia, Nicole Torres expressed her dissatisfaction with the government failing to protect black women's reproductive rights. "This nation has repeatedly failed black women with reproductive rights..This system is built against us.," she said.
One protestor, Molly Kerr, shared a personal story of her own abuse, emphasizing that the overturning of Roe would cause people to have to have their abuser's children. Kerr was raped in North Carolina and due to restrictive abortion laws in the state she feared getting pregnant.
"When I went to the hospital after, I had to tell every single nurse there was no condom. I had to watch them look at me in disgust, and they had me take a pregnancy test…I had to hope and pray that I wasn't going to miss a period because I was in North Carolina. These laws are affecting victims of rape and child abuse. They are forcing these people to have the babies of their abusers," she told the crowd.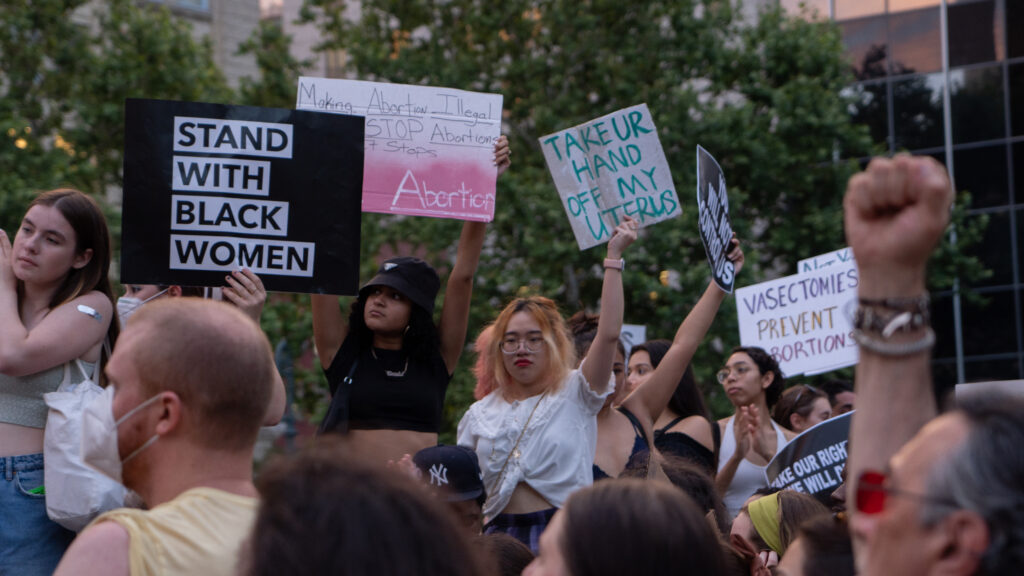 After making their remarks, the protest continued to the streets marching across Brooklyn Bridge into Downtown Brooklyn. The mass of protestors blocked traffic on the bridge as pedestrians walking across cheered them on.
The protest ended with organizers urging the crowd to continue showing up to advocate and continue to show up to marches. For upcoming demonstrations, events, and how to help protect abortion rights visit @nycforabortionrights on Instagram.  
Read more DOWNTOWN news here.