CEO of Cannabis Wedding Expo, Vanessa (center) with co-founder of High Garden, Elyssa Colon (left). By Cade Callen.
In an unassuming event space off of 18th and Broadway, a collective of cannabis lifestyle artisans made their New York debut at the Cannabis Wedding Expo over the weekend. Cannabis Wedding Expo travels the country hosting an array of unique, T. H.C-friendly vendors such as: Kingfisher Syrup; a cannabis based simple syrup, Little John New York; a line of high end odorless leather hand bags for carrying cannabis in style, and Calm Better Days; a Tribeca-based weed coach.
There were many other vendors who shared the same mission: to create elevated products and services for an elevating plant. "In 2016 we tried to get into a wedding trade show, and at first they wouldn't let us in," says Vanessa, the CEO of cannabis Wedding Expo. "When they did let us in, they wanted to charge us double. So we made our own expo."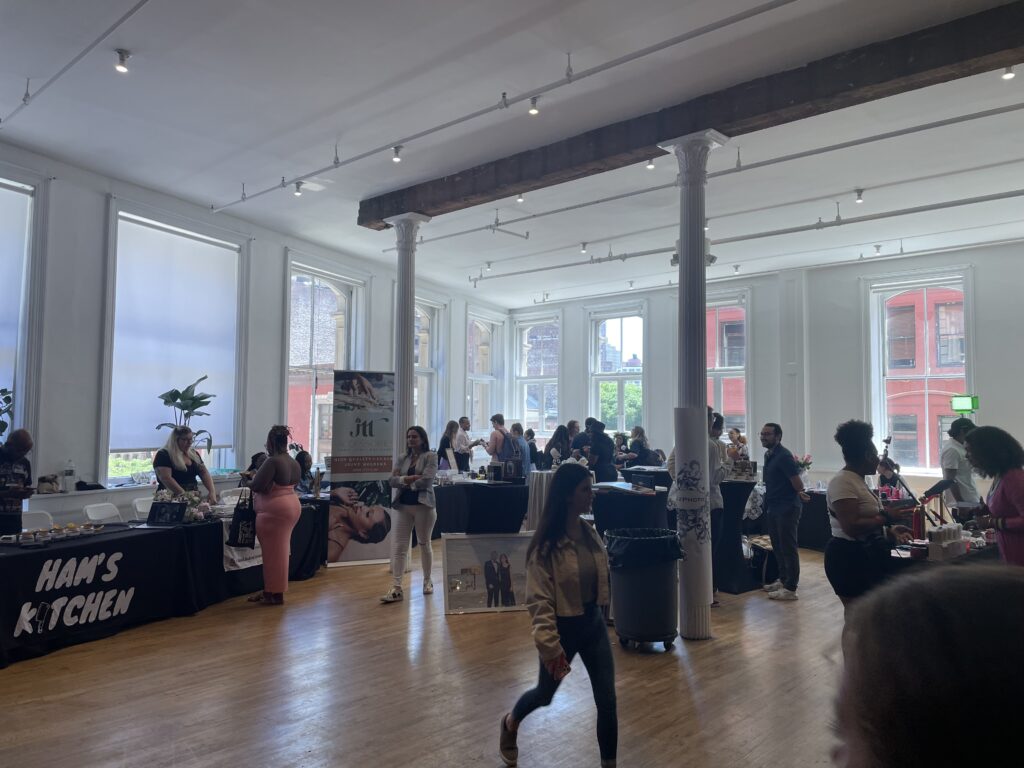 Vanessa, having started this company out of Denver in 2016, envisions future weddings as events which will have "bud bars" with their own "bud tenders" who, along with providing the cannabis in whichever form you want, can also be a source of expertise on what mode of consumption might best suit you. From the looks of it, the conference signifies how far America has come in embracing cannabis culture, but the racial disparities surrounding the industry suggest how far we have left to go. In regards to the cannabis-focused social equity programs implemented across recreationally legal states, Vanessa says, "We need to do better. The issue is you can give anybody a license for social equity, but you're not giving them the tools or the resources to be able to grow their brand. So what is social equity doing if it's not giving them the tools to be able to function as a business?"
This message highlights the importance of conventions like Vanessa's for helping brands get their name out there. "When you think about a lot of the conventions, we come in as very affordable for a lot of small business owners. The reason why we move into new recreational states is because we want to offer modern pot companies the opportunity to be in front of a Cannabis consumer before large corporations take over the market."
Cannabis Wedding Expo's next show will be August 28th in Las Vegas.