Seaport Food Lab
Nov. 2 The Seaport Food Lab presented by Chase Sapphire® is returning for Season 5! Running from November 2 through November 19, this anticipated culinary event will bring some of the internet's favorite food stars to the kitchen for a series of intimate dinners. This year's chef lineup includes slow food advocate and recipe developer Pierce Abernathy, bon appétit's former Senior Food Editor and Test Kitchen host Christina Chaey, and chef DeVonn Francis, founder of creative studio Yardy, who will each have a four-night residency that will focus on exploring themes of culture and community. Click here for tickets. General info: theseaport.nyc
NFTS Now: A Digital Exhibit
Now-Jan. 26, 2023 at The Seaport, The Gallery on Pier 17 presents NFTS Now: A Digital Exhibit from Early Backers of Web 3. The collection is from Jamie George and Harris Lipton, co-founders of Bored of Directors-A Collective of Select Ape NFTs. The collection features pieces by Beeple, @Beeple, Fewoious, @FEWOCiOUS, Lisa Nicole, @love_thy_land, TJO, @0XTjo, Dana Taylor, @itsdanataylor, Bored Ape Yacht Club, @BoredApeYC , World of Woman, @worldofwomennft, and others.
Fall Foliage Cruises with Classic Harbor Line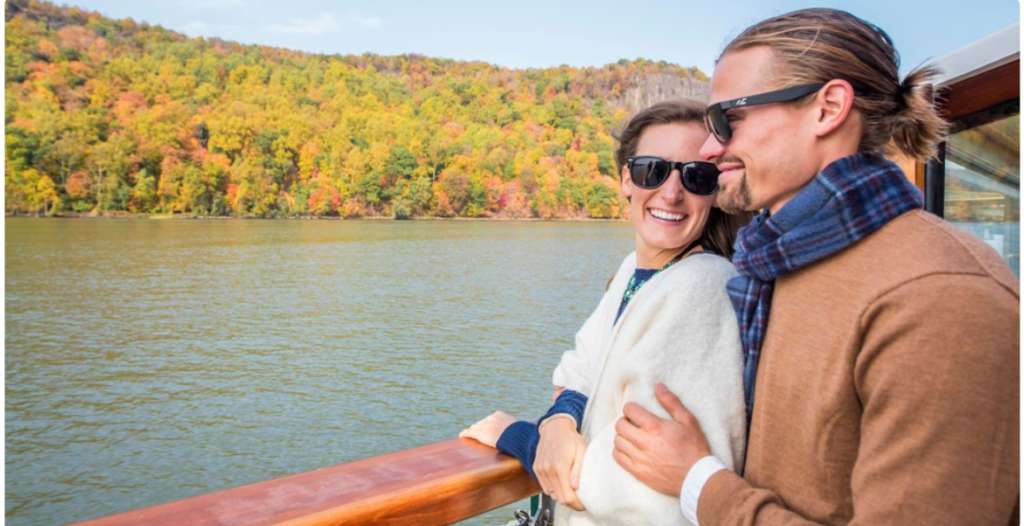 Celebrate Autumn on one of Classic Harbor Line's Fall Foliage Cruises. Witness the last leaves of fall and jump aboard one of their classic boats. Head north up the Hudson River to take in the beautiful fall foliage. Escape from the chaos of the city and enjoy a 2.25 – 2.5 hour fall foliage cruise on luxury yacht Manhattan or hop aboard a 3.5 hour fall foliage sail aboard Schooner Adirondack! Feel the crisp autumn air upon your face and take in the brilliant crimson red, pumpkin orange and a golden yellow of the Hudson Valley for an afternoon of leaf peeping. For more on this and many other Classic Harbor Line cruises, visit sail-nyc.com.
Winter Village at Bryant Park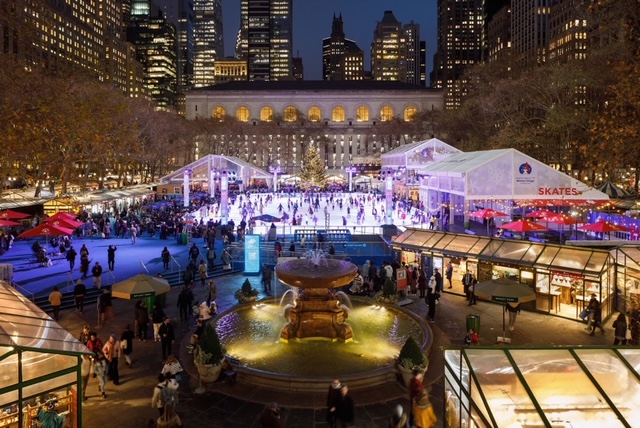 Now-March 5, 2023 New York City's celebrated Bank of America Winter Village at Bryant Park, featuring the city's only free admission ice skating rink, holiday market and delicious food offerings, returns. Highlights include the The Rink, 100+ shops by Urbansapace, a rinkside Lodge where skaters can grab a bite and a cocktail, and more.
MIRACLE COCKTAIL POP UP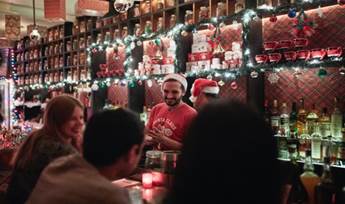 Nov. 10 Miracle Cocktail Pop Up –Miracle, the beloved holiday-themed Cocktail Pop Up is set to return to The Cabinet.  Fan favorite cocktails are returning and will be served at both locations such as Christmapolitan, Christmas Carol Barrel, Snowball Old-Fashioned, Nog, and Naughty Shot. New this year is the Grandma Got Runover by A T-Rex, Island of Misfit Toys, and Rudolph's Rum Rhapsody.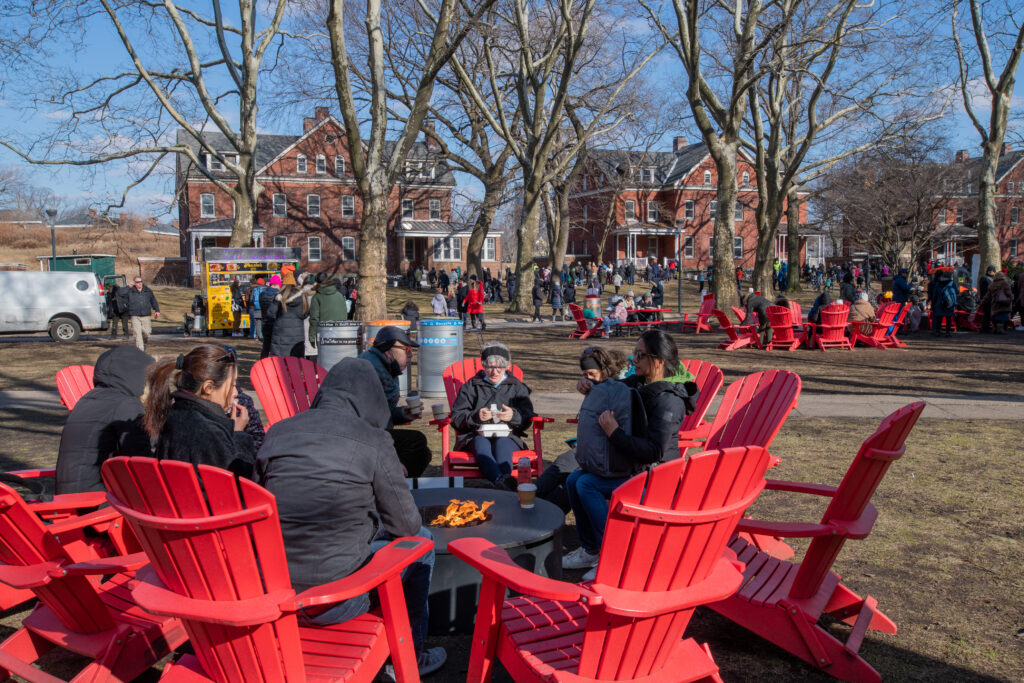 Nov. 17 Governors Island Winter Village will transform historic Colonels Row into a singular seasonal destination for the second year in a row. The popular Winter Village will include a 7,500-square foot skating rink for visitors of all ages to enjoy, along with wintery activities, festive decorations, games, cold-weather food and drinks, and warming fire pits. The rink will be open Thursday through Sunday and all New York City public school holidays, with additional Winter Village activities available seven days a week. govisland.org.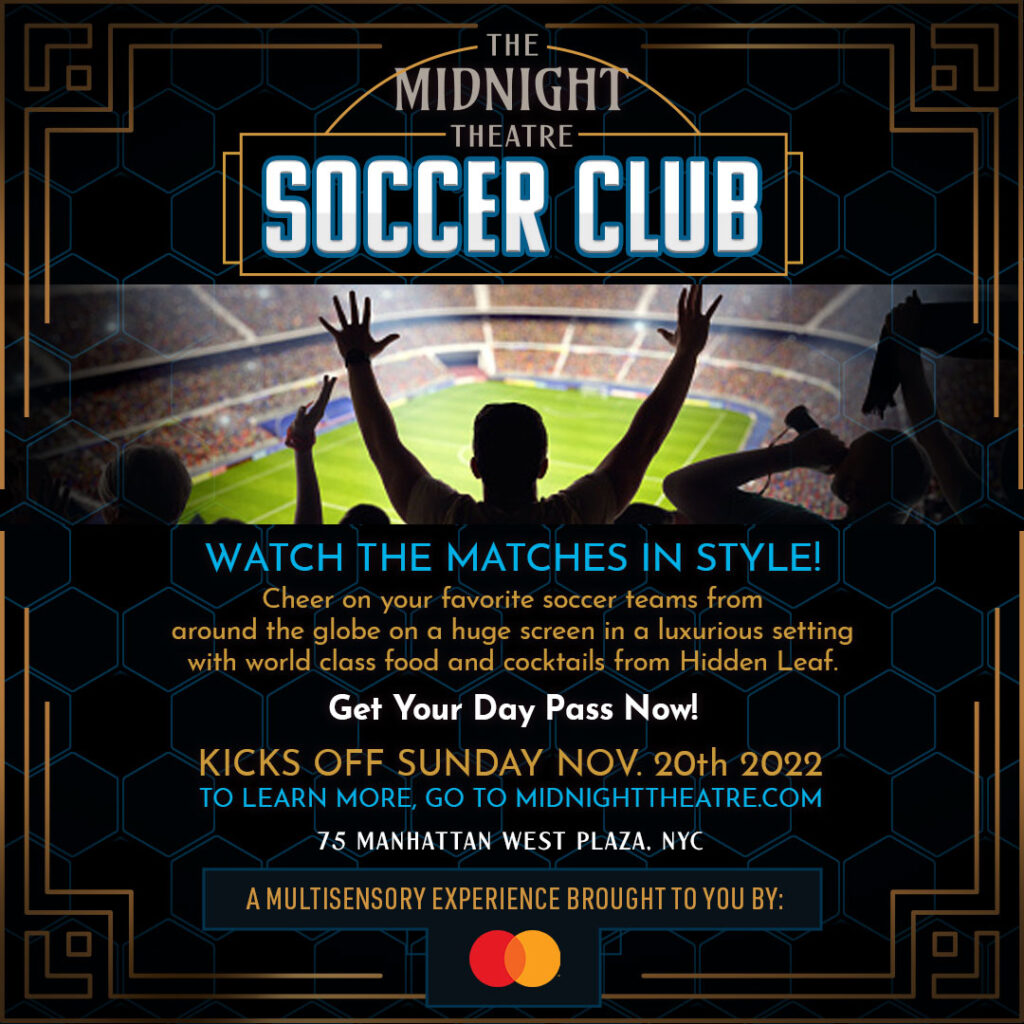 Nov. 20 Manhattan West's luxurious new variety venue, The Midnight Theatre, is kicking off its Soccer Club with a presentation of the first match on November 20, and will be showing most championship games through the Final. These immersive soccer championship watching experiences will have the feel of a private club – including luxe velvet booth seating, a huge screen with more than 4K high definition video resolution of 5120×3200, and powerful D&B surround sound. Midnight Theatre Soccer Club Day Passes will be $55 and include open seating, a complimentary continental breakfast bar and wristband for all day entry access. Lunch service from the Theatre's pan-Asian restaurant, Hidden Leaf, will begin at 11:30am with the full lunch menu along with beer, wine and cocktails, available for purchase. In addition to Midnight Theatre Soccer Club, the dazzling 160-seat theater also presents a diverse roster of future programming, including talent from the Broadway stage, comedy, music, DJs and other unique special events. Tickets for all events available here.
EDWARD HOPPER AT THE WHITNEY
Ongoing- Edward Hopper's New York will take a comprehensive look at Hopper's life and work through his city pictures, from his early impressions of New York in sketches, prints, and illustrations, to his late paintings, in which the city served as a backdrop for his evocative distillations of urban experience. whitney.org.
JACKIE ROBINSON MUSEUM
Ongoing. Nearly 75 years after Jackie Robinson made his debut with the Brooklyn Dodgers, the Jackie Robinson Foundation (JRF), founded by Robinson's wife Rachel, finally opens its doors, at 75 Varick Street. The nearly 20,000 square-foot space honors the life and legacy of a ballplayer who broke the color barrier in Major League Baseball, but also played an integral role in the Civil Rights movement. jackierobinson.org.
Halles des Lumieres: Gustav Klimt
Ongoing The Hall des Lumieres is the brainchild of Culturespaces, the creators of the original immersive digital art centers including Ateliers des Lumieres, with international event leaders IMG. The inaugural exhibition, Gustav Klimt: Gold In Motion, explores the revolutionary art of the Viennese painter, and has been created exclusively for Hall des Lumieres by an artistic team led by Gianfranco Iannuzzi. Hall des Lumieres will present new art experiences based on the work of world-renowned artists every 10 to 12 months Tickets on sale now. halldeslumieres.com
MUSEUM OF JEWISH HERITAGE: THE HOLOCAUST-WHAT HATE CAN DO
Ongoing- at The Museum of Jewish Heritage, the new core, 12,000 square-foot exhibition features more than 700 original objects and survivor testimonies from the Museum's collection, in objects donated by survivors and their families. Many of the items are from Ukraine. mjhnyc.org.
Meret Oppenheim: MY EXHIBITION at MoMA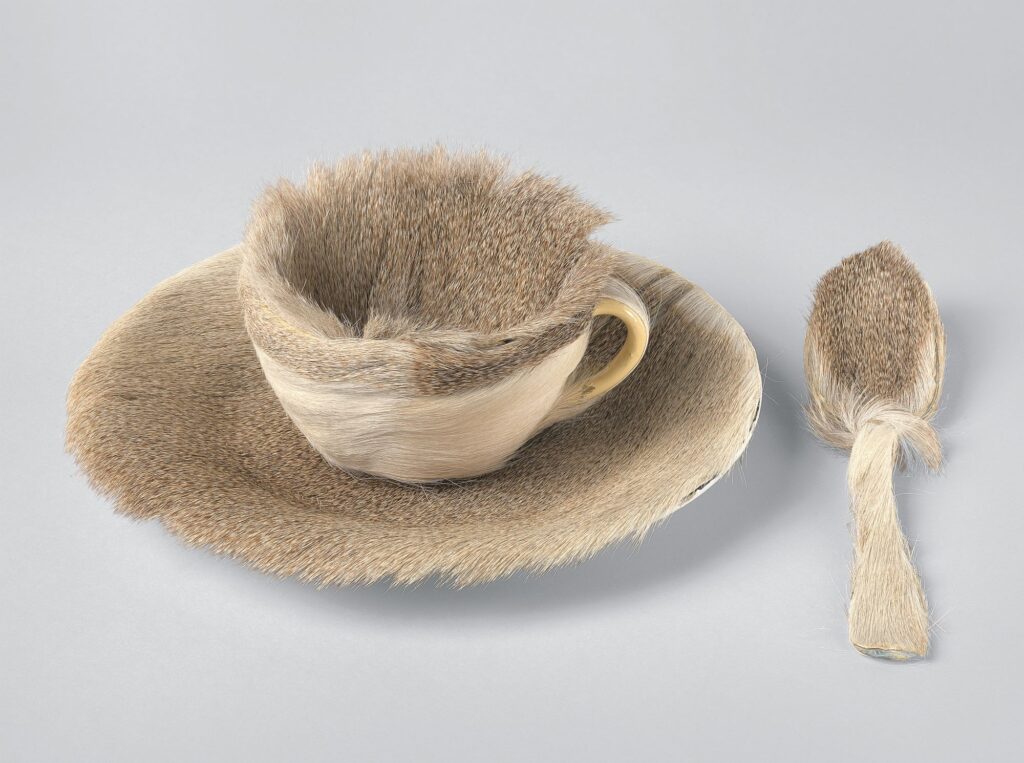 Now-March 4, 2023. Meret Oppenheim: My Exhibition at the Museum of Modern Art is the first major transatlantic exhibition—and the first in the United States in over 25 years—to survey this visionary Swiss artist's career. The exhibition, spanning five decades, considers the full scope of Oppenheim's lifelong innovation through over 180 works, including paintings, sculptures, objects, collages, and drawings. The exhibition will explore all of these facets of Oppenheim's career, from early paintings such as Quick, Quick, the Most Beautiful Vowel is Voiding, M.E. by M.O. (1934), to mid-career sculptures such as The Green Spectator (1959), to monumental late works like New Stars (1977–82). Her broad thematic interests ranged from the natural world and mythology to gender and selfhood. "Nobody will give you freedom," she stated in 1975, "You have to take it." moma.org.
THE TIN BUILDING
Now open, the latest from restaurateur Jean-Georges Vongerichten, is Tin Building, a sprawling 53,000 square foot market down by The Seaport. It includes six full service restaurants, six fast casual outlets, four bars, along with a food market and curated gourmet grocery packed with specialty ingredients, meats, cheeses, and fresh produce. tinbuilding.com
MACHINE DAZZLE AT MAD MUSEUM
Now-Feb. 19, 2023 Boundary-breaking, "living sculpture" designer Machine Dazzle (né Matthew Flower) is having his first solo museum exhibition, at the Museum of Arts and Design (MAD). He is best known for the genre-defying sets and pieces worn by Taylor Mac and Justin Vivian Bond, that are an integral aspect of New York's cabaret and drag scene. The Pulitzer prize-nominated designer is showcasing over 80 creations spanning two floors of the Museum, running through February 19, 2023. Throughout the duration of the exhibit there will also be talks, screenings of films that inspired Machine Dazzle such as Clash of the Titans , Star Trek: The Motion Picture, and Xanadu, and other events. Machine Dazzle is also completing his first album, due out this fall. madmuseum.org
Louis Vuitton Pop Up: 200 Trunks, 200 visionaries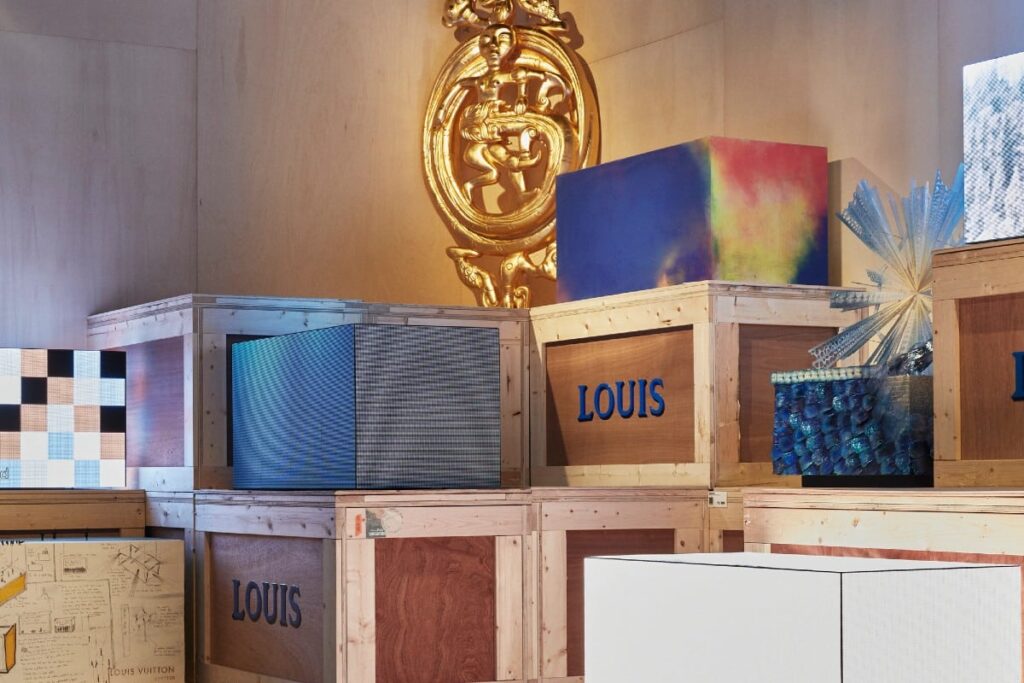 Now -Dec. 21 Check out a new pop up celebrating Louis Vuitton's bicentennial, 200 Trunks, 200 Visionaries. It's located in the old Barneys space at 660 Madison Ave. Reservations recommended. Hours: M-F, 10am-8pm.
QC NY Spa at GOVERNORS ISLAND
Ongoing QC NY Spa at Governors Island. Recently opened in March 2022, now you can take advantage of a spa filled day on Governors Island any day of the year, enjoying the most incredible views of the Manhattan skyline. There are steam rooms, saunas, and architecturally stunning relaxation rooms. qcny.com
Find more to do in Downtown NYC here.